Haim's 'Days Are Gone' was released almost two years ago - with no real material apart from collaborations being released since. It's been a tortuous wait for the #Old-Haimers – all they've had to survive on are drained-dry memories of Este's bassface, that year when they played every stage at Glastonbury and that time that they said :This one is for you D.C." to the waxwork smiles of our Prime Minister. Yeah that was awkward.
On the not too distant horizon is a rainbow, and on the end of that is a pot of gold and that gold, ladies and gentlemen, is Haim's new album. That's right – along with announcing that they've only gone and landed their own Beats 1 Show, they've said that they're working on a new LP. Get your Christmas tree out. Wear that outrageous snapback everyone else thinks you're too old for. And dance like you've never danced before to 'The Wire'. #HaimTime is near.
Sure, a lot of questions will come flooding in like a sonic wave of pitch-perfect three-part harmonies. What will it sound like? Who will it be produced by? Will they do life-size cardboard cut-outs as part of the official merchandise? Fear not. We've got it all covered – we've had a sneak-peek into our crystal balls and tried to have a guess and a ponder over what the album could bring. Stop dancing manically for a bit – take a seat (and a large breath) – and have a little read.
Stop, collaborate and listen
There may have been a distinct lack of Haim material proper; but they have been rather generous with collaborations of late. It's testament to how prolific they've been in this field because it's almost quicker to list who they haven't collaborated with.
A$AP Ferg, Calvin Harris, Lorde, Pusha T, Q-Tip, Stromae, Childish Gambino, A$AP Rocky, Kid Cudi, Major Lazer, M83, Brandon Flowers, Tame Impala, Tobias Jesso Jr have all worked with the trio in some way or another. The thing to note is that many of these artists are more hip-hop or dance-centric (OK, yes Tobias is about as hip-hop as red pepper hummus but you get the idea), perhaps suggesting that there'll be some more of those kind of collaborations on the upcoming LP.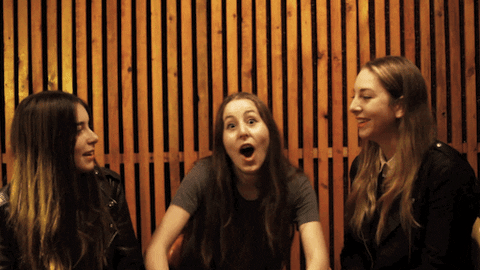 Sure, that Chris Moyles bloke is returning to radio, but the real news of the week about the ol' wireless is that Haim are getting their own Beats 1 show. This is pretty exciting stuff indeed; Pharrell has joked it should be called 'Haim Time' and it'll more likely than not feature a whole lot of Prince, Steely Dan and Carly Simon, based on his on-air discussion with the band. Perhaps this will pave the way for Haim's next record; sure 'Days Are Gone' was very poppy, but there's room to go one bigger. Perhaps a radio show will both give them the platform – and inspiration – to break through the cascading radio-waves and into the rippling waves of the mainstream even more.
As well as a whole host of possible collaborations, there's a chance of some outside influences from music's two biggest names: Taylor Swift and Yeezus. In terms of the former, it's pretty well documented that she's become great mates with Haim. Sure, Swift's #squad seems to be ridiculously expansive, but they've holidayed together in Hawaii and also toured loads with Taylor earlier this year.
On the other end of the spectrum, Alana has promised Kanye influences; saying "I have yet to see Kanye not put out an amazing record…we're going to tap into our inner Kanye", which should be really exciting.
Apart from the fact that it's ALL SO FLIPPING EXCITING, there's only one thing that's really clear about the whole album. That is the producer – based on a January tweet, it's pretty clear that it's Ariel Rechtshaid again. That's exciting news – he's the musical man of the moment, and he's done some cracking work on Brandon Flowers' and Tobias Jesso Jr.'s albums already this year. His work made 'Days Are Gone' saliva-inducingly exciting; he made it awash with glossy grooves, retro sounding drums and melodies more on-point than an in vogue ballet dancer. Here's hoping he can do the same again; judging by the numerous 'MY BODY IS READY!!!!11' tweets people are very – or perhaps too – excited. The only scare could come from an almighty plot twist that the poster actually means that David Bowie is producing the album; let the conspiracies begin.
In terms of a tangible release date, it's anybody's guess. They've been as vague as it gets so far, but that hasn't stopped people from fearing that a release could be ages away; as Catarina Raposo put it, "I hope my grandchildren live long enough to listen to Haim's new album". For now, we can only pray that more announcements will come soon; and then set every working alarm clock to #HaimTime.