Report
#STANDFORSOMETHING Tour Takes Over Manchester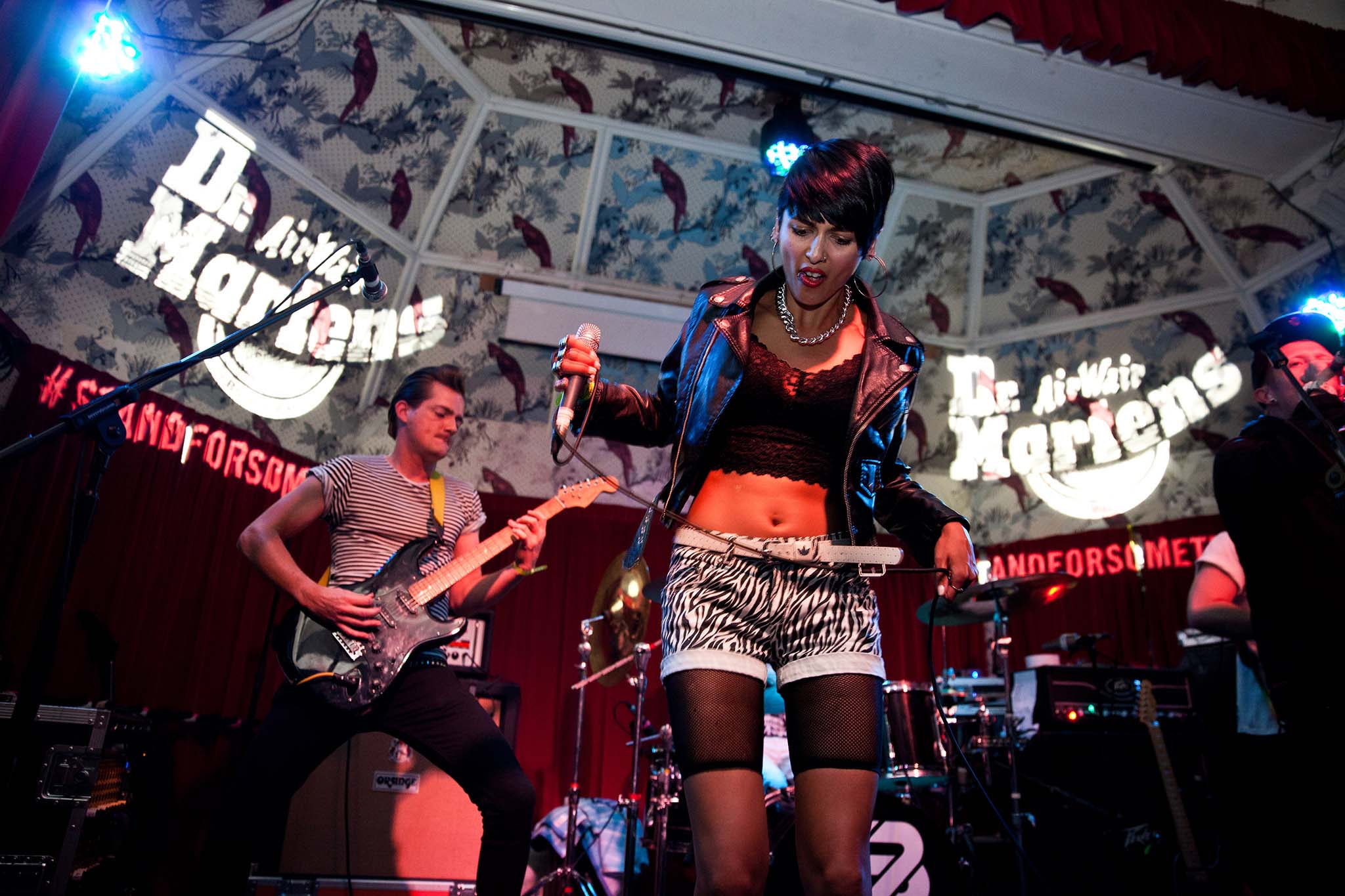 DIY and Dr. Martens' #STANDFORSOMETHING tour is on the road, kicking off in Manchester.
Bags packed, trains boarded and Manchester-bound, it's time for the first show of DIY and Dr. Martens' #STANDFORSOMETHING tour. Hosted in one of the musical capitals of the world, things might be getting under way while a United match is held down the road, but there's no deterring this lot of bands - even if two rogue members of Save Your Breath do disappear to Old Trafford for a while.
Have no fear though, they're still prepped and ready for a very special – and remarkably intimate – acoustic performance at Manchester's Dr. Martens store. Transforming three tracks – including a new cut from their forthcoming album 'There Used To Be A Place For Us' - it's a wonderful way to begin live proceedings. Across town, Sonic Boom Six are busy cramming themselves into the DMs van to get up close and personal with a bunch of lucky fans, one of which allegedly came all the way from Thailand.
Once the Deaf Institute opens its doors, drinks are flowing and people are already hungry and waiting for their dose of musical offerings. First up, we're treated to our first taste of Strummerville in the form of LTNT, who have no qualms with making an unmeasurable amount of noise.
Next up, it's those cheeky Newport boys again. The last time they played live proper was back in April, and they waste no time in reacquainting themselves with the crowd as they bound through a set of both old and new material. Airing some tracks for the very first time, there's a decidedly new and considered feel to their forthcoming songs. Coupled beautifully with the youthful bounce of their previously more-straightforward pop punk, it makes for a great reintroduction to a band that are more than deserving of such a spotlight.
Rounding off the evening, Sonic Boom Six ignite the hearts of their hometown. Within one song, the dancing has begun. Running through songs from all eras of SB6, they even squeeze in a special acoustic dedication to our visitor from Thailand. By the time they catch their breaths – the vocalist duo spit lyrics at each other with an intense speed - their final tracks are upon us, and there's no better way to end things than with a good dose of circle-pitting, and an encore of 'Sunny Side Of The Street'.
Bristol, we're coming for you.
How was it for you, Sonic Boom Six?
'It was amazing! I foolishly was showing off for the cameras today and thought, 'Oh yeah, I'll get my lip pierced for the camera, that'll be so good'. I didn't realise that getting your lip pierced and singing is quite difficult, but I loved it! Everyone that's come up to us has had a great night, and everyone's just really happy and buzzing. So, that means we did our job well, and it's great to be part of something that actually cares about music. This could've been our gig here, and to be honest, I don't think it would've been as good. I think the whole team effort - all the bands, Dr Martens and DIY - all made if perfect. It ran smoothly and it was pretty much brilliant.' Laila K
How was it for you, Save Your Breath?
'It was great! It was our first show back since three or four months ago, so it was a bit nerve-wracking but it was really cool. It was really nice to play a new set with some new songs. It was refreshing!' Kris Richards
How was it for you, LTNT?
'Good venue, good crowd, good night. Nice to be out of London and into some clean shoes for a change. Cheers to Strummerville for hooking it up and looking forward to next time. See you soon Manchester!' Liam Lever