Interview
Teleman: "It's a lot about mixing business and pleasure."
Smart, charming indie-poppers Teleman are shaking off their past one step at a time. First order? Debut album 'Breakfast'.
When it comes to Teleman, a relatively new indie-pop quintet sculpted from the ragged remains of Pete And The Pirates, things are noticeably different to a couple of years back. With a new name comes new members, new noises and a new image that has seen these four boys from Reading move breezily away from their pirate past, and onto greener (and significantly more synthetic) pastures.
Their clean-cut electro and softly-spoken melodies have been enthusiastically popping up more and more on blogs and radio playlists for over two years now, and this brouhaha is only set to get bigger. They've already appeared on tour alongside Suede, Metronomy, Maximo Park and Connan Mockasin - but now, finally, they're getting ready to take centre stage. With their debut album 'Breakfast' fast approaching, their first headline tour under their belt and a string of Summer festivals to look forward to, this season is set to be Teleman's busiest yet.
'Breakfast' is - as its food-y title might suggest - just the beginning. But it's a record that goes several lengths in establishing Teleman as an outfit leagues beyond its members' previous band. Perhaps, given time, they'll be able to ditch the 'science geeks' reputation too. It's nothing that an impressive debut record won't help sort.
You've been mixing headline dates with support slots for Maximo Park - what's the contrast like?
Thomas: Sometimes when you're on a support slot no one is listening and if you try and play a quiet song, the noise of people talking is louder than the song. It can be quite frustrating, but there's nothing you can do about it. The only thing you can do about it is hope that some people are listening and try and play a louder song. If you're a band that doesn't really have loud songs then there is nothing you can do. I don't like it when people ask the audience to stop talking, I think it's really awkward.
Peter: I think if you don't have any loud songs you probably end up supporting someone who doesn't have loud songs so they don't get crowds of people who don't like loud songs.
T: Yeah, hopefully. A lot of bands have their quiet moments, don't they?
How did you find your drummer Hiro?
T: We were playing a gig at the Old Blue Last and he was drumming in the support band and… we stole him basically.
P: We poached him.
T: They were going nowhere! They've probably got a drum machine now. [We've known him] less than a year. Because he came in after we already recorded Christina - I played the drums on that - Jonny had done a bit of drumming. We actually started making the album before Hiro joined. That's weird, eh? Most of the drumming is Hiro, so I would say it's about a year. So not long.
P: He's a good drummer.
T: He's Japanese.
T: He is Japanese. Very precise.
T: Very regimented. You know, perfectly in control. Never misses a beat.
So what are the most unusual aspects of being in a band?
P: You don't have a set time. You're in a group, and making group decisions is quite weird. It doesn't really happen a lot. It's a lot about mixing business and pleasure.
T: One of the most unusual things is just the nature of traveling around and playing your music to people. And the fact that it's never the same.
Do you pick up any weird hobbies?
T: Just reading, loads of reading. Since I got a new computer, I've been just making music. Surprising how creative you can be at 70mph going down the motorway, writing songs.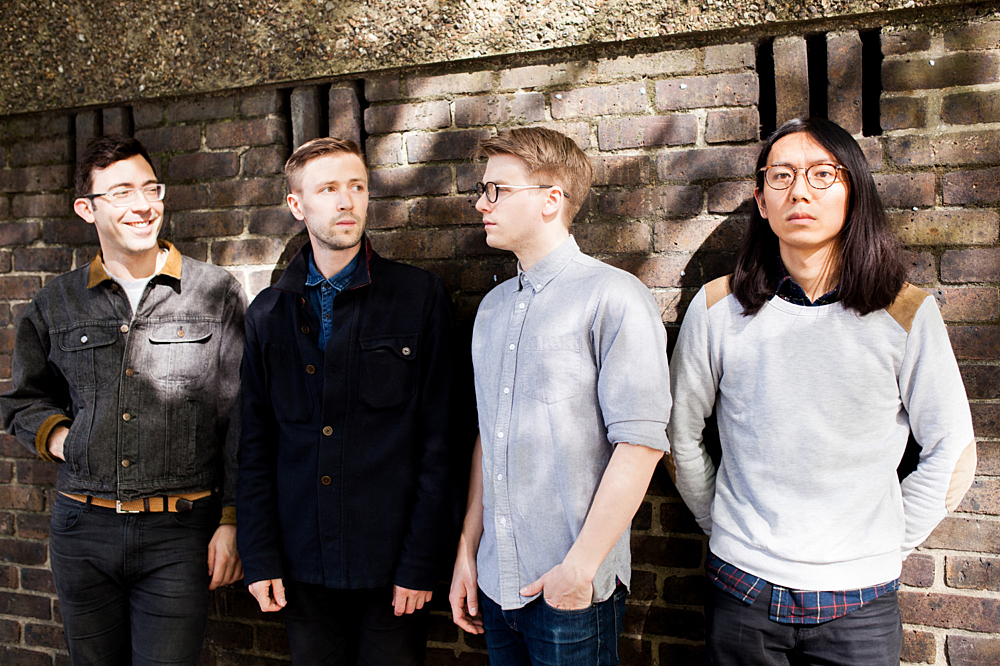 What about Pete and the Pirates? Are you looking to disassociate from them? Are you annoyed about people mentioning it still?

P: I think, generally, it's fine if people come to our gigs and they are, or were Pete and the Pirates fans. But in interviews it can be annoying.
T: I've had people ask 'Why did you change your name?', so I think in some ways we're definitely keen to make it clear that it's something totally new.
Your sound is new, also your branding. It seems to be more considered now.
P: Yeah I think we wanted to do something that was really visually appealing.
T: And simple, we just wanted something simple. Simple and graphical. Maybe not simple - minimal.
P: It's kind of what you have to do nowadays. Everyone is getting better at it, so if you don't do it you're kind of shooting yourself in the foot. It's not what we're about really, we're more about the songs and the music - but we like pictures. I mean, we all like different things.
T: I really like Matisse… He's probably my favourite artist actually. People often compare paintings to songs, I think I do as well. I think you can see a song in terms of colours and shapes, and if it's really simple but with lots of space in it, a couple of simple colours.
You've been described as 'Science Nerd-Chic' - would you agree with that?
T: I think it's slightly lazy journalism, because they probably picked up on the fact that one or two people wear glasses…
P: It's a bit like the pot calling the kettle black.
T: If you have harmonies, then it's the Beach Boys. If you wear glasses, you're nerdy. What they don't realise is the people wearing those glasses are crackheads. In our band. Violent crackheads, and they don't know anything about science! I guess when one, or somebody, or a journalist is describing a band, you need to come up with something that people can relate to, and there's different camps. If you wear glasses, you're nerdy. I don't know where the science bit comes in though.
P: People have mentioned Kraftwerk a few times. That's a bit weird.
Teleman's debut album 'Breakfast' is out now on Moshi Moshi.

Get your copy of the latest issue