Cover Feature
Jungle: The most exciting band in the world?
In less than a year, Jungle have gone from nothing into the most exciting act in the world today.
In the end, the faces behind JUNGLE have proven to be the least important part. From a breakdancing six-year-old to a duo of synchronised rollerskaters, right up to the palm trees, knock-off Vauxhall Astra's and vintage jackets that grace their imagery, the face of JUNGLE is unidentifiable. It splinters off in different directions, invites anyone and everyone into its circle. Like any movement, it threatens to explode at any second. This summer could be that very moment.
The minds leading all of this - Josh Lloyd-Watson and Tom McFarland, aka 'J' and 'T' - aren't shy, retiring figures. They profess the 'let the music speak for itself' line, but they're not doing this out of fear. There's a purpose. "Although we do the music, I never ever wanted it to be about us," says Josh, in-keeping with countless bands who begin mysterious, identity-free.
But then there's the rest of JUNGLE - the way ambitious 'band photographs' link hand-in-hand with viral videos, the fact that their self-titled debut album is described as a "movie" and a "video game". They declare the sound to be a "virtual reality", and Josh cites Gorillaz as the main influence behind this - "it's so important to us, those songs painting pictures."
It started with 'Platoon', a song that lit fire on a career that started ten months ago. Since then, everything's spiralled out; a Haim support tour; SXSW shows; signing to one of the biggest labels in the world. A sense of control and selectivity that defined 'J' and 'T''s early days has since been tested. "There's only so long that you don't work with the way others want to work," says Josh. "What you can control, you can control. When it's out of your control you can't panic about it. You're only going to get so far by being like that."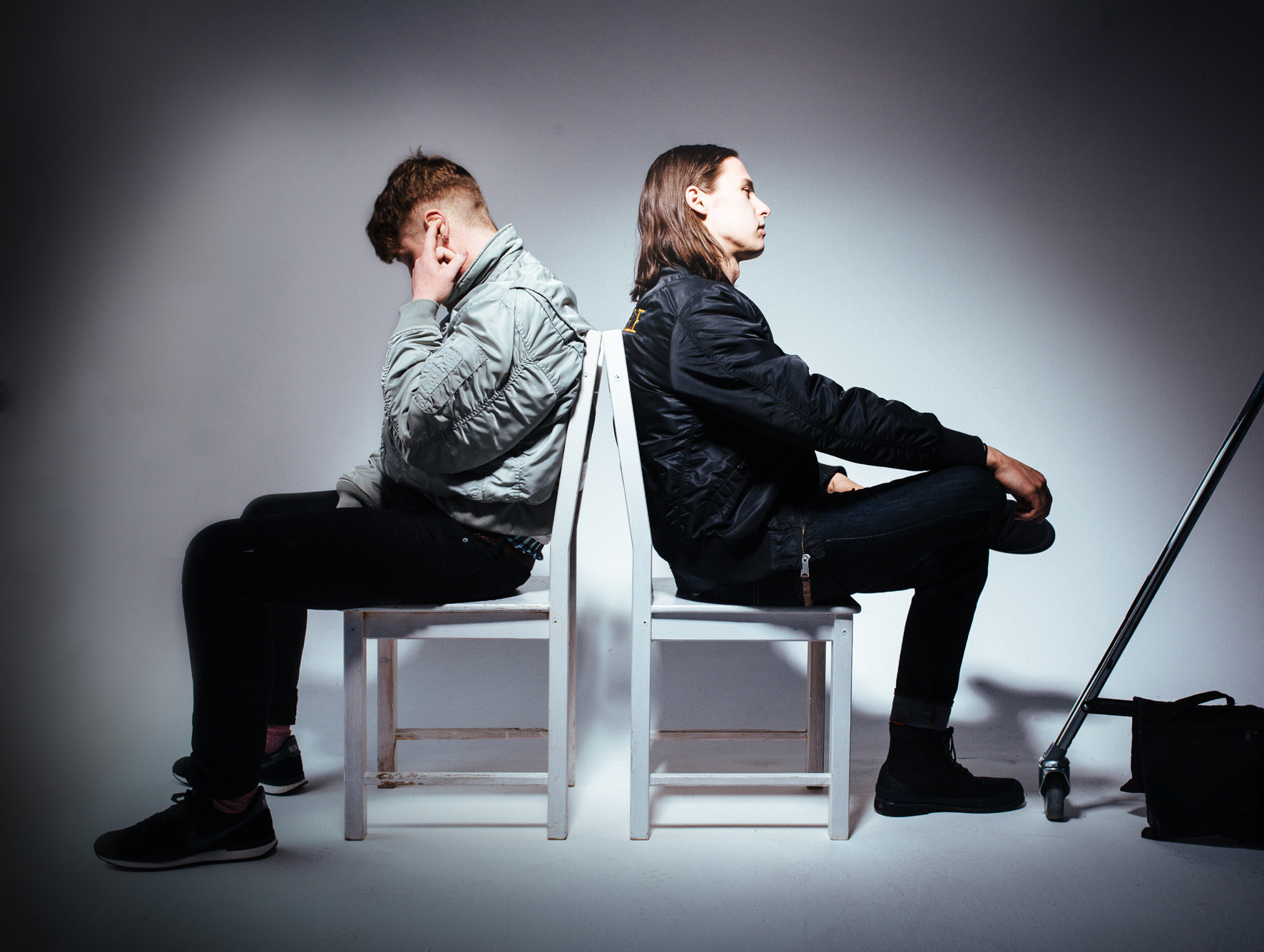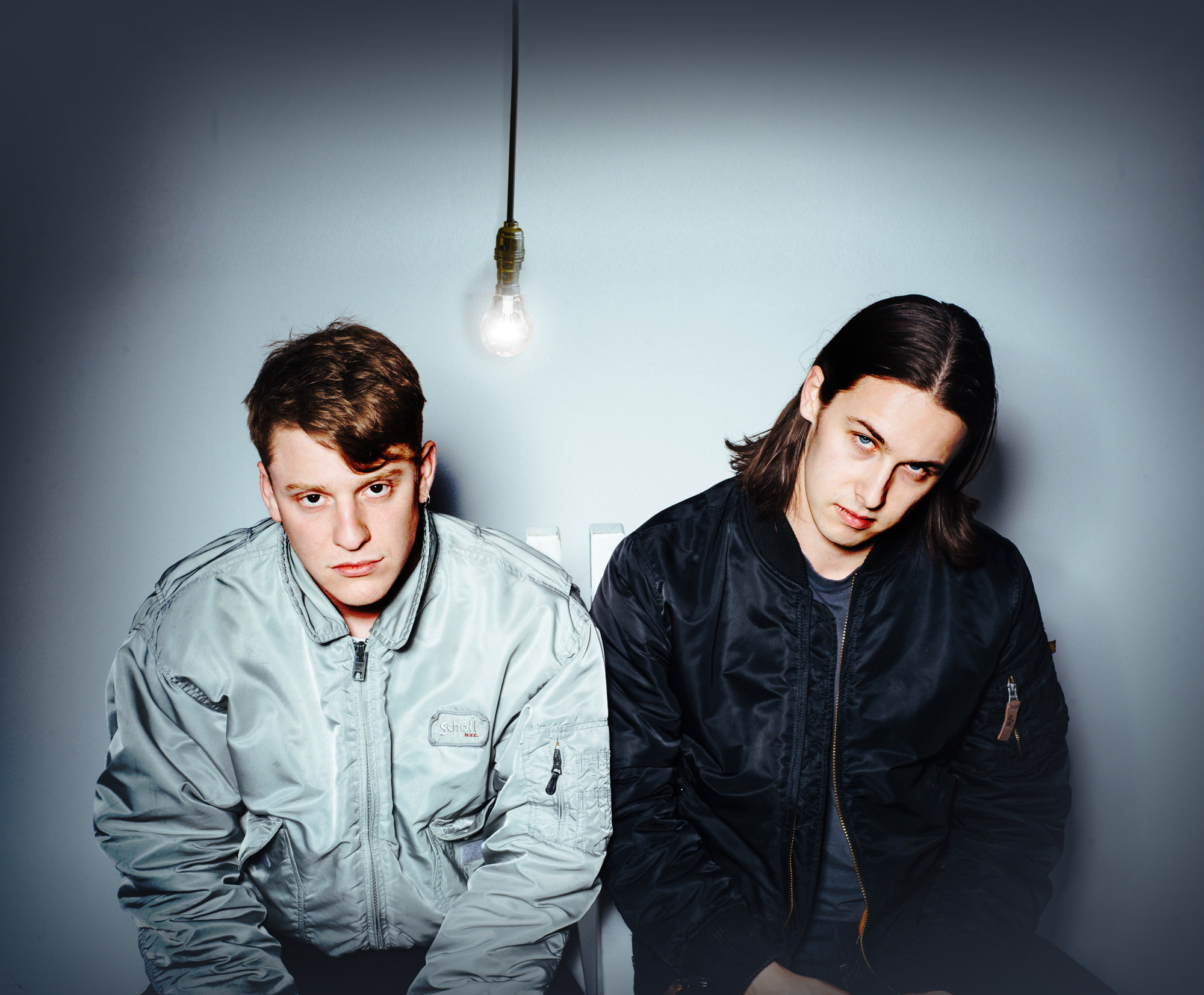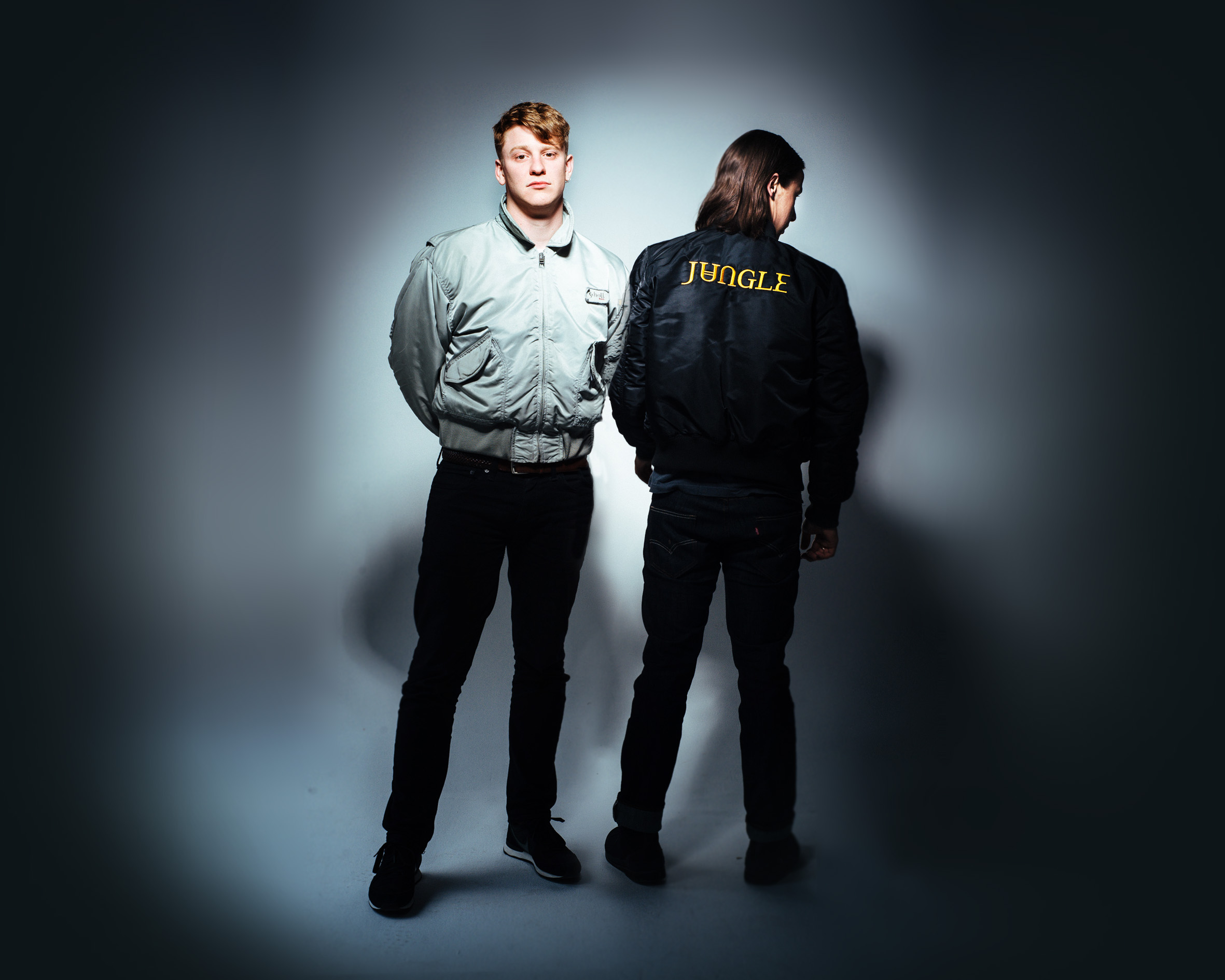 Eventually it boils down to the main reason why JUNGLE stand out. It's that old cliché of a band being undefinable, immune to categorisation. 'Platoon' and 'The Heat' - these singles gave hint to so many things; reverse-funk guitars reminiscent of Jai Paul; old soul records; hip-hop production. Entangled in strange unison, somehow out of nowhere arrived a group sounding like nothing else on the planet.
"Sometimes if we're going for something we think we've heard before, we put ourselves down for it. And that's a taboo when we work," admits Josh, summing up the strict ethos that defines the debut. Before JUNGLE, both Josh and Tom had been writing together for a solid ten years. They'd experienced labels, releases, hype through Born Blonde, a band where they "never had full control" - "They weren't our songs. That wasn't our sound. You just play it, so you learn the lines. Jungle's another level from that."
"When it's out of your control you can't panic about it. You're only going to get so far by being like that."
— Josh Lloyd­-Watson
Initially a bedroom project with all the ambition of a multi-million selling artist, the transition into XL's studio has been relatively painless - being in the spotlight, less so. "We've gone from producers in a bedroom - where you feel safe - to writing something that drags you to the front. It's a bit like, 'Can we just go back to our rooms?'" If anything it's a surprise that at this early stage, JUNGLE are going ahead with putting out an album. That it's even an album in the first place - not a 'hidden LP', collection of singles or god knows what else - might go against an apparent anti-norm approach. Tom cites Chance the Rapper's 'Acid Rap' as an influence ("he put a mixtape on Soundcloud and it's one of my favourite albums") but ultimately summer 2014 approached. JUNGLE had a sound not just tailor-made for the season, but capable of shaping it. And as Josh modestly quips, "when you get the attention that we got with the first two singles, if you then wait another year it's kind of old news."
The ambition in their early work runs right through to the tiny details. Each stone unturned, every possibility considered, when JUNGLE first did interviews - this is their third with DIY - they opted more for a 'we don't know what we're doing' style of answer. There's a definite sense of winging it in their music - there needs to be for it to come out sounding this pure - but the pair are beginning to admit that yes, they think about these things. A lot. A JUNGLE live show was first on the agenda. Josh and Tom "didn't want to let ourselves down by bringing samplers and just being producers" - "If someone bought a ticket to a Jungle show, we wouldn't go and put a film on. Do you know what I mean? Fans are important. We're new to having fans. It's shocking that people do turn up to shows."
Sitting on adjacent sofas upstairs in their label's office - surrounded by memorabilia from Jack White, Gil Scott-Heron, Thom Yorke - Lloyd-Watson and McFarland speak from the same page, but they're notably very different in their perspectives. Josh is a bigger picture figure. He tends to have the first and the last word, with Tom expressing like an everyday music fan. Somehow The Magic Numbers and Jamiroquai, of all things, crop up in conversation. He also cites The Strokes' 'Room On Fire' as a life-changing record. "That album reminds me of one month in my life when I was 15. I'd bought my first pair of converse and I was beginning to meet girls. It just takes me back there. I hope that our album gives people a chance to connect to it in their own way, where they can attach meanings to it."
The debut brings together last year's singles, the monstrously huge 'Busy Earnin'', plus another handful of disco-leaning, funk-strutting songs capable of breaking big. There isn't a single track - bar interlude 'Smoking Pixels' - that takes longer than 40 seconds to get to the chorus. This is effortlessly executed, brilliantly complex pop music. It's a collection of potential chart-toppers - there's no shying away from the fact.
Everything points to the future, then. This debut could break down boundaries, lift up the once faceless duo into upper realms. Tom's quick to cull that kind of talk. "We're aware that we haven't actually done anything yet," he claims. "We've released two, three vinyl singles. We've signed a record deal. How many thousands of people have done that? How many people have gone the wrong way because of that?
"It's believing what we believe in and working to our maximum potential. Every day is a day of work, every day is a chance to do something better than you did yesterday."
Hard workers have their weaknesses. Perfectionism often strikes a killer blow. If a record's over-thought or intensely calculated, it often comes out of the oven stone cold. "We've written thousands of songs in the last ten years and every single one, I could go back now and go 'That cares too much, that cares too much," says Josh. "If you panic about possibility - and I think everyone does - that infinity can overwhelm you, screw you."
The pair relay hours spent inside studios "looking at a reverb pattern", which is something "fans don't care about." Days have been used up outdoors, picking up minute field recordings barely distinguishable within the album. But JUNGLE mix an intense work ethic with a flippant attitude, a taste for spontaneity. Every curious, playful guitar sound is played on the spot. There's no writing process, it just steps out and gets put to tape. "It has to be from that moment," argues Josh. "It's better when you're getting something done is to have a few limits, a few 'I don't care''s. If you have all those stars to grab, you spend all your time picking them out." There is one limit to the duo's jump-up-and-grab-it approach. No sudden 'flashes of inspiration'. "I really don't believe in that," barks Josh. "This idea of getting down a melody when you're making toast. It's just crap, isn't it?"
Given that it's been ten months since "jungle" was just a term thrown about next to a revived genre, or a word musically associated with a Guns N' Roses song, this project's progression has been extraordinary. Flash forward another year and it's true, they'll most likely be 'Busy Earnin''. But behind the complexity, the mystery, the determination that's given JUNGLE such a head-start, they're two fairly normal blokes who just so happen to be the masterminds behind 2014's defining sound. "Regardless of what happens out there, in ten, fifteen years time we're still going to be writing music," Tom claims. "Whether it's coming back from our jobs, putting the kids to bed, smoking a joint and having a session on a laptop. Two forty-five year old dads shadowing as producers. At least we're still getting our chance to do something."
Jungle play Latitude Festival 2014 between July 17th-20th.