Album Review
Clean Bandit - New Eyes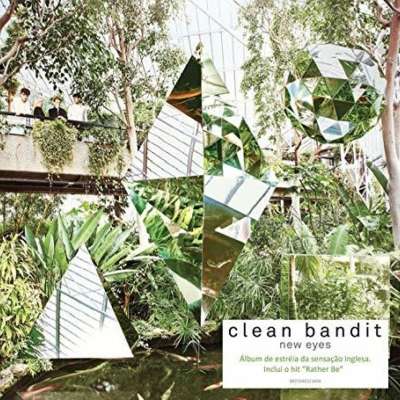 The band's genre-splicing potential is lost on a largely tedious debut.
Label: Atlantic
Released: 2nd June 2014
'Come Over (ft. Stylo G)'. That's the moment. The moment it becomes all too clear that someone on a lofty office floor, with cartoon-like dollar signs in their carnivorous eyes, has meddled with Clean Bandit's eagerly-awaited debut album. It's a post-Sean Paul monstrosity; a slickly-produced tub-thumper that sounds like it's been scraped up off the bottom of a Malia swimming pool. "Sun sun sun sun shining", gabbles the chorus over those same prosthetic steel drums and buoyant rhythms that besieged Wayne Wonder's 'No Holding Back' in 2003, and yet that repeated word is curiously cold; the hashed sentiment is studied, their new target market is in view and yes, they're sunburnt, preened and glugging something that's both potent and luminous. Sadly, it's a nagging theme that regrettably looms large over 'New Eyes'.
Of course, the dullness of this feels especially significant when you consider that eccentricity has been at the quartet's core since their early formation. It's also contrary to their exuberant live presence, which has seen them support multiple releases with the help from the local community performing arts group next to their Kilburn studio. Entering the fray on vocal duties via a revolving door, those unknown singers warranted them a billing as a kind of grassroots Basement Jaxx; a clan of stupidly talented outsiders who collectively forge genre-splicing, orchestral R&B that has oddly-huge potential appeal.
'New Eyes', conflictingly, feels like they're attempting to mask such peculiarities and even to some degree move away from their, gasp, classical roots. It's a fact that's blatant; much to do with the way their early promise sits almost intermittently alongside some of these tediously conventional new offerings, which only serves to make the gulf stand out like a sore thumb. Imminent single 'Extraordinary' is a big offender. After an 'Our Version of Events'-worthy build, it's crying out for something slightly off-kilter to douse the saccharine overload, but instead shoots for a bounding chorus of 'Rather Be'-proportions, which misses in favour of something that can only be described as 90s dance clunk. Then comes 'Heart On Fire', which once again points back to that man, Wonder, and is incessant and boldly irritating.
There are souped-up versions of 'Mozart's House', 'Dust Clears' and 'Telephone Banking' sprawling in between, making for frequent pit stops, but it's here that we once again revel in what first drew us, raising serious question marks over their new-fangled vision.
More like this