Album Review
Cerebral Ballzy - Jaded & Faded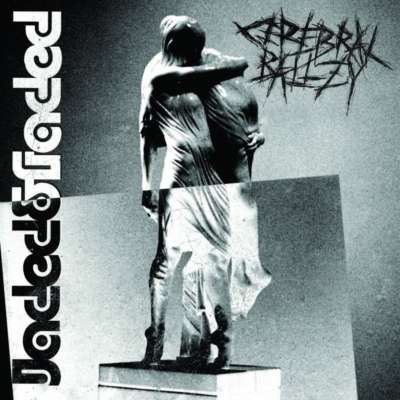 They're dirtier, filthier, meaner, and more visceral and raw than ever before.
Label: Cult Records
Released: 16th June 2014
'Jaded & Faded' - the second full-length effort from Brooklynites Cerebral Ballzy - is titled as if the five-piece were a washed-up crust-punk band making a comeback years after their heyday. Best known for their amped-up post-hardcore single 'On the Run' in 2011, that track ultimately defined the rest of their self-titled debut album - snotty-nosed, anti-authoritative and more hyperactive than a kid filled with sugar on a bouncy castle. Most songs on that record came in at the two minute mark - if not significantly less - and saw the Ballzy cement themselves as revivers of off-the-wall 80s hardcore; radio-friendly melodies injected into it all to dilute things ever so slightly for prime pop airtime.
Produced by Dave Sitek and released on Julian Casablancas' Cult Records, you'd be forgiven for thinking that 'Jaded & Faded' cleans things up significantly. There is no shine or gleam to be found anywhere here. In fact, right from the moment opener 'Any Day' bursts into life with its crunchy chords and grunge-ridden vocals, it becomes clear that the band haven't toned down their act at all - they're dirtier, filthier, meaner - and most refreshingly their pop sensibilities are completely compromised.
Lead single 'Lonely as America' is the perfect example of what the Ballzy have grown into. Rather than spending his time reeling off empty punk cliches in a half-sung yelp, frontman Honor Titus now sounds more coherent and confident in his own voice, and behind all the riotous, fuzzy riffs (Sitek has done a fantastic job in somehow propelling the band forward by fucking the sound up even further) there's actually a sign of a guy with a gritty set of vocal cords who can actually sing. Melodically 'Lonely as America' is superior than anything they've produced before - a true earworm as far as the Ballzy are concerned - instead of sounding cocky and insincere, they sound passionate and focused.
Fans of their erratic freakouts needn't worry though, the Ballzy of old is still here somewhere - they're just buried beneath mounds of ruthless reverb and piles of screeching static. 'Fake I.D.' starts off lean and slick but eventually slips into a demonic seizure for the latter part of the song, and 'Speed Wobbles' is a minute-long burst of dribbling horror punk that evokes the soundtrack to some kind of 90s Nerf Gun ad. On 'Jaded & Faded', Cerebral Ballzy sound more visceral and raw than ever before - they've ditched the radio-ready gleam, the whole thing sounds recorded in an abandoned crack den on a half-broken tape player, and they're all the better because of it.