Album Review
Lana Del Rey - Ultraviolence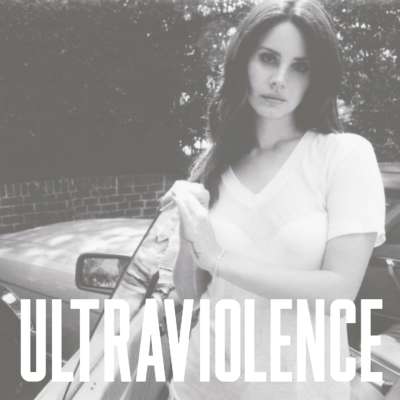 She's a Wes Anderson character that's wound up in a David Lynch film, and she knows it.
Label: Polydor
Released: 16th June 2014
It's hard to forget the mud-slinging, hype-stamping furore that met Lana Del Rey's debut 'Born to Die'. By that point, she was already writing songs about being famous, having to deal with zero privacy and fragile relationships - she knew where she was going. Everyone else did, too. Critics might have questioned her beginnings, her route to the top, but it's all meaningless today. She remains the most curious pop star in the world, a figment of the collective imagination that somehow - despite her otherworldly quality - speaks to fans on a direct, human level.
Most songs on 'Ultraviolence' link up with a bluesy smoke of a sound. Whereas 'Born to Die' flirted with gloss and glitz, this is the sound of Lana hitting the road. Producer Dan Auerbach in tow, most of the time the tempo doesn't get any quicker than a Kolo Touré sprint. It's a strung out, tear-drenched collection, beginning epic with opener 'Cruel World' and only getting more dramatic as it progresses.
'West Coast' is an odd lead single. Within the context of an album, it's a brilliant track, but like 'Sad Girl' and 'Shades of Cool', parts of this song feel almost intentionally out of place. Choruses - big, brilliant choruses at that - sweep in out of nowhere after awkward bridges and faltering falsetto-ed build-ups. It's a strange, uncomfortable form of expression, and it's a big part of a record that's a hundred times more cohesive than 'Born to Die'.
The highlight, 'Brooklyn Baby', manages to bring the dusty, fog-drenched breeze of 'Ultraviolence' into one brilliant single. It struts confidence, boasting the tongue-in-cheek line "Yeah my boyfriend's pretty cool, but he's not as cool as me." But it also keeps the fragility that sums up Lana best. She's a Wes Anderson character that's wound up in a David Lynch film, and she knows it. 'Ultraviolence' sees her playing with pre-conceived ideas. 'Born to Die' didn't have a moment's notice to deal with the backlash. This second record knocks the rumours and naysayers out of the park. After all, there's a track called 'Fucked My Way Up to the Top'. Confused by Lana Del Rey? Good - that's exactly how you should feel.
More like this