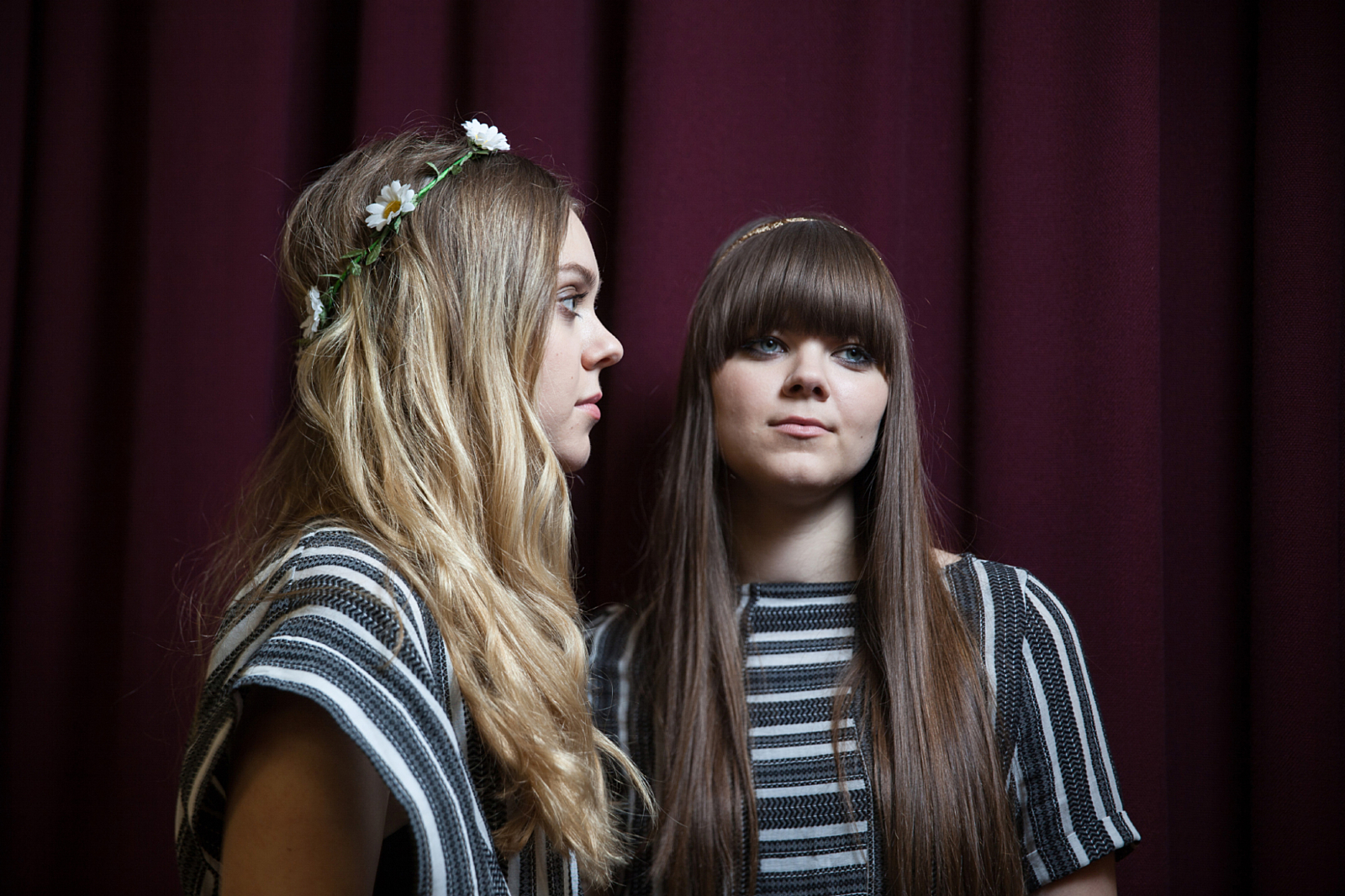 Photo: Emma Swann
Latitude Festival 2014:
First Aid Kit's festival anthems
Swedish sisters Johanna and Klara Söderberg run through their favourite songs to play live in grassy, muddy fields.
Almost every band gracing a main stage has their own festival anthem, and more often than not it's chosen by fans. There's probably a scientific report somewhere confirming a correlation between the later a song's aired in a set and the level of decibels raised by excitable crowds. Fans have their say, then. But when it comes to slimming down setlists to a festival-ready size, it's the artists themselves that get to set the agenda.
Ahead of their Latitude 2014 set, we asked Swedish sisters Johanna and Klara Söderberg to sift through their three albums - including the latest, 'Stay Gold' - and pick out their favourite tracks to play in grassy, muddy fields.
Wolf
"This song always gets the crowd moving. We've never considered our music super danceable, but people do actually get into some kind of groove here! It's got a tribal drum beat and a festival-friendly chorus hook. When we play bigger festival stages we try to play our more upbeat and 'big' songs, some of our songs are better suited in more intimate venues."
America
"This is often the only laid back and quiet ballad we perform in our festival sets. It's a cover of the Simon & Garfunkel song. It's such an incredible tune in so many ways. Even though we play it with only one acoustic guitar and some pedal steel it's very dynamic and builds up into a dramatic ending. The structure of the song and the melody just make for an epic journey. The lyrics are like a poem, without a single rhyme, and they contain some of our favourite lines like 'Toss me a cigarette I think there's one in my raincoat' and 'Kathy I'm lost I said though I knew she was sleeping.' Ah, Paul Simon, you're so good with words."
Stay Gold
"We just started playing this one live, it's the title track of our new record. It's always a little scary to play new songs from a fresh album, you never know how the crowd will react and which songs will work and which won't. However, this one has been a blast performing live!"
Emmylou
"It's special for us to play 'Emmylou'. We usually end our sets with it. It's one of our most popular songs so we've probably played it thousands of times, but it never gets old! It's about the power of music and singing together with someone. Therefore we invite the audience to sing along with us in the last chorus. It's magical to hear the fans who know it inside out sing along. It melts our hearts."
First Aid Kit play the Obelisk Arena on Saturday 19th July. Taken from the July issue of DIY, out now. DIY is the official partner of Latitude 2014. We'll be bringing you extensive coverage from in and around the festival - look out for copies of the July 2014 issue in the Latitude supermarket, too!

Get your copy of the latest issue