Last-minute Lily Allen triumphs at Latitude 2014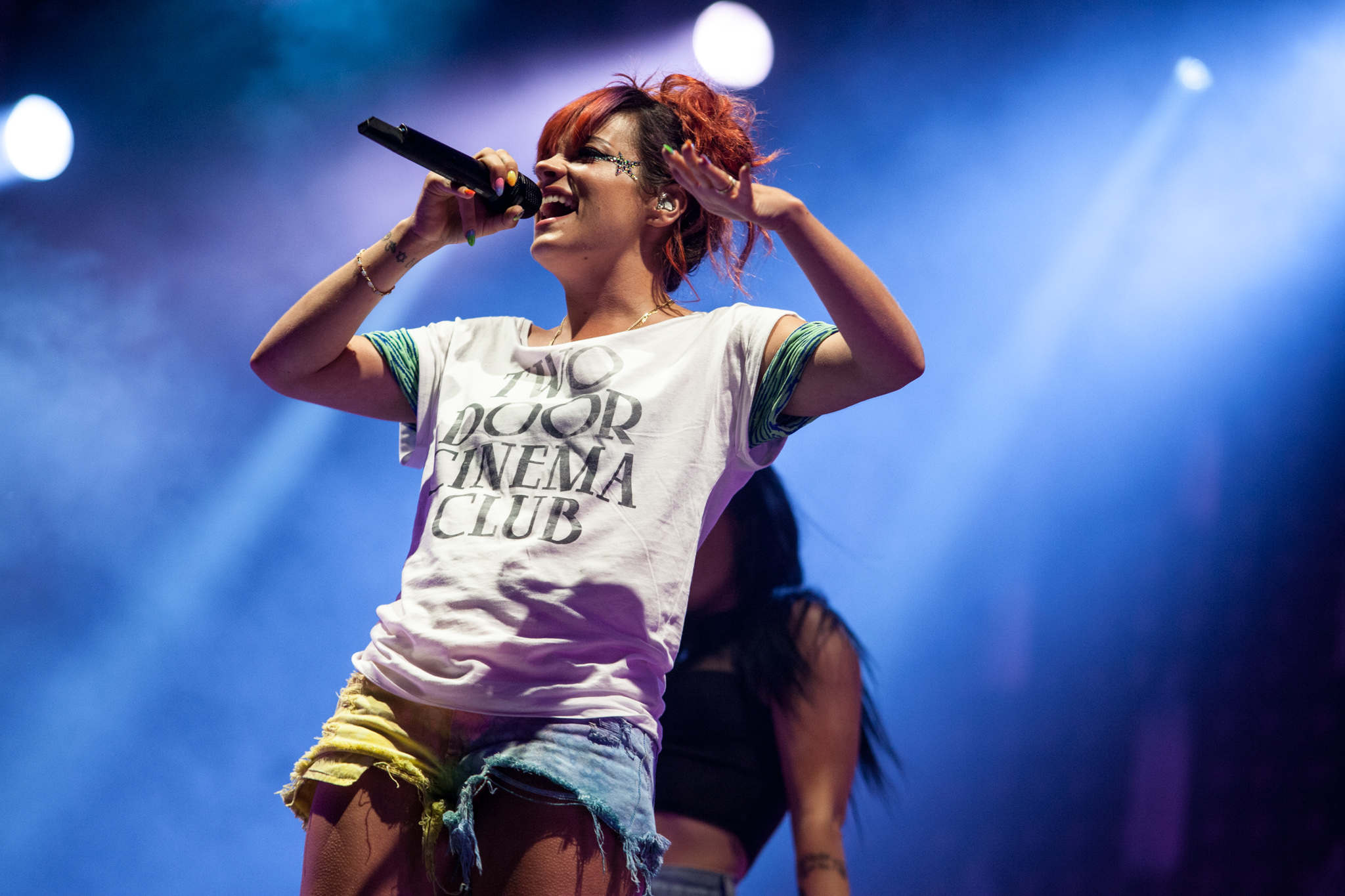 After Two Door Cinema Club were forced to cancel their headlining slot, Lily Allen steps up to the plate.
Good laid plans go to waste. Booking Two Door Cinema Club as a headliner was supposed to be Latitude's big move. Everything is relative, but in a world of rotating headliners, this was set to be a first bill topping role at a major UK festival. That's something to celebrate. Or at least it should have been. One poorly frontman later and everything is up in the air. The bat signal is out for a replacement. Then up steps… Lily Allen?
Replacing a reasonably chart leaning alternative act with a sort of alternative pop act shouldn't be a big leap, and yet for some it felt it. Pay attention to the more negative corners of the internet and you'd have thought musical high robbery was afoot. Who knew Two Door were the band of choice for keyboard warriors.
In reality, this was an all together different gamble from the festival. A much bigger one too. Rather than a new, but still safe pair of hands - an arena indie band no less - they really threw the dice.
Lily has the hits, sure, but bill topping an event like Latitude is a relatively new occurrence. In previous years it has flirted with pop, but usually the classic variety. As the definitive statement on the first night, there can be no doubts about it. It works.
Not many pop stars can spend the majority of a headlining festival set dancing around a selection of fluorescent pink, light-up baby bottles. Then again, not many pop stars are Lily Allen. From her cover of TDCC's 'Something Good Can Work' to the t-shirt of theirs that she's wearing as she bounds on stage, she's more than ready to pay tribute to the would-be closers. Needless to say, Allen is still an entity all of her own; irreplaceable in her own completely unique way.
It's no secret that she's unafraid to speak her mind and be open with her audience. Synth-doused, pun-laden 'URL Badman' comes complete with a mid-song shout of, "Literally, go fuck yourself!" after sitting herself on the edge of the stage and giggling about having to turn around her monitor for 'Littlest Things'. Honest, laid-bare but still hilariously witty throughout, there's very little not to like.
Compelling, passionate and down for a good ol' time, her set is joyous, even when she's encouraging a family event to throw their middle fingers in the air while singing, "Fuck you very much!" Who else could get away with that? She is Sheezus after all.
Whatever you think of Allen, she's got the special stuff required to take someone else's audience and blow the roof off. Personality and no fear of the extravagant, she walks the walk and talks the talk.
Yes, that Keane cover may garner a bit of a sing along, but any performance of a John Lewis Christmas ad feels a lot less bland if you've previously dedicated a track called 'Fuck You' to David Cameron. And that's exactly why it works. We've had pop stars topping alternative festivals before, but unlike Beyonce, Allen feels like she's probably exactly what the focus group would advise against. A scattergun, prowling the stage, she's less polished, more on her own terms. Plans? Who needs 'em.