Live Review
The very best of Latitude 2014
From storms to sunshine, from headliners to Dingus Khan, DIY sums up the surprises and secrets of Latitude 2014.
For any Latitude first-timer, they're in for a shock. Step out from any corner of any campsite and there's a sudden jolt to the system, a realisation that this isn't any other festival. It's an acknowledgement that's gradually affirmed as the weekend develops. Old heads and fresh faces triumph in equal measure. Headliners sink their teeth into critics - or simply shun naysayers - and give everything to their big-billing.
Even when the site-dividing lake begins to build to slightly worrisome levels, it looks the part. Music concludes at 11pm, but there onwards the place comes alive in the furtherest corners of its forest, with sky-reaching trees shunning daylight by simply covering all-out hedonism. Even if the routes are muddy, even if the factor 30's an absolute must, something about the whole occasion stays the same: It's both a source of relaxation and unhinged excitement. Latitude's there for deckchair'ed families just as it is for glittered-faced post-exam teens. It's difficult to see anyone not enjoying themselves. Even the security guards dish out high fives like there's no tomorrow. Only the odd deranged punter decides to give the lake a go, before being promptly thrown out. They probably don't regret a thing.
Because this seems to be a festival for brilliant whim decisions. Bands chop and change their sets midway through. Jungle refuse to ditch their bomber coats despite the 30-degree temperatures. Fans rush to the front as soon as the faintest ripple of music slithers out of a tent. When lightning strikes, people cheer instead of turning away in fear and straight back to their tents.
Throughout all of this, DIY is glued to the action, with half our photographers and writers flung outwards and into the stages, the others magnetised to a press tent where every inch of excitement gets covered. The roles rotate, and by the end, everyone involved's seen their heroes play live, or even interviewed them, or convinced them to step into the middle of a prickly bush for the sake of a beautiful photograph.
Below we revisit the best moments of Latitude 2014, from the bands that stole the show, to the individual moments (and characters) that shaped this year's event into being the most unpredictable and most exciting so far.
Headliners live up to their oft-discussed billing
The build-up to any headliner, at any festival, is usually one of divisive bickering. Even those living hundreds of miles from the actual site - with no intention to go - get their fix of whinging. When it's all done and dusted, there's either a roar of approval, or near-silence (the latter usually being followed by the former). When Lily Allen was announced last-minute for Latitude, replacing Two Door Cinema Club, she had around 48 hours to digest the news. The first 24 was spent dealing with online trolls. The last 24 was spent preparing a set that dazzled in cuss-filled excellence.
"Lily has the hits, sure, but bill topping an event like Latitude is a relatively new occurrence. In previous years it has flirted with pop, but usually the classic variety. As the definitive statement on the first night, there can be no doubts about it. It works," is the immediate response. "Not many pop stars can spend the majority of a headlining festival set dancing around a selection of fluorescent pink, light-up baby bottles. Then again, not many pop stars are Lily Allen… A scattergun, prowling the stage, she's less polished, more on her own terms. Plans? Who needs 'em?"
Tough to follow up on paper, the remaining headliners each do their bit to add to a brilliantly diverse run. Even beyond the Obelisk Arena, Röyksopp and Robyn have three hours to play with, and it only takes a good couple of minutes for the momentum to swing their way. Theirs is an all-out dance extravaganza. It has everything - lasers, outlandish costumes to intimidate George Lucas, a trio of segments that only improve the entire event as it progresses. A report from the night sums up the occasion. "The baton's passed on from act after act, each lap stepping things up a notch until the finish line doesn't particularly matter."
Damon Albarn takes his time, meanwhile. But things click. And then some. "As bandmate and wingman Graham Coxon takes the stage, thunder claps and the sky starts to fall. Nobody is running for cover, though. People scream. People cheer. People sing at the top of their lungs."
It's left to the Black Keys to round off the weekend. If they can get even close to what's preceded, they've triumphed. And though their stratospheric rise has confused the odd onlooker, the sheer madness of the crowd watching on confirms their status as a Massive Deal. "This set is more than just a festival slot; it's proof that even the most intimate of projects can become bill-toppers. Two really is the magic number."
Grizzly clashes are cured with the best sets of the weekend
Even Eagulls are a bit narked at having to clash with tour buddies and all-round buddies Parquet Courts. Anyone hoping to catch both has to watch one half of one, one half of the other. As it proves, that's no bad thing. Parquet deliver 'Borrowed Time' and 'Master of My Craft' early on, showcasing the live intensity of new album 'Sunbathing Animal' in equal measure. Eagulls close with the monstrous 'Possessed', bringing bedlam to the iArena. If half a set's not worth sacrificing, anyone sticking to their guns and their first choice is still duly rewarded. "There's a reason these two bands toured together - they're both equally bloody excellent," says Tom Walters, who manages to sprint from one set to the other.
This clash gives leeway, with a good chunk of time separating the sets. That's less the case for New Zealand duo Broods (hotly-tipped and making their festival debut) and the ultimate hype band, Jungle. "It's difficult to imagine them coming short from here onwards. Their path's already mapped out - this is but a jot on the radar," is the verdict on the latter. Broods are in their early days, meanwhile, but they're nonetheless curious. "This isn't a home crowd either. From a child no more than a few months old in ear protectors to veterans with flowers in their hair - it's doubtful this is what Broods are used to playing to. Whatever the setting, Broods are destined for the top."
Hype acts live up to the build-up, and then some
Perched right next to the DIY press hub is The Lake Stage, with every act hand-picked and curated by Radio 1's Huw Stephens. Some fare better than others, with this passers-by spot either luring in crowds or offering them a split-second distraction. Those expected to triumph ultimately do. The barely-out-of-the-pram Gengahr are destined to be massive. Even if mere strangers are watching on, they end up absorbed by what's on display, the dynamics of this band still being difficult to put a finger on. "You can easily get lost in all the major acts that Latitude has to offer, but on the Lake Stage this afternoon Gengahr's short but sharp set cemented them as one of the most exciting new bands here," is the immediate DIY response.
Beyond the hub of the Lake Stage - as well as the Alcove, which houses special sets from Broods and Glass Animals - it's into the depths of the forest to see the big draws. Tom Vek, Future Islands, Kwabs and East India Youth fill out the iArena. Some perch on logs a fair distance outside just to hear the thing. Others cram towards the front, desperate to get that little bit closer to Samuel T. Herring's lifetime supply of sweat. When it comes to his showmanship, nothing gets close. "Here, hands pointed to the sky, eyeballs rolling into the back of his head, he looks every bit the showman he's always been destined to become. That's how to do it," is the reaction, as members of Fat White Family tragically try to up the controversy stakes side of stage, as nobody particularly cares. Sophie Diver relates the latter's iArena set to a Jackass show - enthralling, but almost forced in execution. "The band become a confusing, musky mess of flailing limbs, sweat and cigarette smoke."
Potential future headliners give their tuppence - Tame Impala close off with one of the sets of the weekend, one that ends their 'Lonerism' tour ("their trajectory doesn't look like it's in any danger of slowing down") and Haim give more than their fair share of bass-face to the occasion: "They can more than live up to expectation that comes with their growing fame and vibrant personality," says Rachel Pronger.
And yet despite the furore and the frustration at dodgy clashes, the most hyped-up act happens to be an old favourite. The most oversubscribed set at Latitude falls to Hall & Oates. Legends in every form, they're the ultimate draw for a family friendly fest. "Carefully assembled picnic spots are trampled over, fold-up chairs become casualty to the mass-Dad dancing. It's not just the Dads busting the moves, either. Every single person crammed into the confines of the tent is on the same wavelength."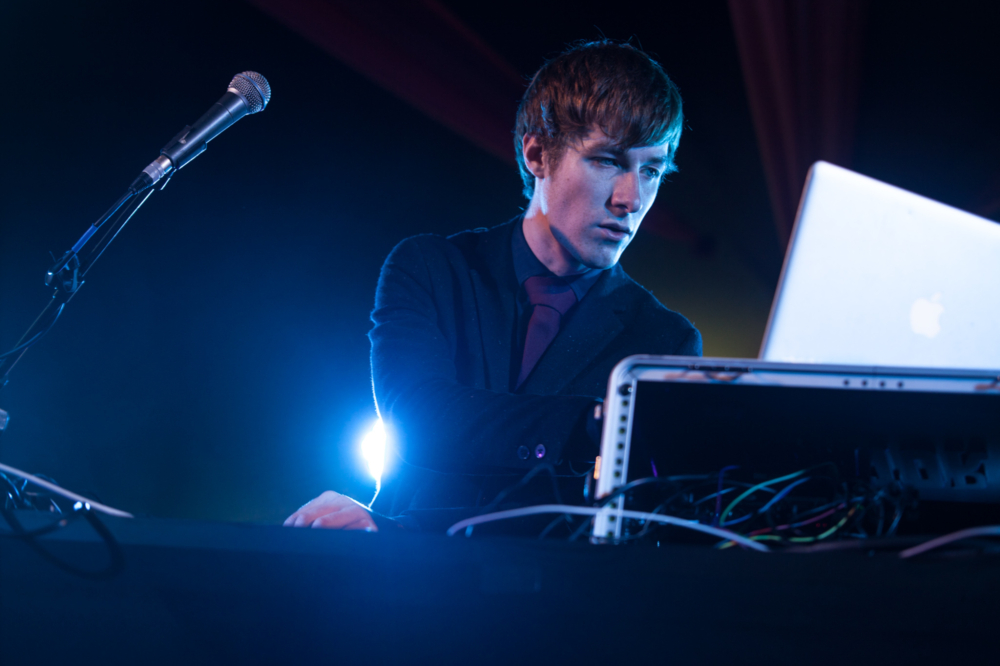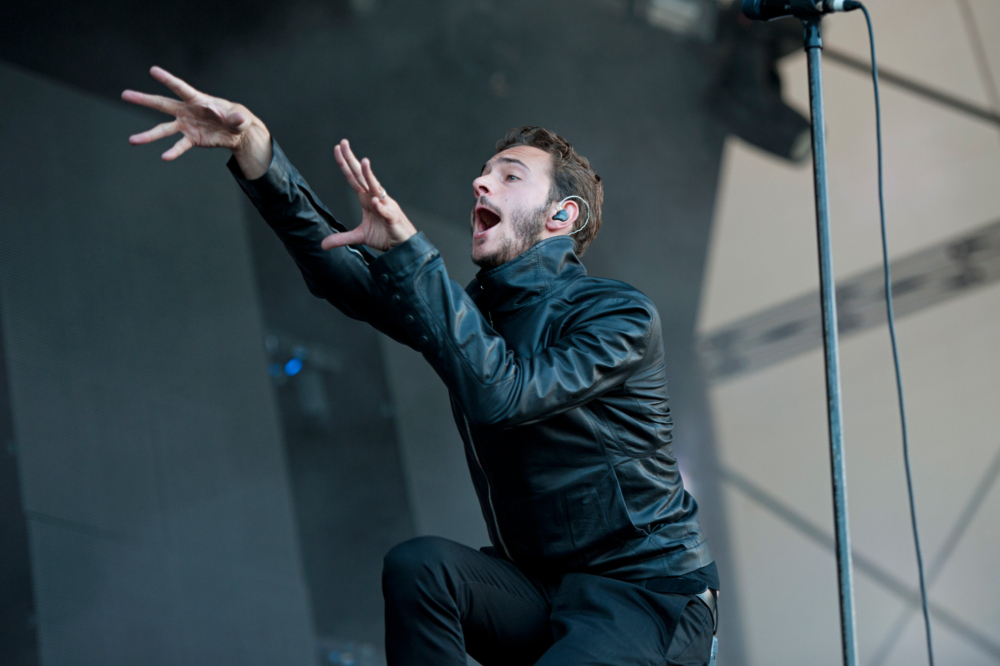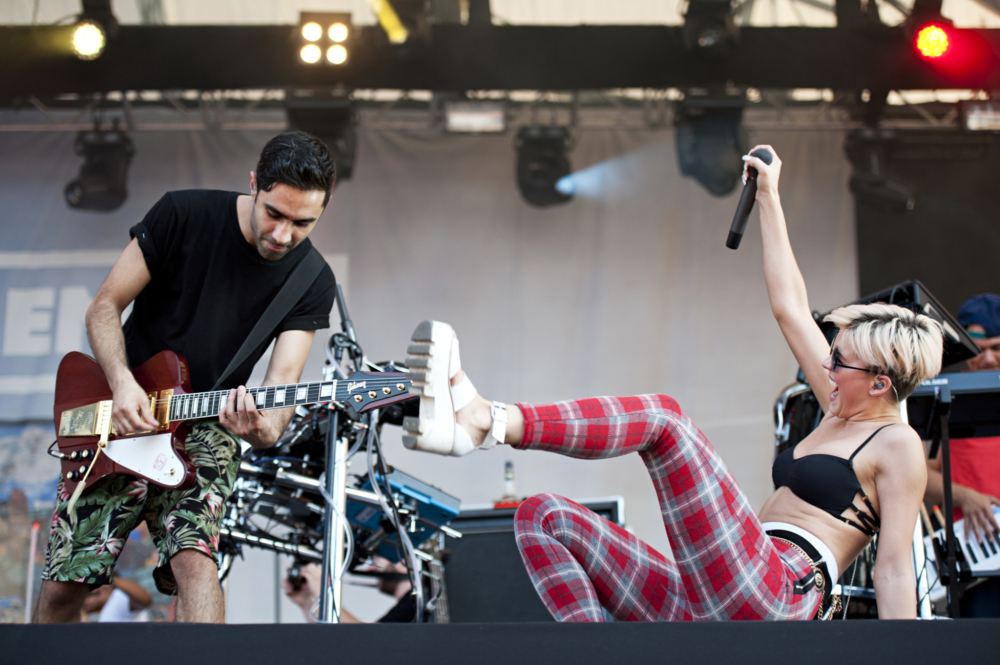 Latitude becomes a sunny, tote-filled paradise
If anyone deserves an honourable mention at Latitude 2014, it's probably Dingus Khan. His packed-out Alcove set is all well and good. What follows is a mind-blowing adventure that a) might be inspired by sleep deprivation and b) will probably be forgotten about given a couple of aspirin. He spends the majority of the weekend dressed in nothing but a blue bath robe and what looks like a nappy. At one point he corners the DIY team and asks if they've covered his band at all (the answer doesn't take much deliberation: "Yes, go away.") He carries a six-foot high stick for the Saturday, which he eventually loses in the press tent. Losing the stick only seems to encourage him. He's a freer being, this way. The stick was holding him back, he realises. Soon after, he can be found stage-invading during Parquet Courts ("I thought that guy got kicked out days ago," jokes guitarist Austin Brown). An hour later and it's a slightly sadder picture. Three security guards hold him up as he tries to make himself 'heavy'. He's pretty much naked by this point. Fat Whites members seem to be protesting his innocence, naturally. But his adventure is over. It's a sorry sight for a man who spent every waking minute writing "DINGUS KHAN" on guest toilet walls. Chances are he might need to sign a few forms if he's any hope of being allowed back into Henham Park.
That's the raucous peak / ultimate depth of Latitude. The rest is one basked in sunshine, susceptible to the odd storm and covered in DIY totes. Hundreds are handed out, and it becomes a useful packing tool for the hangover souls dragging their feet all the way to Diss station by way of a stuffy shuttle bus. Parquet cut their set for a moment to moan about "cultural appropriation", but everyone's free to roam. The kids area is a festival of its own. Every stage is home to someone having the time of their life. Even when the music's stopped, a DJ gives an airing to Massive Attack and that's the weekend summed up in one stroke of brilliance. Not everyone can be Dingus Khan (nobody even tries, thankfully), but the rest in attendance find themselves falling more and more in love with a festival that's destined to remain a staple of the summer.
For everything posted over the Latitude weekend, head to the DIY hub.

Get your copy of the latest issue