Festivals
Nos Alive 2014
10th - 12th July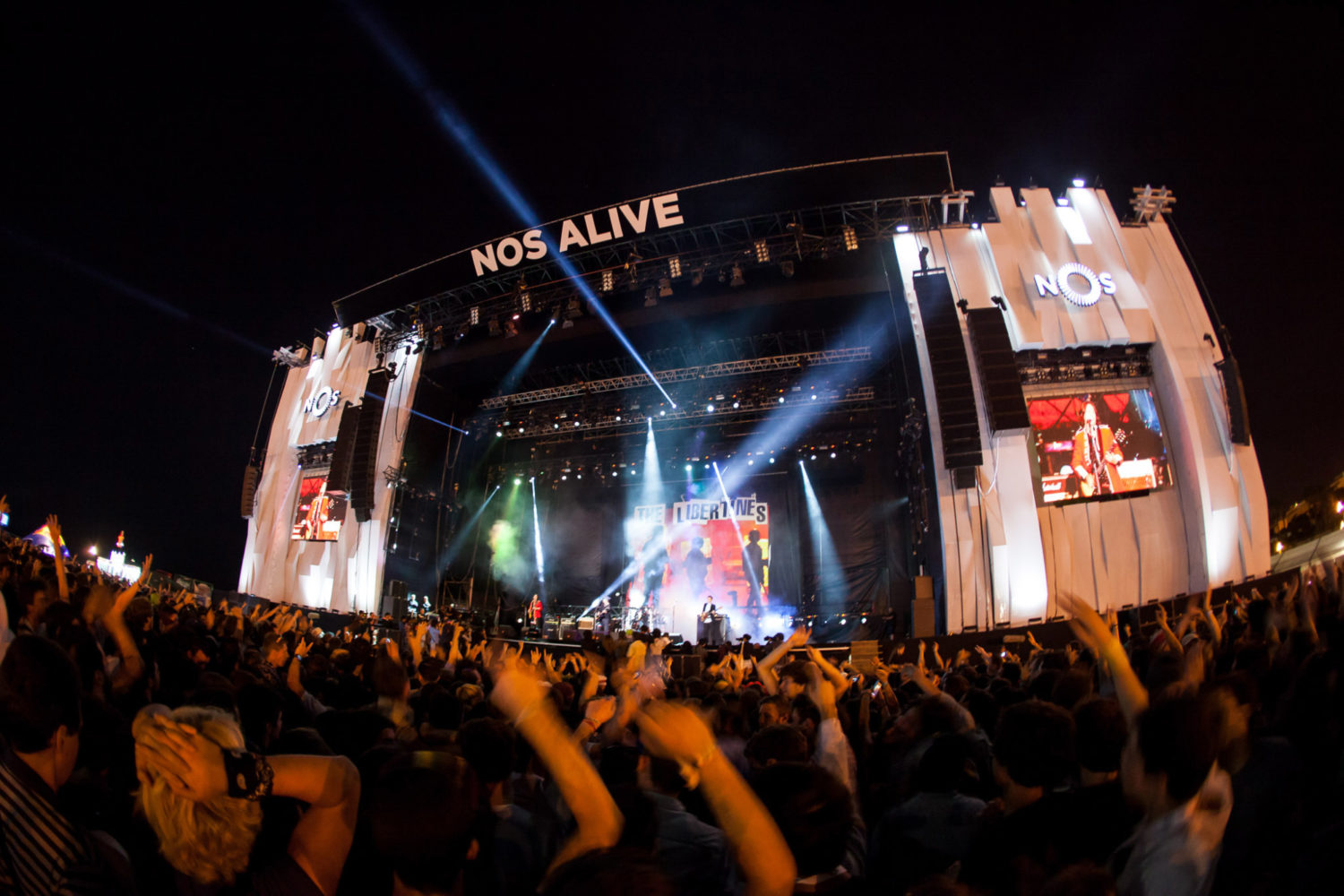 The Libertines' set ends with a five-song encore and a bit of a cuddle - something that makes a few audience members so emotional that they decide to jump into the nearest bin.
NOS Alive (formerly known as Optimus Alive) is one of Portugal's top music festivals. Now in its 8th year, it's a hot and sandy hub of tanned teens and Brit rock heroes that's set on offering their crowds the best of everything. It's a city break, a beach holiday and just under £100 for a ticket.
By far the busiest day of the festival, Thursday reads as an ultimate day out for the #lads. On the more intimate Heineken stage, Temples are one of the first acts to play, perfectly coiffed and blasting through a shamelessly catchy set which sends the writhing crowd into a frenzy. They're followed by a slightly sugary The 1975, whose fawned-upon frontman Matt Healy seems to have got the 'Michael Hutchence lost in Topman' look mastered perfectly. The crowds for both acts are hefty, jolly and sun-kissed, but the Brit lad banter comes to a head once Elbow take the stage. Guy Garvey's commanding and impassioned warbling pauses for a moment to scold a particularly rowdy group of Mancunians – "No Manchester chants! No Manchester chants! I'm as proud as you are, but it can be intimidating to other people."
By the time Arctic Monkeys are about to assume their headline slot, it seems like the whole festival may have popped along for the show. A leather-clad Alex Turner arrives on the main stage to the screams and wails of Portuguese teenagers, delirious with excitement. It's all well and good, but perhaps less so if you're due to start at the exact same time on the other side of the site - which Kelis is. Sporting Tina Turner sparkles and a gargantuan head of hair, she manages to attract only a handful of people - the majority of whom are lying down and smoking suspicious substances. However, her fiery combination of saxophones and old soul sass manages to effortlessly win over any loiterers. That and a souped-up samba version of 'Milkshake.'
On day two, the sun continues to blaze and the crowd relaxes slightly. An urgent and lively Parquet Courts take the Heineken stage, Andrew Savage's eyes wide and frightening as he mutters quietly – "hello there Portugal. I like your beaches." A woozy MGMT then follow on the main stage, their big numbers from 'Oracular Spectacular' as infectious as ever. While the sea winds start to pick up and lightly shower the crowds with small, eerie sandstorms, Sam Smith emerges as one of the biggest surprises of the weekend - his maple syrup vocals luring a crowd that spills out of the Heineken tent's edges and nearly halfway across the festival site. Chatty and humble, he yodels his way through ballads and up-beat pop – not to mention a particularly impressive cover of Arctic Monkeys' 'Do I Wanna Know?'.
Saturday sees The War On Drugs bring their ricocheting guitar solos to the Heineken stage - a perfectly executed set peppered with the odd caffeine-fuelled mumble. As they play, an aerobatics display weaves its way across the bright blue sky, which feels a bit special (and strangely appropriate). Chart-toppers Bastille then follow with a near faultless appearance on the main stage, but are unfortunately let down by a barrage of technical problems during their final rendition of 'Pompeii.' On the smaller Pagoda stage, reggae star Brushy One String dominates the audience with his husky howling and paisley tie - creating one of the most infectiously fun atmospheres of the entire festival. This feeling is kept alive in the clubbing tent, where Jungle fervidly gyrate through their 45 minute set with genuine enjoyment.
Rounding off the weekend are the long awaited headliners The Libertines. As the crowds wait with baited breath for a potentially shambolic reunion, both Pete Doherty and Carl Barat are on impressive form. Aside from an awkward Otis Redding cover and a few scrappy starts, it's as if the last ten years never happened. Their set ends with a five-song encore and a bit of a cuddle - something that makes a few audience members so emotional that they decide to jump into the nearest bin. It's a suitably passionate end to a blazing hot weekend, and a promising sign for the future of NOS Alive.

Get your copy of the latest issue