Round-up:
Take cover: The best and worst of Arcade Fire's 'Reflektour' tributes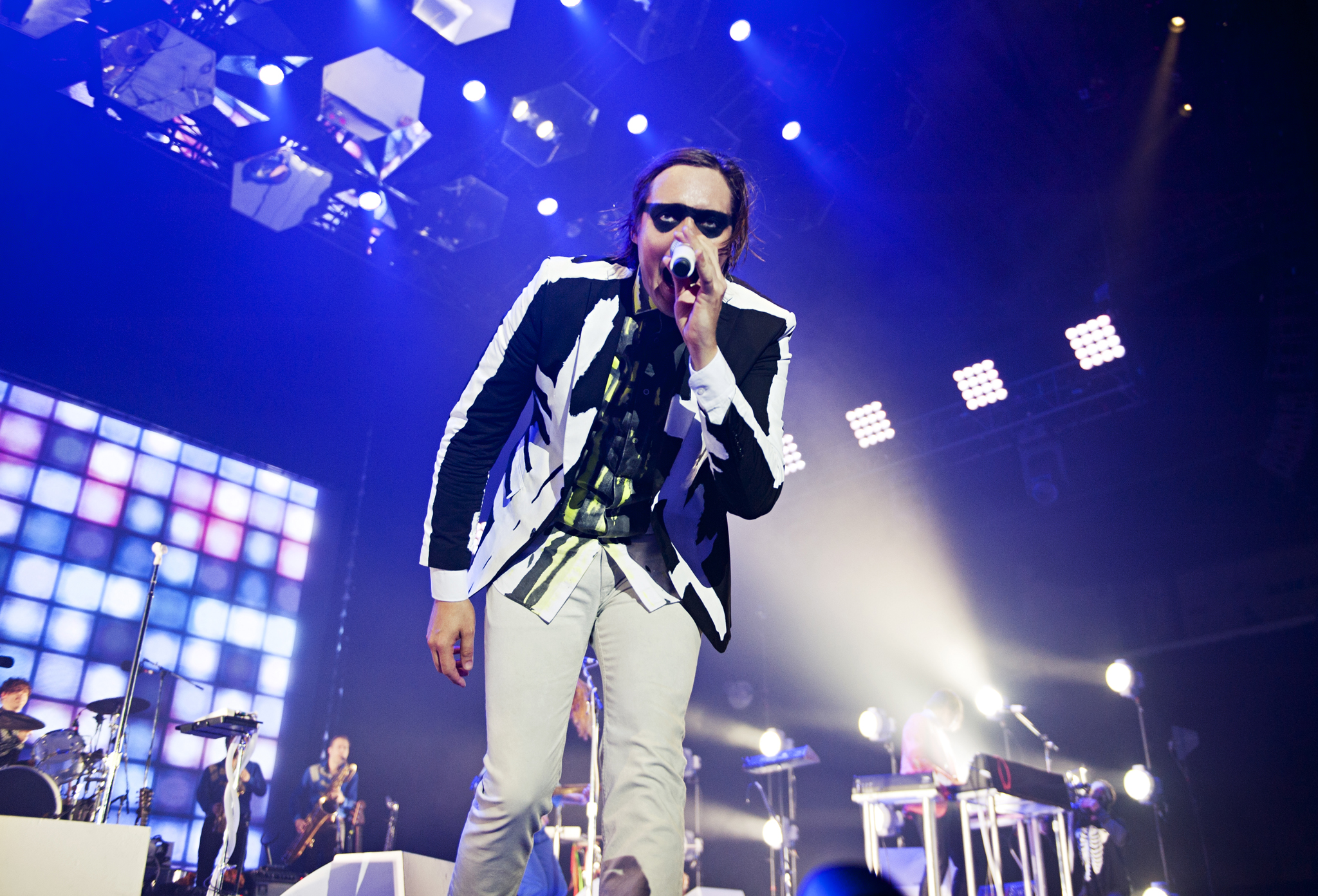 With almost every city they've visited, Win Butler and co. have performed a cover - DIY runs through the standouts.
Arcade Fire really missed a trick when the opted against calling their 2013/2014 world tour 'Reflektour', but they've made up for this ridiculous oversight by playing covers. Lots of covers. Enough covers to compile into an actual album which, let's face it, isn't completely off the cards. 
With that tantalising possibility around the corner, Win Butler and co. are entering the final month (at the time of writing) of their world tour. These covers they're playing are location-specific. They depend on whichever city they happen to be playing, and the list of names they've taken on reads like a full-speed lap round the musical hall of fame. A few naysayers are complaining that Arcade Fire have reached Peak Cover Mode. They've hit a wall. There's nobody else to pay tribute to. They're clutching at straws, is the accusation.
There's more to come, no doubt, but DIY's taking a moment to round-up the finest and the shoddiest coers to have emerged on this tour so far. Some tick every box, giving nods to a wonderful city and a brilliant artist all at once. Others are slightly destabilising blurs of action, where papier mache heads steal the show instead of the song itself. At Glastonbury, for example, they ran through a one-minute medley that included Pulp and Jay-Z. A fair few punters were counting down the seconds until the opening notes of 'Wake Up' arrived.
The enviable task of reviewing all these covers comes into some complications when a) the footage is blurry, b) the sound of fans going "what's this song, again?" rings out louder than anything else and c) there's the odd distraction like a Rob Ford bobblehead (we'll get to that later). Still, over the course of the last few months a couple of gems have emerged from a sea of covers, and it'll be a foolish judgement if they decide against putting any of these renditions to tape.
What's next, then? Depending on any further dates they might announce, perhaps Arcade Fire will perform 'The Office' theme tune in Slough. Hedge your bets on 'Ghost Town' in Coventry. Or 'Fog on the Tyne' in Newcastle. Don't rule it out.
From 'Reflektor' to 'Reflek-snore', below we've picked out a handful of the covers they've performed so far on their tour.
'The Devil Inside'
City: Melbourne
Original artist: INXS
Verdict: There's a strange sensation when watching Arcade Fire's papier mache heads come to life. Whoever sports them tends to move in slow motion. They're undoubtedly heavy, a bugger to balance, but things look particularly strained on this early leg of their tour. Even the blurriest of footage doesn't hide the unmistakable look of: "fucking hell, my neck aches". Once this INXS cover gets into full motion, there's actually an admirable amount of head-banging which, given the circumstances, is worthy of at least another point.

Score: 3 papier mache heads out of 5.
'Ban Marriage'
City: Toronto
Original artist: The Hidden Cameras
Verdict: "Is anyone married here? Alright, this song is called 'Ban Marriage'!" Few covers have picked up a better introduction across the tour, but there onwards things get a little hazy. There's a whole lot of "woah, woah"'ing, and then a pretend Rob Ford comes on stage, things get political and slightly bloated and there's too much tambourine. It's not quite as embarrassing as Ford's hard drive and the effort's appreciated, but the cover could've spanned a little longer, let's face it.

Score: 2 papier mache heads out of 5.
'Motownphilly'
City: Philadelphia
Original artist: Boyz II Men
Verdict: This one probably benefits from the actually-quite-decent fan footage of the performance, but there's also a healthy heap of sax and structure to this rendition. Philadelphia's deserving of a cover of this merit, and even though it's a bit uncomfortable watching Richard Reed Parry chant "Boyz II Men!", there's a strutting confidence to this cover that suggests it's a bit more calculated than, say, Dolly Parton's Glastonbury "Mud" song, which was undoubtedly penned on the plane to England. 
Score: 4 papier mache heads out of 5.
'Heart of Glass'
City: Houston, Texas
Original artist: Blondie
Verdict: It's been a long time coming, this cover. 'Sprawl II (Mountains Beyond Mountains)' has often been labelled this generation's version of 'Heart of Glass', and that notion took on a whole new meaning on Texas this summer. Régine Chassagne took up vocal duties, and by the time the band reached Coachella, they managed to enlist Blondie's Debbie Harry to perform both her own song and 'Sprawl...'. Some things are meant to happen. 
Score: 5 papier mache heads out of 5.
'London'
City: London
Original artist: The Smiths
Verdict: There's issue to be taken with Win's slight Mancunian twang in 'London'. He's not exactly copying Morrissey's every move, but it does seem slightly odd. Also, given this is a tribute to London, there's a strange contrast in the way he's singing "Heave on to Euston, do you think you've made the right decision this time?" Moz probably smirked at that thought. Mind you, it does mix brilliantly into 'Here Comes the Night Time', which makes for an oddly perfect match. 
Score: 3 papier mache heads out of 5.
'Radio Free Europe'
City: Atlanta
Original artist: R.E.M
Verdict: An excellent take on a band fully worthy of a city-based tribute. Tightly-arranged, sharp to the touch, it's a fitting gift to fans in Atlanta, who probably grew up worshipping R.E.M and today have something to latch onto in these guys. Only shortcoming - not managing to invite Michael Stipe to join in for the occasion.

Score: 4 papier mache heads out of 5.
'Axel F'
City: Los Angeles
Original Artist: Harold Faltermeyer 
Verdict: Cons: 1) Win saying the word "Soundclash" a couple of times like he's trying to start up some dodgy music discovery platform. 2) The slightly proggy, feedback-led outro. Pros: 1) The brilliant audacity of a goofy bunch of Canadians covering the 'Beverly Hills Cop' theme. 2) Win's use of the cowbell. All in all, a good show - shame about the "it's actually written about Axl Rose" joke.

Score: 3 papier mache heads out of 5.