Album Review
FKA Twigs - LP1
4 Stars
Clarity is shunned for something more confounding, more intoxicating.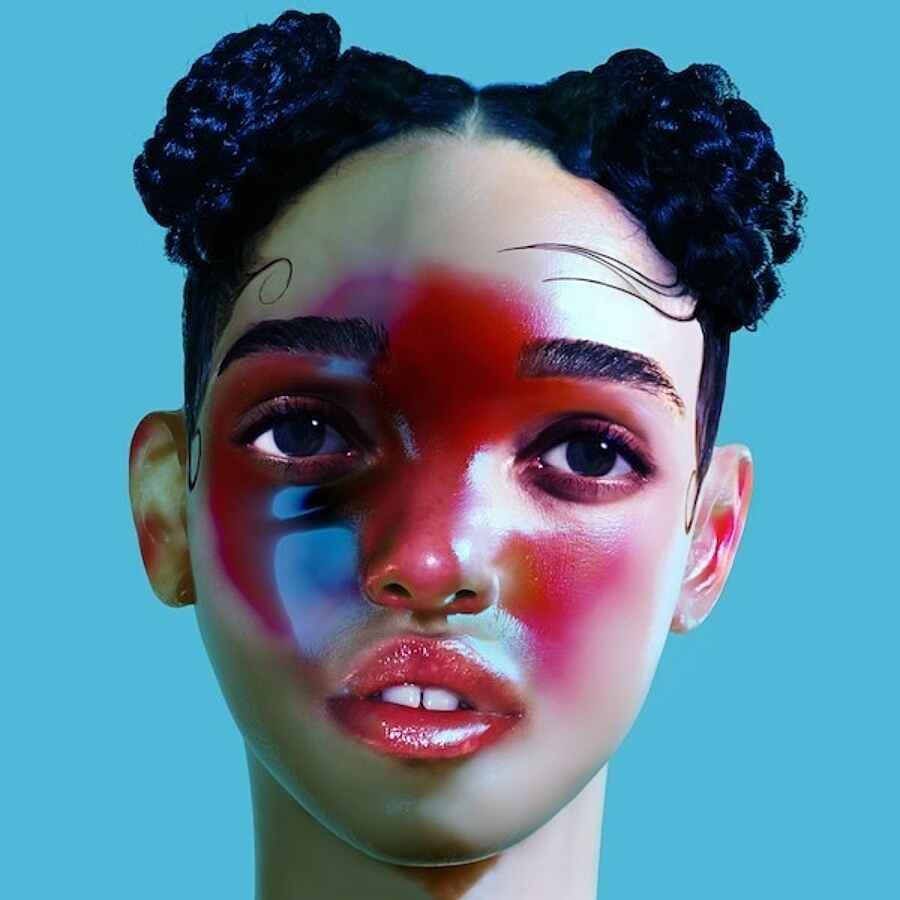 The first year of FKA twigs' gradual rise to one of the most in-demand, near-iconic new artists in the country was devoted to videos. One had Tahliah Barnett covering where the sun doesn't shine with a leaf, the other, her eyes enlarged to a supernatural size. 'Papi Pacify' saw her in a permanent choking position, disturbing and enticing in strange conundrum. Visually there's nobody else like twigs. And there's a reason that her career under the spotlight started - successfully - in front of the camera as a backing dancer in videos. But 'LP1''s self-explanatory title is explicit in stating that this record's all about the songs themselves. Forget about the visuals for forty minutes and explore the weird murky depths of this artist. Place the needle on wax and sit back.
Barnett is someone who demands control. Her tracks have enjoyed production credits from Venezuelan future-leaner Arca, but most of 'LP1''s process saw her learning and developing techniques that she could apply on her own terms. Lyrically, too, everything's happening on her watch: "When I trust you we can do it with the lights on", "Closer / I'm here to be closer", "You say you're lonely / I say you'll think about it." She's the focus. Often these lyrics seem embroiled and engrossed in making love, the shutting off of everything that comes with complete intimacy. There's more to it, though. There's a strange sadness to twigs' delivery. It's almost like she's in possession of complete power and she doesn't quite know where to place it.
That's the conclusion drawn from a record that spells out its intentions more than it does push boundaries. Odd fragments of 'LP1' are flooring. 'Give Up''s second verse is clean-to-the-bone, Barnett's vocal delivery the best it's ever been. 'Two Weeks', too, is the closest thing to a chart-topper this underground-starter's come to writing so far. But elsewhere this is a showcase. Clarity is shunned for something more confounding, more intoxicating. 'Lights On' is a brilliantly disjointed track that eventually finds a bass-led groove. 'Closer' is another song that dives straight into tangled depths before discovering clarity. Throughout, FKA twigs is deceptive. Dead ends, rough edges - it's a fitting debut. Especially so, given that at points it sounds like Barnett's throwing every inch of her upbringing into an album at once, that she's as nonplussed as the rest of us as to what'll emerge from the melting pot.
Some moments are more dependent on an aesthetic than an actual running thread of an idea. 'Hours' is the ecstasy that follows 'Two Weeks'' heart-racing rise to the top. But its near toneless chorus doesn't have the same effect as its other half, the funk-laced surefire hit 'Pendulum'. The standout moment arrives when twigs gets brutally honest. No longer the distorted figure that fronts her famous videos, on 'Video Girl' she reveals the personality behind the process. She describes being knocked back ("You're gonna get yourself broke one day"), being in the middle of a career that wasn't making her happy. Now she's beginning to regain the control that showbiz often steals with vicious intent. 'LP1' is a brave first step that she had to take. It's not perfect, but anything this expressive and personally vital rarely is.
More like this