Cover:
Gerard Way: Do the hard things
As the frontman of My Chemical Romance, Gerard Way seemed to have it all. The next chapter requires something altogether riskier.
It all began with a guitar. My Chemical Romance first came to life when the band's frontman, their leader-in-waiting, picked up a 90s Fender Mexican Stratocaster in his parents' basement and wrote their very first song. Twelve years on, as the band were finally drawing to a close, it was that same Lake Placid Blue guitar that Gerard Way turned to.
It's safe to say that Gerard was stepping into the unknown. For the best part of a decade-and-a-half, he had graced stages around the world, kicking and screaming, sweating and bleeding his way to the most dizzying heights of popularity. He had taken his band out of the dirty basements of New Jersey, tracked down the souls of 1000 evil men, led a deathly army and become his very own superhero. With each of their albums came a new era for the band, and with every new concept, legions of fans would follow. Then, one day, My Chemical Romance became just too big a monster.
"It had," agrees Gerard. Sat in the basement of a central London hotel, he looks a little different to the last time he was on UK soil. One of the last great accolades of the band saw them headline Reading & Leeds Festival just over three years ago, but gone is the flame red hair and leather jacket that he boasted during their 'Danger Days' performance. He's traded it in for a messy mound of blond locks (for the time being, at least), blue jeans and some beaten up Converse. He looks relaxed, ready for things to set in motion once again, unafraid to admit that the next part of his life began at the end of his last. "There was a large part of me that wanted to escape that bigness, which I came to terms with over time. I learned to accept that it had grown to that and to love it for what it was, despite how big it had gotten. I came to peace with that part, but at the beginning of the break up, for sure, I was trying to escape this largeness."
"There was a large part of me that wanted to escape."
— Gerard Way
By the time the band called it a day back in March 2013, they had sold over four million albums worldwide, climbed to the top of the charts and headlined festivals on both side of the Atlantic. Their incendiary brand of punk rock – visceral but somehow eloquent, morbid yet enamouring – proudly blurred the lines of niche and mainstream, all the while taunting critics with its moments of bombast and flair. With the release of their third album 'The Black Parade' they had grown bigger than ever; they felt unstoppable, a force to be reckoned with in their gothic military uniforms, but when touring drew to a close in 2008, that couldn't have been further from the truth. "I don't know how much of a secret this is," offers Gerard, "and I don't think it is, but when we finished '...Parade' and we had finished the touring, I didn't want to do it anymore. That was a nice ending point for me. It was an extremely high note, I had said all I'd wanted to say. There was nothing more for me to say under that umbrella of My Chemical Romance."
Somewhere along the way, his priorities had changed. With the band growing up and beginning to settle down with their wives and children, he had bigger responsibilities than his own artistic urges. As the project grew, drawing more and more people into the mix, there were less opportunities to walk away, and more depending on him than ever before. "You know, you try to be responsible," he explains. "You're becoming an adult and so you think one of those things is, 'Well, I'm gonna be responsible. We've all got mortgages and families now and the right thing to do is to stay in this.' Then you start thinking about the crew that you help; they work with you and that's how they make their pay cheque. It gets bigger and bigger. It becomes that machine and then you don't want to turn your back on anybody, not a single person. So, you go against yourself, you go against what feels right, to 'be an adult'."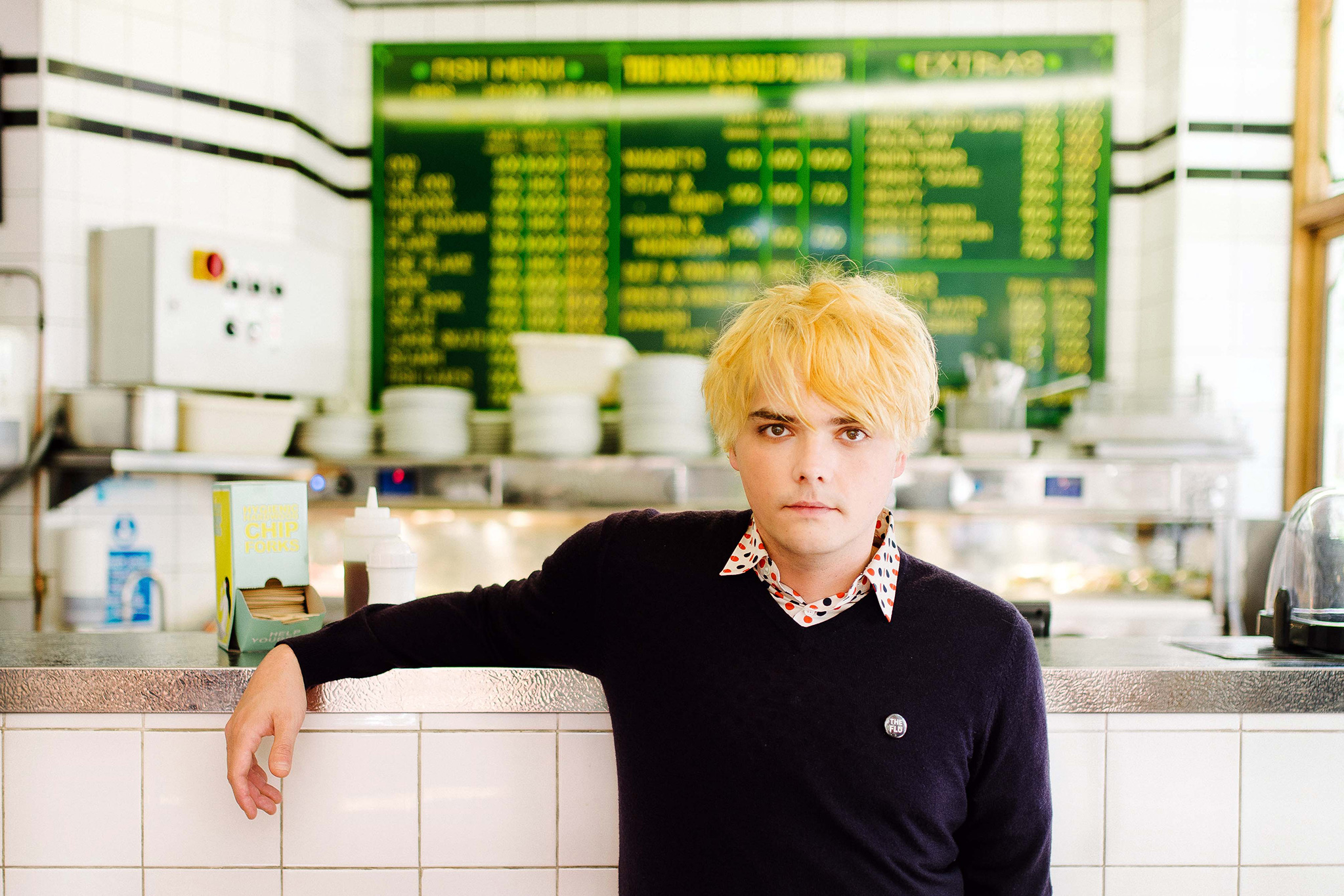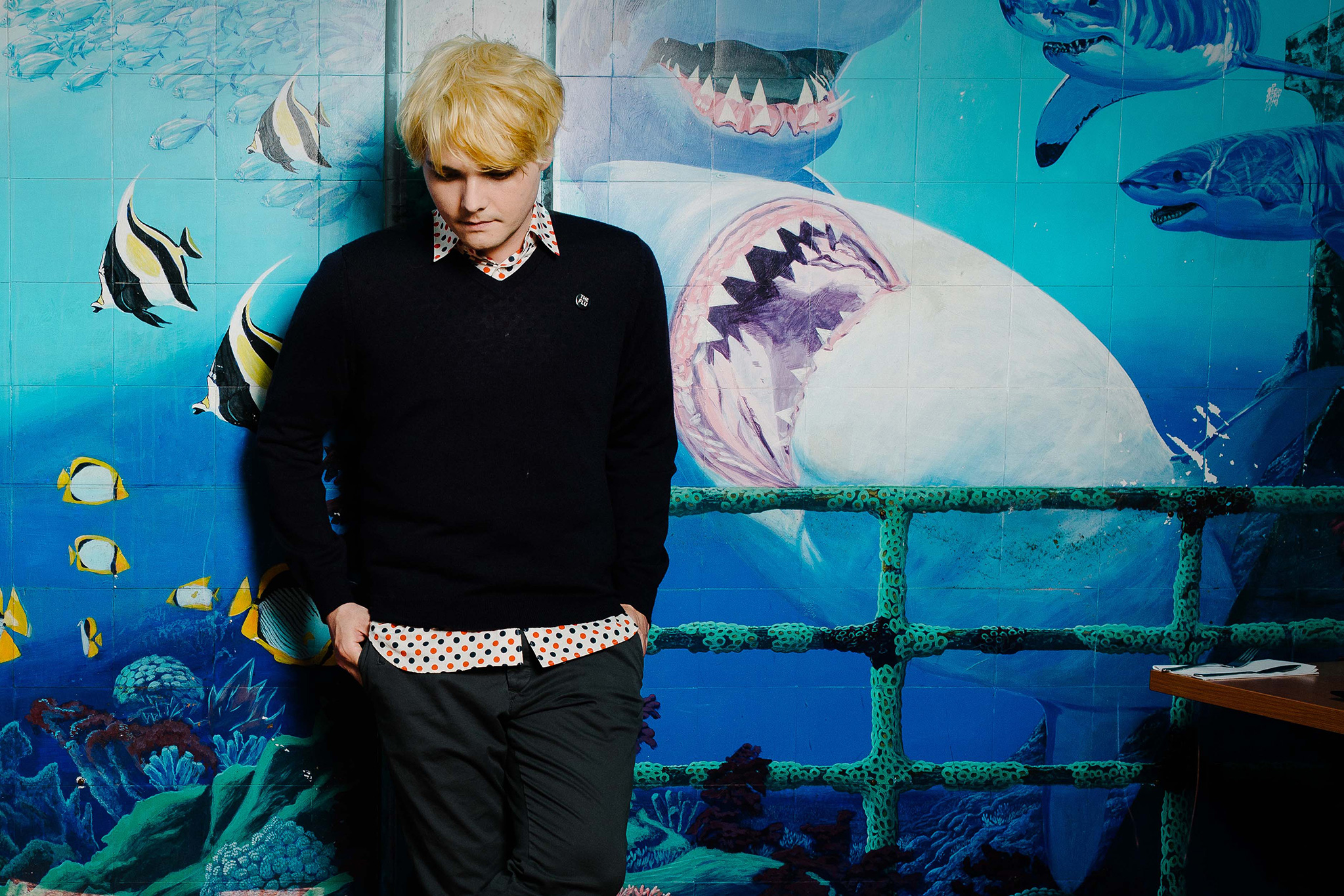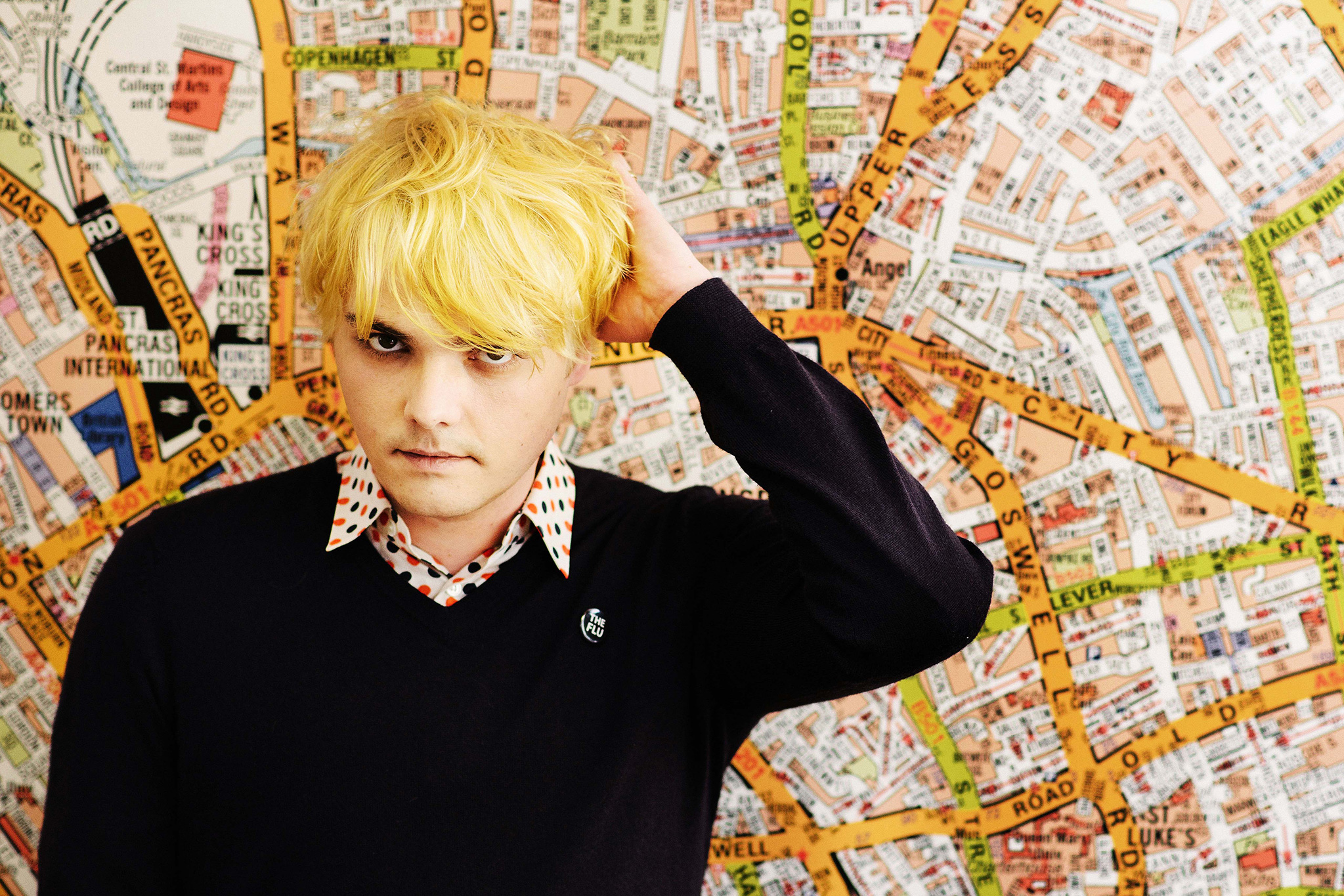 Having closed the door on 'The Black Parade' almost six years ago now, things soon became quiet in the MCR camp. The band – guitarists Frank Iero and Ray Toro, along with Gerard's bassist brother Mikey – spent time being husbands and fathers, settling in to that new period of their lives. That was until September 2010 at least, when the notoriously catchy, gloriously cartoony trailer for 'Na Na Na (Na Na Na Na Na Na Na Na Na)' burst onto the internet. The band were back, reborn as superhero rogues in a post-apocalyptic land, another concept album firmly in their grasp and another touring schedule spanning way out into the future.
"As a human being you have to understand and deal with the process, not just run away from it," Gerard reflects. "I wasn't running away from the bigness, but I wasn't happy doing it anymore, and it's not what I wanted for my life anymore. It's not the kind of father I wanted to be, or husband, or artist for that matter. It's not who I wanted to be any longer. To go against what your inner-self is telling you - to go against the art like that - and keep grinding it and keep trying to milk it and make it work - not the guys, but me personally - that didn't feel right. So, everything from the end of '...Parade' to the end of the band just felt like I wasn't being honest with myself. It was doing serious damage physically and mentally over that time."
It took the release of fourth album 'Danger Days: The True Lives Of The Fabulous Killjoys', their consequential 7" collection 'Conventional Weapons', and a performance at New Jersey's Asbury Park to shake Gerard into action. It admittedly took a while to sink in – as he later went on to explain in a closing letter to fans – but soon enough, he knew that their time was up. "You know," he muses, "I think being an adult is not necessarily running away from things, but it's doing exactly what you're supposed to be doing. You have to be honest with yourself. I think that's how you end up with a lot of really unhappy parents, who raise unhappy children that don't want to be around them. I'd rather make a quarter of what I made in MCR and have [his daughter] Bandit grow up and say, 'My dad was awesome. He had a great time making art. He loved life, he loved looking at life through a lens, he taught me how to look at life.' I would much prefer that to, 'Yeah, I kinda see my dad. He drives a Porsche, he doesn't talk a lot. He's on the computer a lot. Sometimes he writes comics but not really.' I was just so unhappy with where I was at, that's the way it started to become."
"A lot of it was completely blind flying, and I loved it."
— Gerard Way
It was time for Gerard to pick himself back up again. With the band laid to rest and his mind finally at ease, he was able to turn to that guitar – the same one he had written 'Skylines and Turnstiles' on twelve years previously, the same one he had introduced in his closing letter to fans – and start over.
"I knew I would," he states, without a flicker of hesitation. "I just didn't know what it was going to be." At first, the frontman had set his sights on forming a new band. Immediately inspired, he "started cooking up art, and trying to visualise the kind of instruments" they would need. It grew more and more ambitious as his imagination ran wild. "I realised, you've gotta take ownership over yourself. You're not gonna start a band because that's not gonna work out for you. You're pretty uncompromising so don't put yourself in a position that's based on compromise anymore."
The birth of Gerard Way's solo career was as simple as that. It was an opportunity for him to explore the paths untrodden by his former project, all the while looking at things through a different pair of eyes. He didn't even have a concept in mind, for starters. "When it became a solo thing…" he pauses to think. "Visually there's a concept but there's nothing that's a concept about the album. That's the first time I've ever attempted that; it's not a concept album at all. It's nice; it's a lot more varied because of that. I know My Chemical Romance was very varied, but this feels more so.
"A lot of it was completely blind flying and I loved it," he enthuses. "It was extremely free. It was sitting with a guitar at a mic and just hitting record, and being like, 'Alright, let's hear it back. Okay, let's do this.' The opening track of the record was literally just me grabbing my brother's bass, because it happened to be there, and just playing and building off that. I would do that, and then I'd say, 'Okay, I'll take the guitar now. Open me a new track.' There was just layering and layering and layering and then we'd say, 'Let's get some drums on.' It was really free. It was just grabbing stuff."
"Is it gonna work? Are people gonna like it? What am I doing? Why did I do this?"
— Gerard Way
Not only was it the first real chance for Gerard to be behind the guitar on an album - "when you're in a band with two really amazing guitar players, you feel weird to wanna play guitar" - it also presented him with the freedom to roam his own, more personal influences for inspiration. "I got to go extremely deep. I knew that if I wanted to make a song that was going to sound like The Jesus and Mary Chain, it could really go that far. When you're in a band, everybody has a fingerprint and that's what makes that band special. When it's just your singular fingerprint on it, you find that you can go deeper with it." While My Chemical Romance had lurked at the heavier realms of his tastes – from Iron Maiden to Misfits – his new album became a place to explore. "[It has] everything from shoegaze to Britpop, and it's a very British album. Everything from fuzz rock to noise rock, to experimentation, to Berlin-era Bowie and Iggy stuff. I've distilled it into some other thing, and there's a thread of that throughout the record, but I went deep into my influences."
Writing the album, dubbed 'Hesitant Alien', also allowed for the former frontman to gain his own sense of closure. Having spent over a decade in a band as notorious as My Chemical Romance had become – no one's forgetting their infamous dalliance with the British tabloids any time soon – the time away, and the songs he wrote, saw Gerard face up to his own personal dilemma: re-discovering his place in the musical landscape. "Definitely each song is its own thing this time. They're all connected by a sense of alienation and the idea that figuring out where I fit into music was realising that I don't exactly fit into music, and that's kinda how I fit." He laughs, "that's my role; my role is to be myself and super-unique and not worry about how I fit in. Not in an outsider, rebellious way, but in a celebratory way, saying 'I'm different, this is what I do, and there's nobody that does this like I do it, so I'm gonna be the best me I can be.'"
"I started to make the record that I wanted to hear."
— Gerard Way
That's not to say that Gerard believes it's plain sailing ahead. There's always the fear of the new, fear of the unknown, of what could come next. That's something he's having to face head on. "Yeah, there's a fear attached to it," he agrees. "You have nobody to turn to and say, 'Is this any good?' You have nobody to turn to and say, 'Do I look alright?' That's all gone, so you have to really believe in yourself. There's a good fear that comes with it and there's a bad fear, and that's the unknown: 'Is it gonna work? Are people gonna like it? What am I doing? Why did I do this?' All that bad stuff, it creeps in!" he laughs. "It comes from a place of fear. Everything that's the right thing to do is extremely hard. It should be fun, but it should be the hardest thing I've ever had to do, next to having My Chemical Romance break up."
There's also the question of his future audience. With My Chemical Romance fans ready and waiting for new music, there's no shortage of people who'll undoubtedly give the record a listen, but who is it that'll stick around? Have their tastes grown to match his, or will they move quickly on? More pressingly, who from outside those boundaries might raise an eyebrow for the ex-frontman of a band who were stuck with a label that's been more than difficult to shake: who exactly is going to care? "I think I'd like to reach…" he begins, before pausing. "Uhh, it's weird. I don't want to…" he trails off, before starting afresh. "I really respect the My Chem fans so it would be nice to carry on the journey with them, but I think it's gonna go how everything else goes. You're gonna have a group that likes it, a group that doesn't like it, and a group that's very indifferent to it. I do think that because of the influences of the record, maybe some of the sophistication of it, it will appeal to people maybe closer to my age, or in their early 30s at least.
"I know I would listen to this record, and that's not to say I wouldn't listen to My Chem records, but My Chem was very different. When we did something in My Chem, it was all gut and psychology. This time, with this album, I was very conscious in my influences and I chased them down very hard. I started to make the record that I wanted to hear, that I wanted to go into a store and buy. It was important for me to bring fuzz pedals back into music. I had a mission this time and it was a sonic one. My Chem had a very socially-driven mission, and now this was, 'No, I'm gonna get fuzz pedals on the radio. That's my goal.' I think audiophiles will like the record a bit more. We got Tchad Blake to mix it; people who are really into mixing will know Tchad's work very well. Then, Doug [McKean, the album's producer] and I experimented so much with the tones, so I think people that maybe didn't like My Chem would like this…
"I think it'll get a fair shake," he concludes. "What they feel about it after they've listened to it, I won't know, but I definitely feel like somebody will go, 'Alright, well I'll try this dude out and see how it goes.'"
As for the reaction he hopes the album might provoke, it seems to be the mantra that he himself is trying to follow. "I just hope they take away that…" he pauses one last time. "Just to be free, and just to do what you're feeling, to not over think it. To take the risk, and do the hard things."
Taken from the August issue of DIY, out today. Order your copy here. Gerard Way's debut solo album 'Hesitant Alien' will be released on 29th September via Warner Bros. Records. Photos: Mike Massaro.

Get your copy of the latest issue