Album Review
Tops - Picture You Staring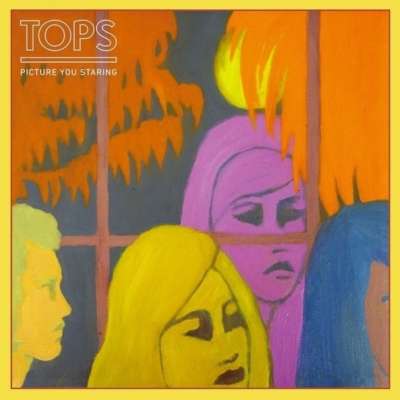 It's all a bit too good to be true.
Label: Arbutus Records
Released: 8th September 2014
Somehow, Montreal's TOPS take the trashiest moments in music and make them actually rather good. They did it on debut record 'Tender Opposites', a record that was indebted to the cheesiest elements of the 80s, yet elevated everything into excellence. From the misty-eyed and succinctly sweet pop of standout 'Diamond Look' to the funky balladry of 'Turn Your Love Around', TOPS were actually turning tacky around; creating something special out of everything we'd all previously dismissed as incredibly irritating. On their anticipated follow-up they're digging deeper into the barmy balladry while falling more into their own sound, and it's a bloody lovely ride to be taken on.
Belinda Carlisle. Celine Dion. Bananarama. These are just a few of the names that'll spring to mind when listening to 'Picture You Staring', and you may even be reminded of Five's 'Keep on Movin'' upon listening to 'Blind Faze', but rest assured that these are all serious compliments. TOPS have absolutely nailed the art of making pop music that transcends genre conventions and expectations - they evoke nostalgic feelings of happiness and euphoria and satisfaction; of listening to the radio and hearing the likes of Samantha Fox or Mel & Kim for the first time.
'Outside' is without a doubt one of the highlights here, pushing that lighters-in-the-air balladry to whole new levels. Jane Penny's dreamlike vocals gently wash over a layer of ice-cold synths and rattling drums, "thoughts of you running through my mind," she discloses as slinky riff creeps through right on cue. If this song had been about thirty years ago, it'd have been lost in obscurity only to be rediscovered right now in a Lewis L'Amour-style revelation. Opener 'Way to be Loved' and lead single 'Change of Heart' meanwhile see the band succeeding at the other end of the pop spectrum, displaying whimsy guitar licks and rhythms that are so groovy that they deserve to be locked up in disco for all eternity. TOPS have all bases covered on 'Picture You Staring', and most importantly the songs are even stronger this time around. It's all a bit too good to be true.
In fact, it is a little bit. The overall cohesiveness of the album has a few problems, and the barrage of slower moments like 'All the People Sleep' and 'Sleeptalker' do clog the pace up somewhat, and could've done with being more few and far-between. 'Superstition Future' thankfully brings the attention back rather suddenly though, bursting through with some of the strongest musicianship the record has on display. TOPS are a rare band that have an covalent bonding chemistry with one another, and the results are a bright, sparkling album that continues their legacy as some of the best revivalists around. All we need now is a 'Heaven is a Place on Earth' cover.
More like this