Album Review
Death From Above 1979 - The Physical World
4 Stars
Two for two, flawless victory - this is still the perfect band.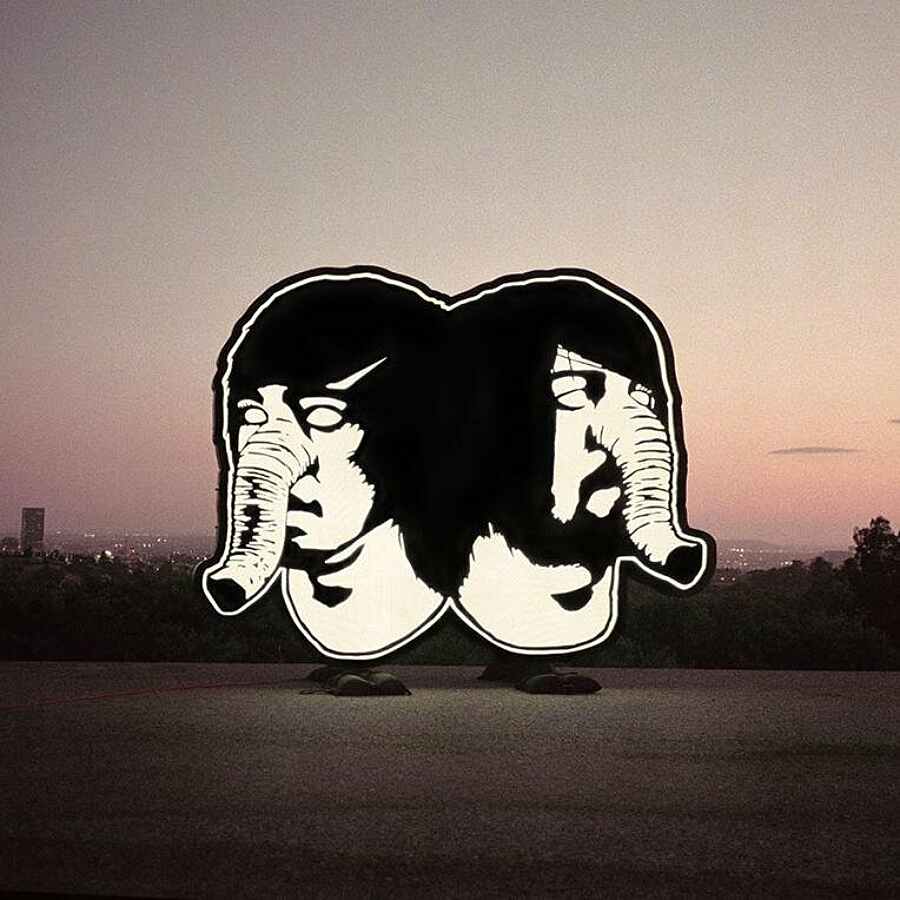 The perfect band. That's what you'll hear those bloodshot-eyed veterans say. It may only have been ten years since Death From Above 1979 unleashed their classic 'You're A Woman, I'm A Machine' upon the world - not so long ago none of us can remember it - but it feels like a lifetime ago. In musical terms, it is. Since then we've seen countless bands step up to take their throne. None of them really did. Instead, the chair lay empty. Waiting, like the sword in the stone, for the true kings to pull it free. It's no slight on others to say they never scratched that itch. Death From Above 1979 were - and evidently are - special.
You'll know the image well. Jesse F Keeler and Sebastien Grainger, hand drawn, black on white, back to back, blank eyed with trunks. Of every band of the last decade, none have really managed anything like it. The bat signal for mayhem, shine it in the sky and the devoted will flock. As a cultural landmark in an era of disposable music and constantly moving culture, it's like nothing else. And that's before you get to the music. We might describe other bands as a force of nature, but this duo are something different. They couple an unholy noise with the undead twitches of the dance floor. Never knowingly under volume, theirs is a zombie-like death march straight out of Hell; all leather and patches, fire and brimstone. The devil always had the best tunes, and you can bet he exclusively steps out to DFA1979.
'You're A Woman, I'm A Machine' has had its fair crack of the whip, obviously. A brilliant album with no fat and plenty of fury, the fact it finished with a dropping of the mic and a steadfast refusal to follow it with anything that could tarnish its legacy only went to instantly secure it as a thing of legend. A great band became something more, their back catalogue frozen in carbonite. The runaway train would rattle on the edge of the tracks forever more.
But what an album it was. From those foreboding piano stabs and squealing riffs of 'Turn It Out', goosebumps sit on top of goosebumps. 'Romantic Rights' and that riff, pumping its fist straight out of the freshly dug grave in an urgent quest for action. 'Going Steady', bass thundering, skating the very edges at 110mph. That's just the first three tracks. There's no pause for breath, no acceptance of a suggestion that anything other than top speed is best.
It carried on. 'Go Home, Get Down' is the hard stuff on a bungee chord, bouncing up and down like a possessed, malfunctioning fax machine in a freaky haunted house. The dirty nail bomb of 'Blood On Our Hands', the raw, unadulterated groove of 'Black History Month', 'Pull Out' and its frenetic, wailing chorus. Not one wrong step. Not one even remotely questionable moment.
So why risk it? Even stepping back into the front line to play live shows in 2011 felt a gamble for DFA1979. In their absence, they'd grown. Unable to disappoint, the story was passed down - this was that band, the one who could save us all. They needed to be harder, louder, more intense than ever. A second record would be the ballsiest move imaginable. It couldn't not be a disappointment, could it?
You can put that one down right away. One blast of 'The Physical World' and BANG, the doubt is gone. Opener 'Cheap Talk' emits a snarl before hitting the beat, coupling that trademark fury with rapid-fire cowbell. Disco punk wielding a satanic chainsaw, DFA1979 have evidently been grafting on limbs of the dismembered Rapture. 'Right On, Frankenstein!' goes even deeper into the underworld. "I don't wanna die but I wanna be buried, meet me at the gates of the cemetery," the refrain demands. This monster has no intention of staying six feet under for another ten years.
It's what comes next that really sets out what's changed. 'Virgins'. A traditional, huge rock riff; a chorus that demands to be sung back - whisper it quietly, but this is a band who could actually take the mainstream. In a world where Royal Blood tear up Radio 1, the harder, cooler, classic equivalent has invested in some tasty new flavours. Take 'White Is Red'. If someone had told you Death From Above 1979's new album would feature a ballad, you'd quite rightly deem them the missing village idiot. But this - slower riffs, echoing sentiment, building momentum - might fit the bill. It's even sort of moving, in its own weird way. Everything is relative.
But as 'The Physical World' hits its mid point, it audibly tenses up. Stiff back, rock stance, 'Trainwreck 1979'. The temperature drops, flames rise, eyes narrow. "I want it all, I can't get enough," it demands again and again. From here, it's business time. 'Nothin' Left' drops right back into the trenches, stalking for prey. A claustrophobic horror show, 'Government Trash' plays to strength too before giving way to 'Gemini', echoing 'Pull Out' with its squealing riff.
As the title track moves from beeps and bombs to its almighty doom laden, city levelling refrain there's barely a beat been missed. Time may have moved on, but Death From Above 1979 remained in constant motion with it. Two for two, flawless victory - this is still the perfect band.