Looking back:
2014's finest festival moments
Festival season's almost over, but don't fear - DIY's picked out the best shows from summer 2014.
Give up. There's no point denying it. Put that tent away. Store it in a smelly cupboard for a few more months, because there's fat chance of it coming out again anytime soon. Festival season is done. Well, almost done. Fair enough, there's still a fair few exciting city-wide fests to run through, like Southsea Fest, and plucky punters with unlimited funds might still be jet-setting off to places like Utrecht's Le Guess Who?. But these aren't muggy, field-based, hangover-centric affairs. That's over. Bestival and Festival Number 6 are bidding farewell to disgusting un-showered music fans right this second, and even the cows on Worthy Farm have been let out to nibble on whichever patches of grass went left untouched at this year's Glastonbury.
This isn't reason to get down, mind you. Weekends of sipping booze out of a mangled, grass-stained wine box might be finished, but those memories - oh those wonderful memories - still remain. 2014 witnessed the usual festival bravado, only these moments were way more intense.
Headliners stepped up to the plate, and new bands stole the agenda on their blitzing route to the top. Festival season began with city get-togethers, where fresh faces played ridiculously crammed venues on windy seasides and excitable town centres. Then the big guns arrived, with Glastonbury enjoying its best year for some time, Dolly Parton and all. Now that it's coming to a close, it's time to dig back through the archives and the faded memories of a few weeks back to pick out the highlights. Below, you'll find our favourite moments from festival season 2014.
Arcade Fire, Glastonbury 2014
"Who are Arcade Fire?"
A few years back, post-Grammy win, that was the joke. Taking home the biggest prize in music Stateside, half the audience had never heard of alternative music's great white hope. Fast forward to 2014 and it's an altogether different question; do Arcade Fire know who they are?
Well, yes, bluntly. They're the less than dark horses in the eternal debate of just who the biggest band in the world is. They're occasionally a force of nature. They're disco. They're not disco. Occasionally they're the Reflektors, occasionally they're not. But amongst all these things, they're a band built for nights like these. (Stephen Ackroyd)
Paramore, Reading & Leeds 2014
It takes a certain strength to look a headlining slot at Reading festival in the eye and keep on marching forward to meet it. It takes a whole other level of steely determination to be faced with problems beyond your control, in the middle of that set, and still come out smiling. For anyone in doubt that Paramore weren't the right band for the job, tonight's show is enough to silence them.
The first wave of technical issues hit. What feels like the entire PA cuts off halfway through their 'Brand New Eyes' cut, but nevertheless - and somewhat blissfully unaware - the trio continue on unfazed. Coming back to life, they get through two songs without issue, but as suddenly as it returned, the power cuts out once more.
The next few minutes are undoubtedly a little confused - with even Reading and Leeds organiser Melvin Benn appearing on stage at one point - but as Williams gathers her bandmates to sit on the corner of the stage together before deciding to play 'The Only Exception' a cappella, they transform a could-be disaster into an intimate moment that most bands wouldn't dare dream of. (Sarah Jamieson)
Pulled Apart By Horses, The Brudenell Social Club, Live At Leeds 2014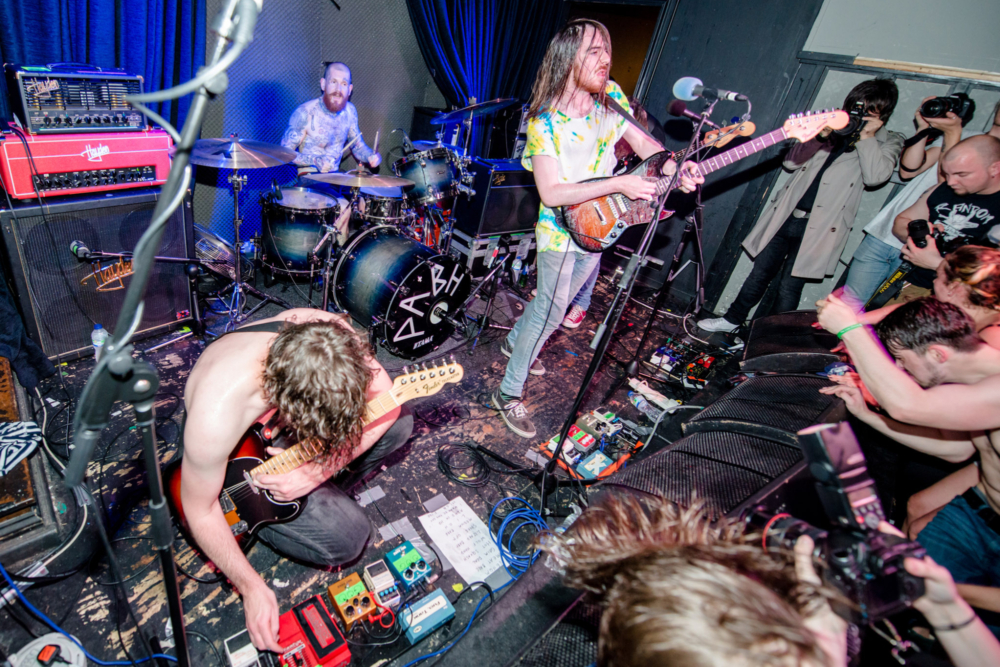 The "Yorkshire!" chants and utter bedlam of Pulled Apart By Horses' headline set on the DIY Stage are inevitable. This triumphant (and partially topless) four-piece step things up a gear with new material: these songs don't just roar; they strike quickly, going in for the kill. Both celebration and intrigue collide tonight, in one supremely confident showcase. (Jamie Milton)
St. Vincent, Glastonbury 2014
This evening at Glastonbury, Annie Clark creeps through the gaps of her own persona. Whether she's giving a tentative look upward at the audience at the beginning of her set, or full-on hurling herself into the front row during opening song 'Rattlesnake', there's a slight, subtle loss of discipline which is totally engrossing to watch. When Annie Clark is let completely wild and loose on her fretboard in 'Surgeon' she transforms into a brutal, shredding force of riffery. When she tumbles down the pink staircase - very purposefully and methodically, like she's baking a cake for the first time with a new recipe - some of the people watching look confused, and meanwhile she looks like she's revelling in it. "Take out the garbage, masturbate," a lyrical highlight from 'Birth In Reverse', prompts smiles in the crowd, and Clark smiles, too, just as much. In 'Huey Newton' she cries "motherfuckers!", not because it's choreographed, but just because she feels like it. (Stephen Ackroyd)
Lily Allen, Latitude 2014
Lily has the hits, sure, but bill topping an event like Latitude is a relatively new occurrence. In previous years it has flirted with pop, but usually the classic variety. As the definitive statement on the first night, there can be no doubts about it. It works.
Whatever you think of Allen, she's got the special stuff required to take someone else's audience and blow the roof off. Personality and no fear of the extravagant, she walks the walk and talks the talk.
Yes, that Keane cover may garner a bit of a sing along, but any performance of a John Lewis Christmas ad feels a lot less bland if you've previously dedicated a track called 'Fuck You' to David Cameron. And that's exactly why it works. We've had pop stars topping alternative festivals before, but unlike Beyonce, Allen feels like she's probably exactly what the focus group would advise against. A scattergun, prowling the stage, she's less polished, more on her own terms. Plans? Who needs 'em. (Sarah Jamieson)
The Libertines, Nos Alive 2014
As the crowds wait with baited breath for a potentially shambolic reunion, both Pete Doherty and Carl Barat are on impressive form. Aside from an awkward Otis Redding cover and a few scrappy starts, it's as if the last ten years never happened. Their set ends with a five-song encore and a bit of a cuddle - something that makes a few audience members so emotional that they decide to jump into the nearest bin. It's a suitably passionate end to a blazing hot weekend, and a promising sign for the future of NOS Alive. (Dominique Sisley)
The Jabberwocky Fallout, London, Various Venus
London, for all its funny social etiquette regarding eye contact on tubes and talking to strangers, has a brilliant knack for pulling together at the crucial moment. In 2012, when BLOC shut down suddenly, the promoters of London banded together to put on artists from the festival across the capital anyway. ATP's Jabberwocky was due to go ahead at the ExCel centre, but was cancelled with just three days notice. In true spirit, the city worked its magic once again. What became known as the Jabberwocky Fallout was born, and impromptu gigs popped up across London to turn the debris into something else all together. Oh frabjous day indeed.
Hookworms kick it all off in strange and completely hypnotic style. MJ has the presence of a length of cheese wire inches away from being hurled catastrophically into an engine pit of cogs, slapping his microphone away like a mosquito, and erupting into screams that become part of the psychedelic wall pummelling the room. Speedy Ortiz are next, and waste no time in seizing hold of the bar and raising it to similarly spectacular heights. The venue erupts in response, and becomes a sea of headbanging, moshing chaos.
Cloud Nothings are the final band on stage, and things only get wilder and sweatier from here on in. Lighting rigs are in severe danger of being knocked down by the flailing bodies hurtling across the top of the crowd, and a hastily assembled gaggle of security guards hurry down to the front, to little avail. It's absolute madness, in the best sense of the word, and Cloud Nothings cement the show as the loud, cathartic silver lining around the events that led to tonight's fantasy line-up. All things considered, 'twas completely brillig. (El Hunt)
Royal Blood, Reading & Leeds 2014
In case of emergencies, against all logic, Royal Blood could probably make a stab at headlining Reading Festival right now. Today. This instant. If an Arctic Monkey stubs his toe, if Blink-182 decide actually, we're alright, they've had enough - Royal Blood could step up and not embarrass themselves.
Really this packed NME / BBC Radio 1 tent should only know a few singles, and yet here they are going absolutely mental for every hundred mile high riff, singing back every word. They say little, which in itself says a lot. 'Come On Over', 'Figure It Out', 'Little Monster' and 'Out of the Black' all sound massive. 'Ten Tonne Skeleton' is even bigger. The circle pits rage so fierce that, by the end of their set, you'd expect to find something approaching the grand canyon sitting front and centre of the stage. (Stephen Ackroyd)
Future Islands, Latitude 2014
Samuel T. Herring warms up in soundcheck with a song by The Cure. Everything's relatively peaceful, considering the maddening hype that's met Future Islands' every move. Three months ago queues were bustling around showcase fests that barring a two hour queue, it was nigh on impossible to see them live, post-the Letterman performance that cemented them as one of the most exciting bands on the planet, several albums into their stride.
While Herring paces away and gets his vocal cords in gear, there's a ruckus side of stage. Dingus Khan (a permanent fixture of the weekend in his blue velvet robe plus nappy attire) is being dragged away by three bouncers. Members of the last band on the iArena, Fat White Family, climb fences, curse at anyone getting within a metre's radius. "Didn't you see me just now? I was in the fucking band! Did you not fucking watch the stage?" one of them shouts. During their set, the near-nude Fat Whites bring every inch of energy and sweat-doused showmanship. But it's contrived. It's balls-out, all-everything gusto that'll be repeated to the death. Hopelessly. There's such a difference between their definition of showmanship and that of Samuel T. Herring's. Dickhead offstage antics from the former don't help their cause, but they look almost meaningless given what follows. (Jamie Milton)
Darkside, Beacons 2014
As the winds pick up and the site begins to collapse around itself, it's Darkside who close out proceedings in the most fitting manner. Statuesque against a backdrop of two bright white spotlights, guitarist Dave Harrington weaves delicate melodies around electronic mastermind Nicolas Jaar's trademark slackened beats. It's a far deeper offering than on record, with tracks from last year's 'Psychic' holding less of a swagger and more of a techno feel, but it suits the festival's end perfectly – a kaleidoscope of influence which echoes even the furthest of Beacons' corners. As the duo evacuate and the hurricane tears through the site - taking tents along with it - the festival's slate is wiped clean, the hills return to their slumber and Skipton to its usual idyllic state. (Tom Connick)
Girl Band, The Haunt, The Great Escape 2014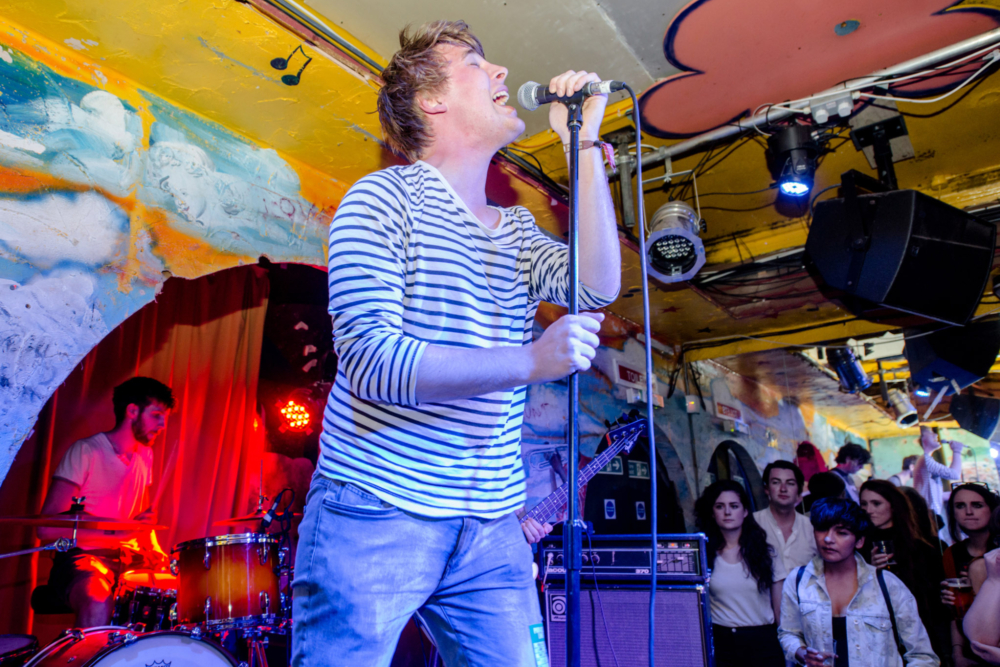 Irish four-piece Girl Band blow minds when they take to the stage with their brand of amped-up post-punk. Combining Pavement-esque nonsense with teenage angst shenanigans, they prompt one question: Who else can cause a racket this loud with a bass guitar and a beer can instead of a guitar pick? The Dubliners achieve everything they want with a couple of instruments and a microphone. Nothing but James Murphy-style nonchalance and fizzing, swarming riffs pull it off. This is a special band. (Tom Walters)
Drenge, Reading & Leeds 2014
There's a drummer with long hair, a sort of dirty blonde frontman wrestling his guitar. It's at Reading festival. They're both wearing dresses. Can we all see where this one may be heading?
At some point over the past year or so, Drenge levelled up. They got louder; tighter too. They already excelled in the live arena, but all of a sudden here stood an absolute beast of a band. A couple of months back they took on Glastonbury and, from the crowd stood in the tent to those watching through internet streams and telly feeds, blew the roof of. At Reading, they went up a gear again. Maybe even two.
Technical difficulties may delay them, but once they get going it quickly becomes obvious something amazing is afoot. If Reading 2014 came with a match ball, Eoin and Rory would be taking it home. (Stephen Ackroyd)

Get your copy of the latest issue