Album Review
Jaws - Be Slowly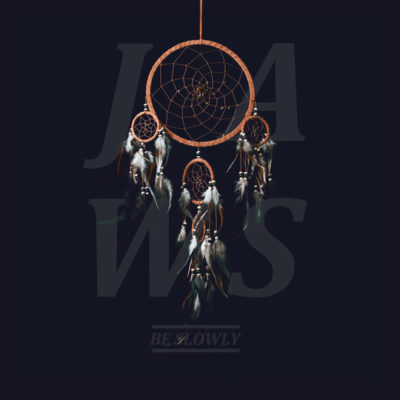 Even more guitar tastiness to greedily wrap our fins around and sink our teeth into.
Label: Rattlepop
Released: 15th September 2014
Picture this: A glistening sunny beach packed with holidaymakers having a good time is interrupted by furious pointing and screaming. Suddenly, the golden-crested waves turn a deep crimson. Screams erupt around the sandy haven. A Spielbergian score of marching drums ruptures the silence. A grey fin emerges from the cascading bloodbath and a growling mouth opens…
Oh, put your harpoons and pop-up metal cages away. There's no film-famous sharks to see here: only Brummie boys Jaws with their debut album, the first of the second-wave B-Town movement to draw blood in LP form. Since they glided onto the scene with the woozy and washed-out 'Toucan Surf', there have been numerous attempts to iron-brand them with the 'slacker' label, a throwaway term that also comes tagged with an image of layabouts reeling-off rushed three-chord ditties about 'babes' or 'dudes' that like to go surfing.
The depth of 'Be Slowly', however, proves that they slack about as much as a full-time lawyer that hates oversized shirts and music from the 90s. In other words, not that damn much. Opener 'Time', for example, has been injected with a new dimension through staccato-guitar hooks and Reflektor-esque bongos, while gigantic album closer 'NYE' feels suitably elephantine with its thick coating of reverb and carefully crafted guitar pieces. There's also a subtle sonic progression through grungier, darker tones being sprinkled into the mix, none more than in 'Home', which fizzes with its acidic plunge pool of a chorus, before culminating in an aural onslaught of rip-roaring guitar. Similarly, 'Filth' slinks through grimy guitar hooks and trash-cans of fuzz, while 'Time' throbs with a slightly eerie, discordant atmosphere.
These darker moments are sporadic, however, leaving much of the running time for the more expected, shimmering and summery tracks. 'Swim' sassily swats away any notions of it being a mere album track with an infectiously glittery chorus, and 'Sunset State' lives up to its name through it being more chilled-out than a cucumber shrugging-off a fatal strain of frostbite. There are a couple of slip-ups in this department; 'Cameron' seems to lack ambition, and 'Think Too Much, Feel Too Little' sparks little interest other than its remarkable impression of Bombay Bicycle Club. Any problems are instantly redeemed, though, with the effervescent title track; a jubilant anthem that cherry-picks the best bits of The Cure to create something as bold as it is bright.
As cheap as the opening joke may have been, it actually quite nicely illustrates the subtle transition the band have made. Sure, those looking for 24/7 simple, saccharine sun and smiles may be jarred in a few odd points; but the rest of us can enjoy the added punch and intensity that 'Be Slowly' brings to the table. After all, the dramatic and more ambitious elements of the album – as well as the blockbuster stand-out title track – have given us even more guitar tastiness to greedily wrap our fins around and sink our teeth into.

Get your copy of the latest issue
More like this