Interview:
JAWS: "You don't want to be old news"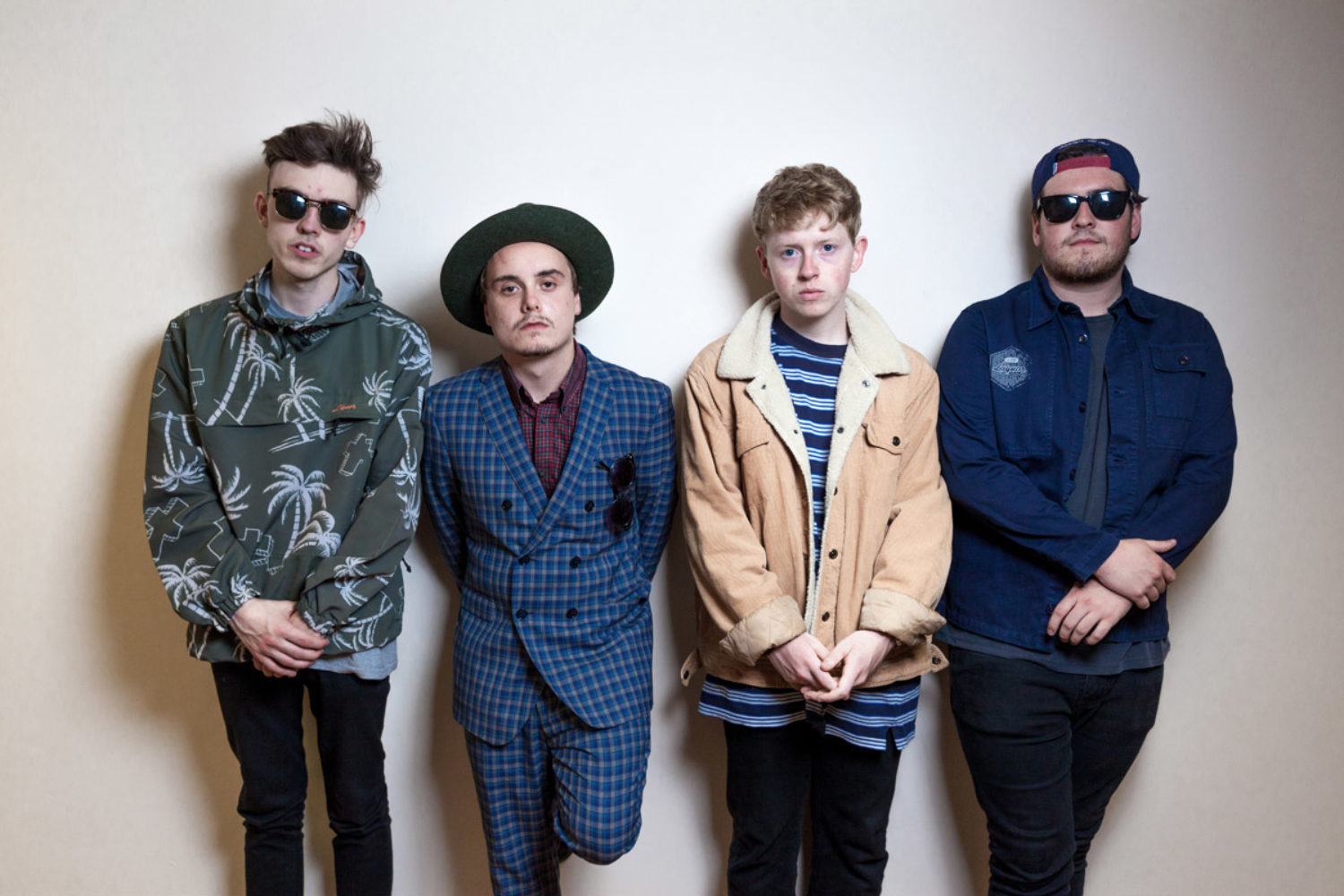 JAWS are jumping hype band hurdles to release an almighty debut album in 'Be Slowly'.
From the outside, Birmingham band JAWS are as laid back as it gets. They collectively coin lazy day songs about being "bored". Early days saw them pegged in as "tropical", sporting "beach pop" like that was some natural instinct for a group coming out of the Midlands. The truth is they're four guys wanting to escape. They're in debt to this frustrated urge to break out of a pattern of dead ends. And it's this spirit that's gradually developed their recordings, from an initial batch of easy-on-the-ear indie pop to the grungy, fuzz-fused leanings of debut album 'Be Slowly'.
In this gradual process of going from chirpy to charged, they've also become more expressive and honest as songwriters. One song on the record, 'Home', is about frontman Connor Schofield suffering a panic attack the moment the band's tour band parked up in Sheffield for a show. "I thought 'I need to go home'," he recalls. "With anxiety, you have to get through it no matter what. So I just wrote some songs about it." That same night, JAWS dressed up as Star Trek characters for a Halloween gig. They're the type to pull through difficult circumstances with beaming smiles on their faces.
"I don't know what happened, we kind of just bought a synth."
— Eddy Geach
This time last year they weren't exactly embroiled in trouble, but they were on the brink of being struck by the 'hype' curse. Initial chatter had them talked up to the heavens, tag-alongs to a B-town scene that was only beginning to bloom (it swiftly deflated, in some senses, because its stars departed the city at the earliest opportunity). JAWS have avoided the London life, for starters. They've also ridded themselves of a 'hype' tag, either by default or through sheer will, depending on who you ask. "When you're a hype band you're trendy at the time, and you don't just wanna be that band at that time," says bassist Jake Cooper. "You want people to connect to you and follow your music. You don't want to be old news."
The past twelve months has witnessed this transition, from bigged-up Birmingham boys to a mini-national treasure. Every time these guys tour, the crowds get bigger, the atmosphere more intense. "The difference is we can play in London, sell loads of tickets and it's all our fans, not a load of blokes that do A&R," sums up Connor.
'Be Slowly' tops off a period that's seen a shiny selection of songs given a new spin. Gems from their early days, like 'Gold', haven't been scrapped, but they're jostling for space in a new environment that contains more amped-up, frenzied takes. At times they could be compared to a US college rock band. A sense of longing lines the seams in songs about girls, dreams, quick escapes. "When we first started, the idea was to do Smashing Pumpkins-style music," says drummer Eddy Geach. "That fuzzy sound. Borderline grunge. And I don't know what happened, we kind of just bought a synth," he jokes. Today they verge on linking up with Brooklyn fuzz fiends DIIV and Beach Fossils, especially on the title-track. And Connor is a self-professed fan of hardcore music. It's a curious concoction.
"I always had a bit of an anxiety about the band having to stop because we couldn't afford to carry on."
— Connor Schofield
With this debut it feels like they've just about landed on the sound they've been seeking, but it's still a journey that's developing. "We're writing new songs at the minute, jamming through pieces we've got together. And immediately it seems different to anything on the new album," claims Jake. "We're changing the way we play." Connor admits the album's been a long time in the making. It's been completed for so long, "we didn't realise it was happening," he says. "It's been in the back of our minds until recently." The speed with which it's come along might not have been possible without a good chunk of PRS for Music money that they received at the tail end of 2013. Similar schemes in other countries assist with giving bands an international platform, but this one simply gave JAWS a chance to get to grips with recording. "We'd released 'Gold' as a single and then it was like, 'What's the next step?' We had a few songs and a few demos, but not really any money to do an album," Connor remembers. "I always had a bit of an anxiety about us having all this build-up, getting a few fans and shows and then the band having to stop, because we couldn't afford to carry on. PRS let us carry on basically, gave us a chance to do an album."
'Be Slowly', as a title, insists that taking time's the best way to go ("A lot of people live in a constant rush, and you need to sit for a second," says Connor), but last year the band were at a crossroads. "We had to make a decision either way on whether to rush it or not," recalls Jake. "At the time [debut EP] 'Milkshake' was still going, we were still touring. It was a matter of time until we had to make an album." This first work, in that sense, carries an urgency. It's the sound of a band fighting past initial hype status, shunning hyperbole, ignoring pressure and simply becoming an actual band. A group with fans and something tangible to hold onto. "Releasing an album is refreshing the hype, but it's a different kind," claims Eddy, and there's a definite sense that JAWS are riding a wave of their own now. It's one free of "beach pop" nonsense, and it's one that has a long way to go. Perhaps they've been surfing it this whole time.
Taken from the September issue of DIY, out now. JAWS' debut album 'Be Slowly' is out now via Rattlepop.

Get your copy of the latest issue