Album Review
Christopher Owens - A New Testament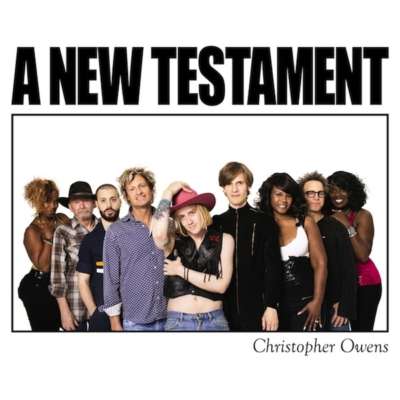 It sounds, at times, like the kind of music from which the Coen Brothers could hinge a plot.
Label: Caroline International
Released: 29th September 2014
Two albums released in as many years, as well as the odd set of acoustic arrangements, speaks volumes of how prolific and dedicated a songwriter Christopher Owens really is. With this second solo record, Owens is fully exploring what figures as a previously unturned stone in his songwriting, with the ambitiously minded and thoroughly unpopular streak through both country and western and Christian rock; 'A New Testament' is littered with Owens' stab at reinventing, or at least reappropriating, whole genres in his image, the lovingly troubled rock and roll troubadour.
Burning out brightly, and intensely, over a short period of three years, Girls, the San Francisco band which Owens fronted, figure into any discussion of the singer-songwriter's work, especially as this album's sound builds further back into a fuller, more wholesome band. Yet, it would remain a disservice to compare the two so thoroughly; we have here a musician who is bold and uncompromising, who evidently sets a wildly different tone from the off, the short and sweet 'My Troubled Heart' is a rip-roaring, old school call and response affair that thoroughly ruffles the feathers.
Whilst the Christian rock vibe may be disarming, for any fan it's not entirely foreign, and tracks like the gospel-infused 'Stephen' offer nothing if not an extended emotional register as Owens is perhaps reconciling his own religious views and upbringing in the Child of God cult. There's further highlight in 'It Comes Back To You', a yearning and lovelorn ode that is hard to deny, and more heartfelt confessionals with the last song on the album, 'I Just Can't Live Without You (But I'm Still Alive)', tackling the subject of Owens' desire head-on; "Mama didn't raise no quitter" is an endearing turn of phrase from a singer with his heart forever on his sleeve.
It also sounds, at times, like the kind of music from which the Coen Brothers could hinge a plot, a track like 'A Heart Akin In The Wind' comes instantly to mind, and his gonzo take on adult contemporary lends itself a satisfying thematic thread across the twelve tracks. Whilst a fun record, there's only one issue remains, the fact that it's often hard to connect with something so unabashedly honest; despite being so seemingly straight-laced, Owens frequently sounds as if he's singing tongue in cheek, and it's hard to tell if you are always in on the joke or not. Owens is a consistent master of his craft, but does he really want to show that off, or hide it under artifice?