Album Review
Allo Darlin' - We Come From The Same Place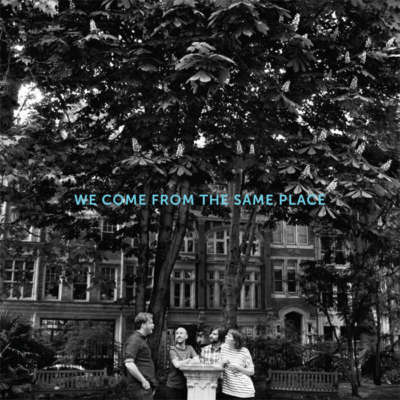 The juxtaposition between the lyrics and the music may be initially jarring, but on repeated listens makes perfect sense.
Label: Fortuna Pop
Released: 6th October 2014
Allo Darlin"s self-titled debut was a collection of lo-fi recordings, featuring odes to Woody Allen and chilli. Follow-up 'Europe' saw a change in direction, moving away from 'twee' tales to a more reflective, mature take on songwriting. And with this, their third, the band have assembled their strongest set of songs yet; Elizabeth Morris' lyrics of romance and reflection given emotional heft by the abilities of her fellow band members, Bill Botting, Paul Rains and Michael Collins. On closing track, 'Bright Eyes', a duet featuring Morris and Rains, the final minute is played out amid a cacophony of controlled noise, and this is a measure of how far the four members of the band have grown. Gone are the softly sung bedroom songs of their debut. In their place are confident, mature tracks, accentuated by the quality of the musicianship.
If 'Bright Eyes' closes the album on a wave of hard riffs, then 'Heartbeat' opens it in a more nuanced fashion, the ukulele sound the band have trademarked as their own mixing deftly with Morris singing wistfully about "how I'm starting to feel as if true romance is fictional", being alone in a relationship going nowhere. The juxtaposition between the lyrics and the music may be initially jarring, but on repeated listens it makes perfect sense. Morris may be singing about the collapse of love, but does so in a cathartic way, making the tracks accessible.
The two stand-out moments come back to back on the second half of the record, beginning with the beautiful 'History Lessons', which sees Morris admonish those in rose-tinted spectacles who believe everything was better 'back in the day' with parting shot - "What came before doesn't always have to be the best". Immediately following this is 'Santa Maria Novella', one of the softer songs on the record, Morris finding herself as a 'tourist' in a city she calls home, unable to settle, "lying awake…staring at the ceiling", trying to fit in for the sake of her relationship. It is executed simply, but effectively, Morris vocalising a lot of fears people have when they move abroad to be with their partners.
'We Come From The Same Place', then, is a delightful record, catchy enough to keep the listener's attention, and with enough substance for them to return to it time and time again. This is the work of a band going places, and deservedly so.