Album Review
Dad Rocks! - Year of the Flesh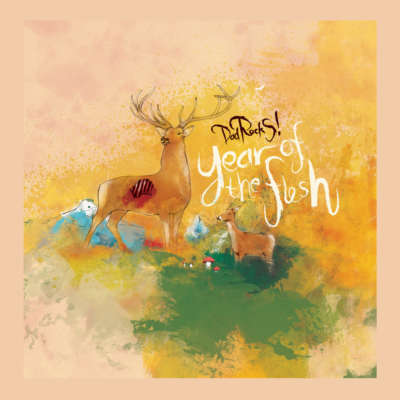 These songs never feel patronising or forced, and the potentially cliched topics don't sound weird.
Label: Father Figure
Released: 6th October 2014
Fatherhood is fundamental to Snævar Njáll Albertsson's music: it's why he writes it, and it totally colours the views of the world that he shares in each song. Under the fitting pseudonym Dad Rocks!, he has, since 2011, created energetic, uplifting tracks that talk of seeing the world through a father's eyes. And as becoming a dad necessitates some children, the influence of his kids is just about everywhere on his latest album, 'Year of the Flesh'.
It's a bigger affair than 2011's debut LP 'Mount Modern', complete with girls' choir and full brass band. You can see just from the track names that 'Year of the Flesh' is about a young person's world and concerns: 'Peers', 'Cyber Bullies', 'Body Mass Index'. But the subjects aren't belittled or mocked. Rather, they're looked at empathetically from a father to his children, as he recognises the effect of a celebrity's wardrobe decisions on a teenage girl, for example, or how online bullying can devastate - or even end - a young life.
But these songs never feel patronising or forced, and these potentially cliched topics don't sound weird coming out of the mouth of an adult. Much like his first record, this is an exploration of what it means to be a parent in a modern world - an open summary of what he's seen and what he thinks, at times an exultation on the wonders of fatherhood, at others a lamentation about the state of life in 2014.
It would be easy for all of this to get pretty twee. But a jubilant brass band in the instrumental opener, a music box glockenspiel on 'Cyber Bullies', and a little unexpected, yet fitting, flute on 'Waves' go some way to prevent that. Together with a quintessentially 'indie' singing voice, folky guitar and some sensitive work from Icelandic master producer Addi 800, this is another thoughtful album from Albertsson that skilfully overs an otherwise overlooked subject.