Album Review
North Atlantic Oscillation - The Third Day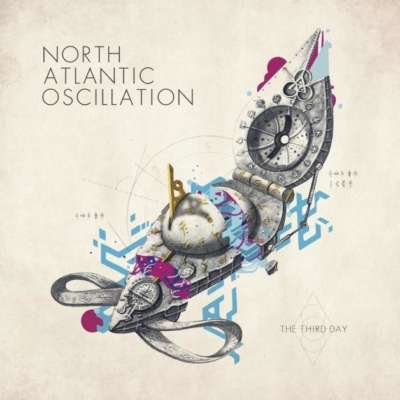 Punchy and more immediate.
Label: KScope Records
Released: 6th October 2014
On 'Fog Electric', North Atlantic Oscillation largely eschewed the kitchen-sink, erratic and occasionally brilliant weirdness of their debut, 'Grappling Hooks', in favour of something more focussed, albeit sonically opaque. In amongst washes of synth layers and gauzy guitar lines, a dark atmosphere pervaded their tales of dead heroes and the stumbling of positivism. 'The Third Day' is a change again; punchy and more immediate, it's a reaction in some ways to what the band have described as the shortcomings of 'Fog Electric', as well as a stripping back of extraneous distractions.
Opener 'Great Plains II' as well as high-pop saccharine single 'August' are offbeat, eclectic alt-pop in the vein of Grandaddy, while 'Penrose' recalls Caribou's psychedelic exploits on 'Andorra'. 'Wires' hints at 'Weird Fishes/Arpeggi' from Radiohead's 'In Rainbows', while the sprawling 'Dust' twists and turns through section after section of looped and layered percussion, polyrhythmic elements and stacked polyphonic melodies. Closer 'When To Stop' treads a fine line with vocal melodies that almost echo early Coldplay before massive drums and sighing washes of noise scour the tail end of the track, bringing the album to a close in spectacular fashion.
They've been called many things in their career, post-rock, prog, post-progressive, alternative; North Atlantic Oscillation are at heart, or at least aspirationally, a 'pop' group, perhaps in the same manner one might consider Boards of Canada so. All of their individual elements may be drawn from different genres, but the only thing that all the strands have in common is a desire to transcend the mere layers and form of the composition and draw out something ephemeral and breathtaking from the melodic interactions therein. That, of course, is the goal of all pop music; something the leftfield too often pays only shallow lip-service to, but on 'The Third Day' NAO, if fleetingly, achieve.