Interview:
Weezer: "We want to have it all"
Rivers Cuomo explains why going back to their roots has resulted in their best album in a decade.
You can't, as popular wisdom has it, be all things to all people. Try and please some, and others will hate you for it. Weezer, over their twenty-plus year existence, have become a lot of things to a lot of people. Once described as the 'most mainstream alternative' band to Radiohead's 'most alternative mainstream', they'll cover Pixies in a heartbeat, and sing about their "favourite rock group, Kiss" the next. Throughout their back catalogue is the lingering feeling that frontman Rivers Cuomo grew up with every intention of being an American Bruce Dickinson – his eyesight and vocal cords just didn't want to play ball. They've spanned college (or 'slacker') rock, emo and pop-punk without ever really being any of them at all.
And yet, somehow, they remain one of the most criticised bands, well, ever. The golden rule of the internet may be 'haters gonna hate' – but Weezer suffer more than most. At the extreme end, there's the 2010 petition offering the band $1m to stop making music altogether, but even from some calling themselves fans you'll get an immediate sniff at any new material post-millennium. That's seven whole albums dismissed with little more than a click of the mouse.
So it's no wonder the band – that's Cuomo, guitarist Brian Bell, bassist Scott Shriner and drummer Patrick Wilson – have a love/hate relationship with the Internet. It wasn't until they were offline, in a boat miles off the coast of Florida, that they began to think about the ninth record that would become 'Everything Will Be Alright In The End'. "In the pre-internet days we could play our new material at shows before it was recorded," Rivers explains. "Get that instant feedback, a sense of what's working and what's not and let the song develop in that communal setting. But around 2000-2001 we tried to do that, and any new song we played would instantly get circulated around the world and judged as if it were a finished product."
"It's difficult for a work of art to grow in that kind of environment," he adds. "It needs a little more privacy and a safe womb in which to develop. So we stopped performing works in progress at our shows, and ended up feeling separated from our audience. Then a few years back we went out on a giant boat with a couple thousand hardcore Weezer fans [for the Weezer Cruise] with no internet connection and for five days all we had was each other. It was all face-to-face real-life contact, and there was an incredible feeling of love and support and passionate enthusiasm for the band, that was much more beneficial than the types of interaction we'd been having online."
Their approach is easily heard in the first single from the record, 'Back to the Shack' – which Rivers himself describes as "about coming back to the fan community and our audience." It's there in the literal returning-to-their-roots lyrics and the tongue-in-cheek self-deprecation. "We forgot that disco sucks," Rivers sings, all-bar admitting that 2009's pop-infused 'Raditude' was somewhat of a failed experiment. After all, he says, should an artist find themselves adrift from their peers, they can "either totally close off the whole world, or end up surrounded by well-meaning advisers who weren't there when the band first started, who might be pulling and pushing the band in not the most helpful directions."
It's also one which has kept online leakage to a minimum, allowing the band to tease the record via their own self-styled 'Weezer Wednesday' clips. "We put a lot of thought into how we wanted to gradually reveal the album," Rivers explains. "I think we've found a perfect balance. Giving the audience a taste of what's to come - enough to get super excited and to get a sense of what the album's gonna be about, what it stands for - and at the same time holding back most of it, so that when they finally hear the whole thing in its entirety they're going to be blown away."
When describing the clips themselves – which veer between live video and strange acted-out scenes – Rivers mentions "the story that runs through the album." Indeed, one of the first clips to be shared involved a small bespectacled boy; another a similarly-attired teenager – not a stretch to imagine them both as depicting younger Rivers. Weezer's personal lyrical content has always been part of their draw. When 'I've Had It Up To Here' throws out lines like "I don't want to compromise my art for universal appeal" and 'Foolish Father' follows later with the sentimental "you are his daughter / he'd do anything for you," wondering whether a title like 'Eulogy For A Rock Band' is autobiographical, well, doesn't take too much of a leap.
Not that Rivers is going to be called on it. "I don't want to say too much about it," he offers when quizzed about whether there's a concept at play, "I think fans should hear the record first, and see the artwork and live with it and then slowly discover what it all means and put the pieces together for themselves."
"The album could be nobody but Weezer."
— Rivers Cuomo
Returning to the figurative 'shack' didn't only mean talking to their fans. The band regrouped with producer Ric Ocasek of The Cars, who they'd worked with on both the 'Blue' and 'Green' self-titled albums. A man who is, as Rivers puts it, "an essential ingredient in our recipe."
"We knew we wanted to make a classic Weezer-sounding album, and there's no-one on earth who can help us get that sound better than him. In fact, even when we know he's just on his way down to the studio, we already start changing the way we play. We actually step up our game because we all grew up Cars fans, and he was a legend to us, so when he walks in the room he has this instant power and authority over us. No matter how big we get, he'll always be a few levels above us in our minds."
And yes, 'Everything Will Be Alright In The End' is quintessential Weezer. Place your stylus, whether literal or metaphorical, anywhere on its eleven tracks, and this is an album that couldn't be by anyone else. "It's hard to know exactly what it feels like for other people," Rivers responds, "because we're right in the middle of it, this is who we are. But I think it's true that this is, more than anything else, a purely Weezer record. We're just digging deep in to ourselves and you'll hear a lot of classic Weezer elements, but you'll also hear us trying things we've never tried before. In the end it sounds like it could be nobody but Weezer."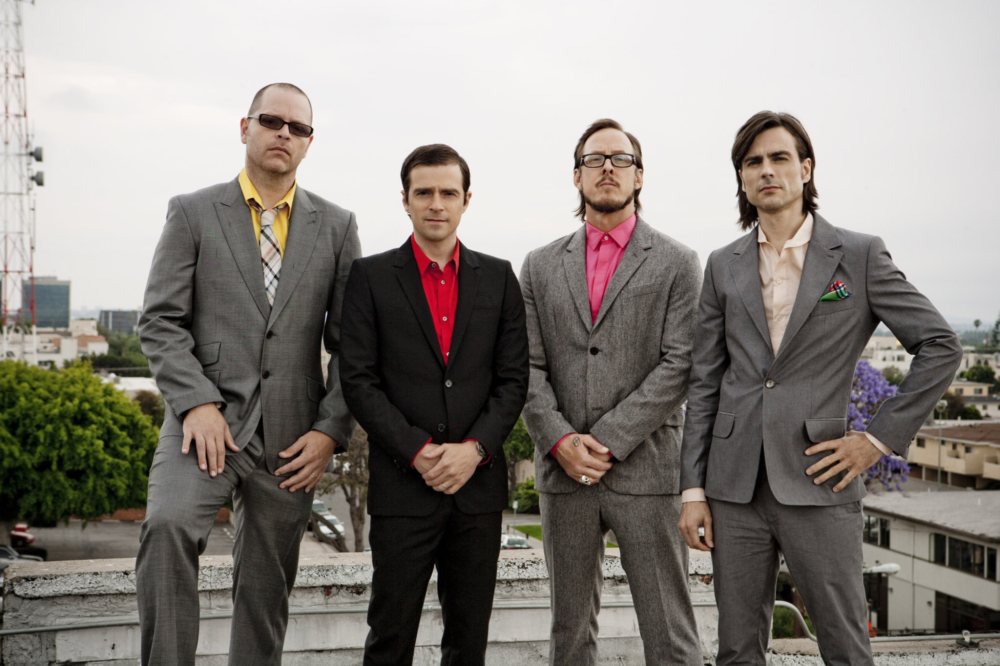 It's true. All those magic chord changes, faltering vocals, guitar sounds and song structures. It's all there. A Weezer who know and play to their strengths, comfortable in their own skin. Aiming to please nobody but themselves. There's 'Da Vinci's adorably candid chorus refrain beginning "even Da Vinci couldn't paint you / and Stephen Hawking can't explain you"; the sweet-and-sour 'Go Away', co-written with and featuring Best Coast's Bethany Cosentino; 'Cleopatra' with its skittering between song parts that really shouldn't match, but work brilliantly.
"One of the strengths of Weezer is a sense of balance," Rivers muses. "Especially over the course of a long album, we're able to have some intensely personal songs, some more universal songs, and enough that's common in between that they work as an album. We strive for that balance, not just in the lyrics, but in every way. We want to have heavy rock guitars, but we also want to have beautiful melodies, bombastic drums, but also gorgeous three-part harmonies, shredding guitar solos, but also other textures like small piano melodies and glockenspiel. We basically want to have it all."
Having it all inevitably involves the bizarre. So closing the record is the building, near-eight-minute 'Futurescope Trilogy' that's at parts batshit crazy as anything Muse have put to tape; imagine Bill and Ted's Wild Stallyns taking on 'Only in Dreams' and you'd be halfway there.
"We wanted the album to build towards a climax," says Rivers. "And by that point in the album, we'd used all the tools a normal artist would use. And so we have to go to the extreme and come up with something that's, as you put it, batshit crazy." He laughs. "I'll be curious to see how people reacts to those seven-and-a-half minutes of music. For us it's one of the most thrilling pieces of music we've ever had the pleasure of playing. We're so excited about it. It'll be interesting to see how the audience responds."
Taken from the October issue of DIY, out now. Weezer's new album 'Everything Will Be Alright In The End' is out now via Island.

Get your copy of the latest issue