Album Review:
Ryan Hemsworth - Alone For The First Time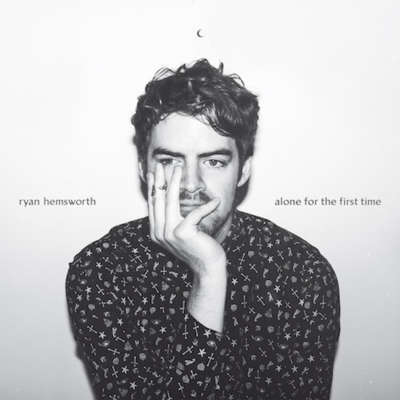 An album of sheer artistry encompassing all the trappings and tinkerings that have become archetypal of Hemsworth's work.
Label: Last Gang
Released: 3rd November 2014
Expecting to stand out on the internet is about as optimistic as expecting to be the only person wearing Dr. Martens and heavy-set glasses in Lewisham. It's the kind of naïve confidence you associate with cats that are coerced into a transport box on the promise of food, only to be forcibly placed on a vet's table twenty minutes later. We coo after these types, our wide-eyed associates, unsuspecting and pure. Once in a while, though, someone manages to slip through the cracks; Felix made it to no. 34's garden, George defied all odds and became the first man to ever walk the streets of East London without seeing someone in the same outfit, and Ryan Hemsworth conquered the internet.
'Alone For The First Time', the second solo studio album from Canadian producer and DJ Ryan Hemsworth, arrives only a year after his first. But, despite a seemingly speedy turn around, he who surmounted SoundCloud has unequivocally pulled out all the stops. 'AFTFT' is faultless. For those who have known and loved Ryan since the start, it's everything you could wish for and more: an album of sheer artistry encompassing all the trappings and tinkerings that have since become archetypal of his work. For those who have trundled along, blissfully unaware of his existence, 'Alone For The First Time' is the perfect place to begin.
Opening track 'Hurt Me' cascades in with strings straight out of a movie soundtrack, an overwhelming influx of emotion before 'Walk Me Home' unleashes sugar coated synth blips so sweet you can't help but wince. Lead single 'Snow In Newark' continues, cinematic in its sketch of devotion; "I don't want to leave you here, I just want to be your shadow," guest vocalist Dawn Golden longs amongst well placed glockenspiels and dry, unembellished drum beats. 'Blemish' and 'Too Long' add yet more to the mixing pot, showcasing Hemsworth's unworldly dynamism, slipping from guitar-based melodies to cool, smoky jazz pianos in a matter of seconds. It's 'Surrounded', featuring vocals from virtually unknown Californian singer Kotomi, that hints at celebrity, though. Swirling in and out in true Top 20 fashion, Hemsworth touches on genius allowing 'Surrounded' to sound no more out of place in between Iggy and Ariana as it does within its own tracklisting. Track seven, 'By Myself,' draws the album to an untimely close; a sigh of despair, a sense of abandonment impounds.
'Alone For The First Time' might not be quite what you would expect as the fruit of Ryan Hemsworth's 'reaction to the current state of electronic and rock music,' but his sentiment is undoubtedly felt. A record that intertwines effortlessly whilst showcasing flair beyond belief, 'Alone For The First Time' is authentic, new and first and foremost captivating.
More like this