Album Review:
The Voyeurs – Rhubarb Rhubarb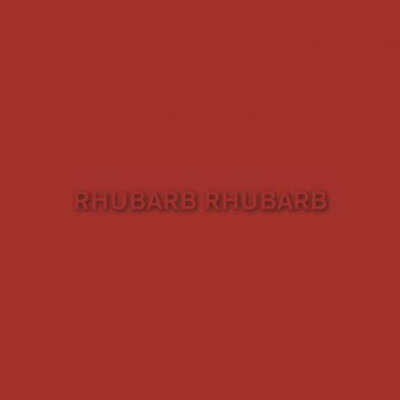 A delightfully fun record.
Label: Heavenly
Released: 3rd November 2014
For their second album, The Voyeurs have taken all that time and energy from every time they ever had to say, write or type the words 'Charlie Boyer and', and used it to expand on their sound.
2013's 'Clarietta' was a brilliant exercise in discordant post-punk, all motorik rhythm, hollow spaces and Charlie's oddball vocal. Here, on follow-up 'Rhubarb Rhubarb', expanding that doesn't mean adding strings (although there are some short bursts in closer 'French Fancy'), going crazy on synths, or adding layer upon layer of unintelligible psych guitar until everything fell in to one giant mesh. Which, given the band's slight leanings towards the mesmeric 60s, could well have happened.
No, instead they've taken the time to have fun – great, big stomping glam fun. Bar that slightly self-indulgent closer, these ten tracks sound like they were a joy to create. It's late 70s to the extreme – glittery scarves, giant flares and "Go! Go!" chanting decorate opener 'Train to Minsk' in a manner that make it easy to forget the Belarussian capital isn't still Soviet. 'Say You Love Him (And Choke)' is more pop and less macabre than its title suggests. 'The Smiling Loon' has echoes of both Bowie and the Beatles – if 'Rhubarb Rhubarb' claims to embrace the English eccentricity, with that and the Kinks-esque follow-up 'England Sings Rhubarb Rhubarb', it's succeeded. Everything here is delivered with a knowing wink, a slightly comical turn.
Which is just as well, because the title track makes little sense, and 'Pete The Pugilist' uses the trope "make like a tree… and leave" in its chorus with no sense of irony. Elsewhere, there's the stomping 'Damp Walls', more of an obvious continuation of the band's debut than most, and the strange 'May Will You Stop', whose slower pace is at odds with the rest of the record.
If there's a line to be drawn between T-Rex and Bowie, The Beatles and The Kinks – that isn't a couple of decades in time, then it's possible to continue it right through to 'Rhubarb Rhubarb'. A delightfully fun record.