Live Review
Jungle, Shepherd's Bush Empire, London
30th October 2014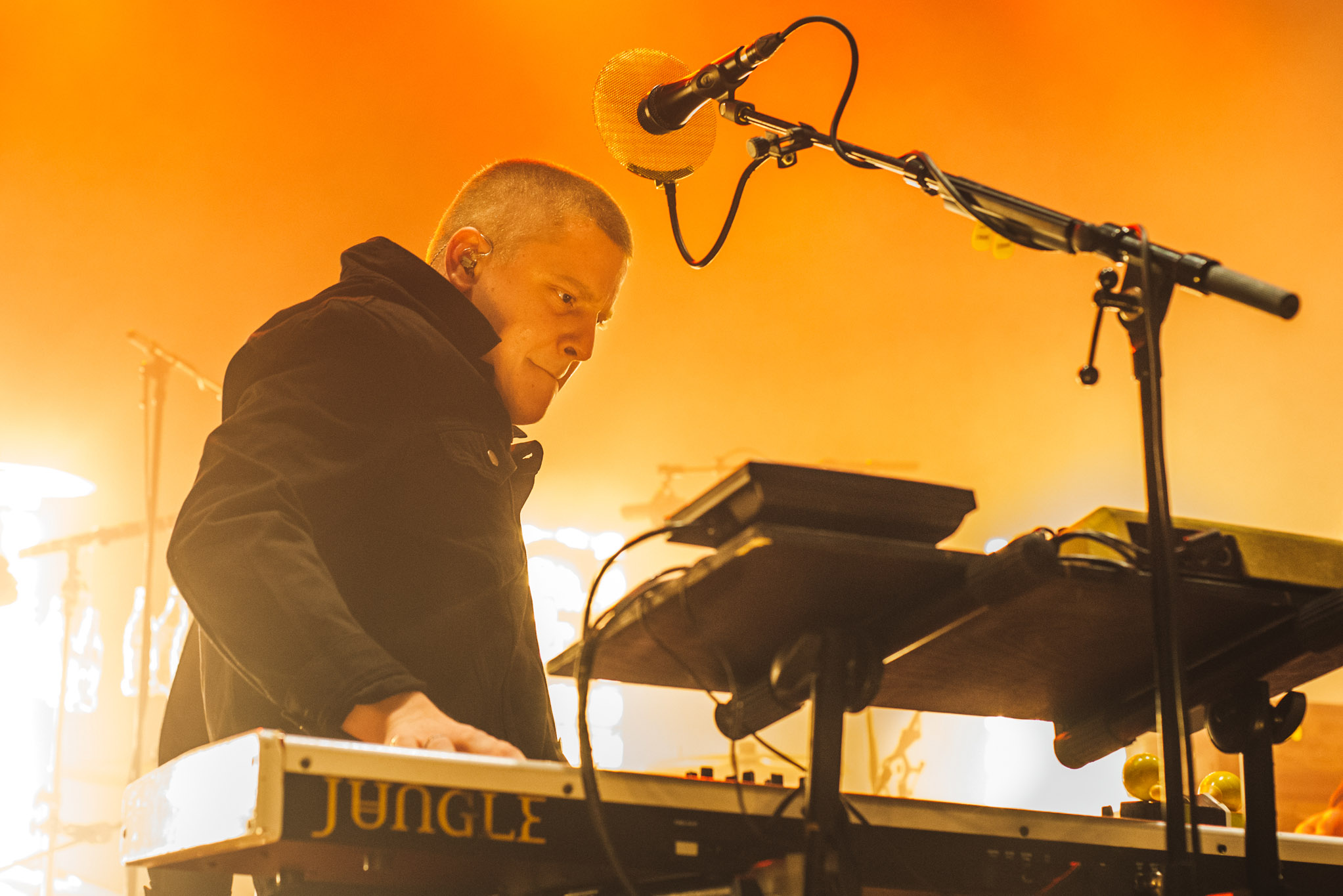 The people having the best time in Shepherd's Bush tonight are Jungle themselves, and why shouldn't they be, they're smashing it.
Jungle are a spectacular live band. To illustrate why it's necessary to make that clear from the off, here are two choice overheard quotes from tonight's Shepherd's Bush Empire show: "Mate, we are all getting laid tonight" and "OMG, imagine how good this is gunna be when we come up". This isn't Jungle's fault. Regardless of how this has come about it appears that seeing a Jungle show is now a lot like going to a household name DJ set on the last night of Creamfields; everyone's either trying vainly to pretend they know the words to impress their date, sweating and gurning, or just generally chatting about how much they 'love this one' over the top of 'this one'.
Just when all hope seems lost for Jungle an embossed, golden ray of light shines through in the form of closer 'Time'. Suddenly the lads' heads snap away from the disinterested gaze of their prey, the inane chit-chat stops and the following five minutes showcase just how much fun a Jungle show can be. Arms are flung skyward; everyone from the front row to the back of the stalls is on their feet and moving. The air is one of jubilation, celebration and the kind of feel good, party atmosphere that Jungle deserve. If only this could be maintained throughout the night this might be the most fun a live show can be. Unfortunately even the predictable encore of 'Busy Earnin'' doesn't quite recapture that energy. This crowd don't have it in them to shut up for more than one song.
This isn't Jungle's only vice either, not only are they plagued by a sea of people who don't really know or care who they are but for the people that do know, what they do never seems quite enough.
And yet theirs is a great set and one that's been honed tirelessly, a year of festival slots and ever growing sold out venues has left Jungle sounding funkier and more together than ever. The extra percussion live is now less of a gimmick and more a part of the overall sound. To cap things off the show, as always, looks spectacular. With a few extra quid in their pocket the light show is even more impressive; to look away from the giant crisply blazing, multi-coloured lettering behind is no easy feat. In fact, the only major difference is Jungle themselves, gone is the arrogant swagger they exuded in their earlier, more mysterious performances and in its place comes a genuine joy exuding from a band who have seen all their dreams come true in the last year. It's clear from the many, many times frontmen T and J scream 'Shepherd's BUSH' in a manner that is out of character for the usually quiet and subdued duo that the people having the best time in Shepherd's Bush tonight are Jungle themselves, and why shouldn't they be, they're smashing it.