Album Review:
Röyksopp - The Inevitable End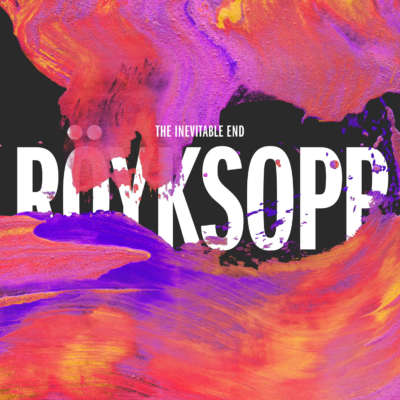 If there was ever a final motif of Röyksopp, it was their ability to make the risky and surreal sound simple.
Label: Dog Triumph
Released: 10th November 2014
As part of DIY's July 2014 cover feature with Röyksopp and Robyn, the former's Svein Berge admitted that he's coming to terms with the idea of things coming to an end. "It seems like death and mortality and such are a great subject matter. It's interesting to explore. It's something we touch upon with our music." With 'The Inevitable End', the Norwegian production duo of Berge and Torbjørn Brundtland are giving in to finality. This is their final album, but it's less the sound of the grim reaper knocking, more the closing of a chapter that, presumably, will give way to a more experimental means of release.
If this is Röyksopp's waving goodbye to albums as a format, then, it ought to follow the accepted practices of full-lengths being coherent, flowing works that absorb. That's been the pair's running mantra for years. When their output became scatterbrained, they separated two distinct ideas into separate records, like with 2009's 'Junior' and 2010's 'Senior'. 'The Inevitable End' finds a balance between giddy electronics and more settled grace. If this is a group's last dying words, it's the sound of two musicians coming to terms with their diverse output, allowing worlds to collide.
Arms-aloft anthems form one half of the record. 'I Had This Thing''s dance with a melancholic twist is Röyksopp all over. The same goes for 'Monument', an edit of their Robyn collaboration that previously appeared on this year's 'Do It Again'. Mortality became a focal point of that mini-album, but despite this being a last step, Röyksopp's final bow feels more like a celebration at times. 'Running to the Sea' is shamelessly streamlined, capturing the bittersweet sweetness of previous material. Sometimes it feels too simple, too ready to be consumed, but final statements need to be direct. They need to say everything at once - so this makes sense.
When death creeps in from all sides - like the tear-strewn 'Sordid Affair' or the ghostly 'Rong' - it manifests itself into anger, not sadness. "What the fuck is wrong with you?" hisses the latter's chorus. 'The Inevitable End' accepts its own strengths and faults in one fatal blow, just like any last gasp should. It ends on 'Thank You', an affectionate statement that's contorted into a shuffling, robotic end-point. If there was ever a final motif of Röyksopp, it was their ability to make the risky and surreal sound simple. Long may it continue, regardless of form.
More like this