EP Review:
Parkay Quarts – Content Nausea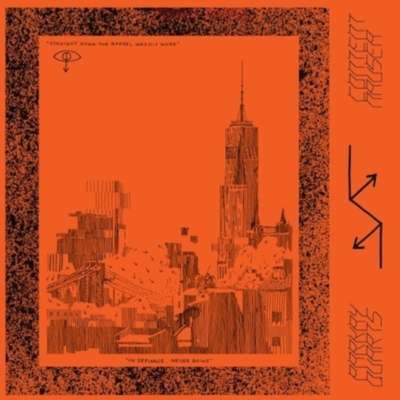 A collection of songs that reflects anxiety and paranoia, a distrust of the present but also belief in their own ability.
Label: Rough Trade
Released: 10th November 2014
Remember when bands used to release an album a year? OK, with the current artist cycle of album, promotion and tour, most of us probably don't, but it has that romantic, independent feel doesn't it? That fresh and exhilarating sensation of a band with too many ideas to contain, recording things as soon they come to them. And Parquet Courts/Parkay Quarts (whatever they're calling themselves as you read this) are keeping that DIY philosophy going.
'Content Nausea' is the band's second release of 2014 after the excellent 'Sunbathing Animal'. Pitched as somewhere between an LP and an EP, its ramshackle 35 minutes - including a cover of 'These Boots Were Made for Walking' - features more than enough ideas and sublime moments to justify a second release of the year.
It also cements their DIY ethos, mostly having been made by the band's Andrew Savage and Austin Brown and was recorded, mixed, and mastered in two weeks on a four-track tape machine.
It's not the only thing that hints at a longing for a time gone by. The title track – a shot across the bows of empty modernity, as the name suggests – works as a point of reference for their aversion to the digital age too. It's the centre point for the release, where, over rolling drums and a jazzy breakdown, they deliver a stream of consciousness diatribe against "all lives lost to the ceremony of progress". "Content that's what you call it… This year it became harder to be tender, harder and harder to remember meeting a friend, writing a letter, being lost… ignore this part it's an advertisement."
Yet if that highlights a band dealing with changes – in them, in expectations and in their surroundings - the homophonic name shift (though the 'Parkay Quarts' moniker was also previously used for last year's 'Tally All the Things That You Broke' EP) also seems to allow them freer rein to try new ideas, throw them around and see what sticks.
So while 'Pretty Machines' and its brilliantly effortless swagger follows their Pavement rock template (and features the choice line, "Punk songs, I thought they were different and I thought they could end it, but it was a deception") there's also 'Psycho Structures', a song built on a drum machine beat, muffled vocals and a Joy Division-y chorus before completely disintegrating and 'The Nap', the sound of a fried, paranoid brain trying to find answers (a thread that runs throughout). The three interludes featured also help lend the piece the atmosphere of an album.
Yet it's the sprawling and lovely 'Uncast Shadow' which is the stand out, a stunning slow-burner of Dylan-esque proportions with Savage singing of "two men tragically colliding in the deep south". The dusty, sunset guitar hypnotises before exploding and fading into a void.
It's a collection of songs that reflects anxiety and paranoia, a distrust of the present but also belief in their own ability. It also presents a band with a future in which they have opened up new avenues for themselves. Parkay Quarts have delivered some great #content.
More like this