Interview:
TV On The Radio: "Making something that lasts is hard"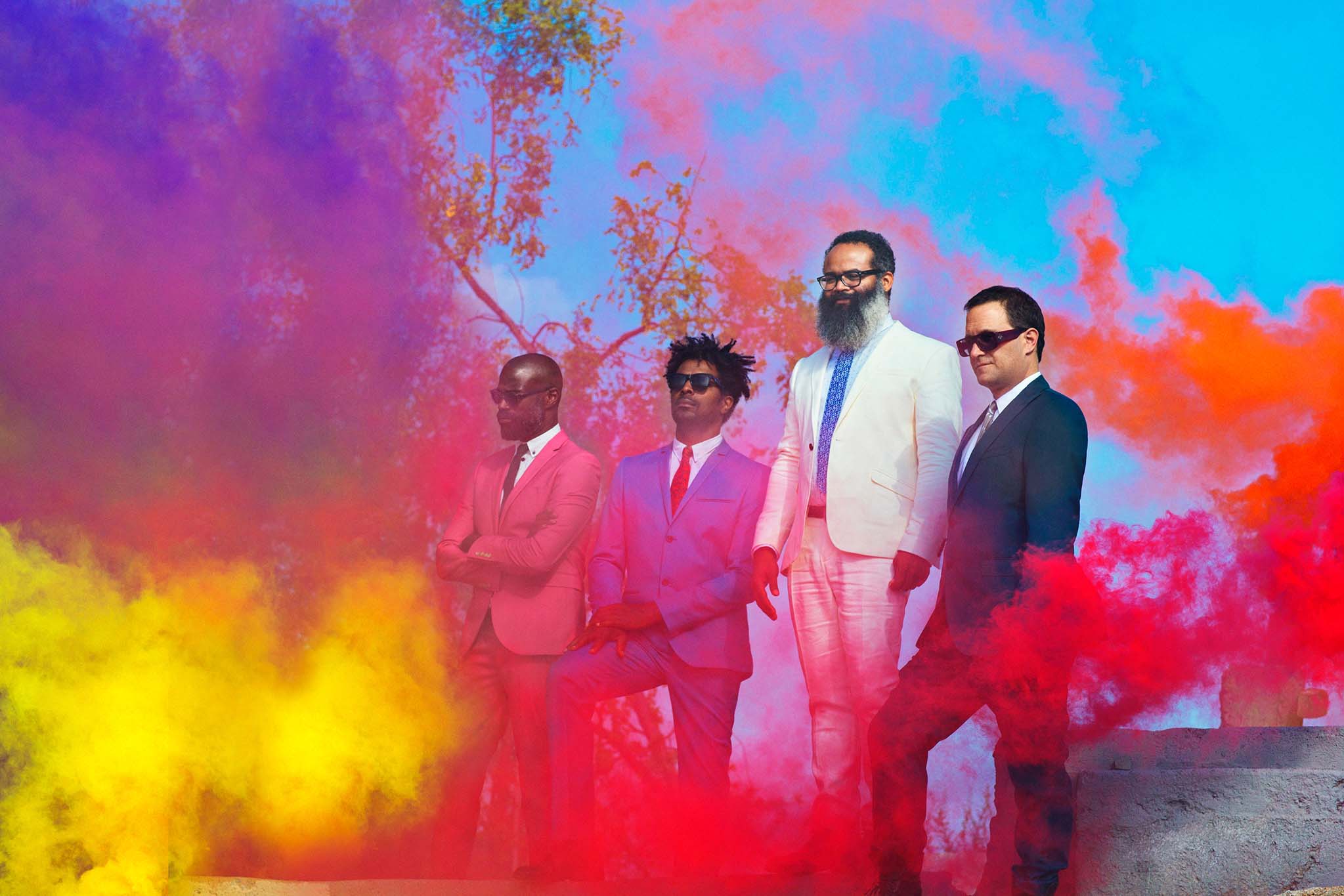 Dave Sitek and Tunde Adebimpe return with TV On The Radio's fifth studio album, 'Seeds'.
One of the first things you notice about Dave Sitek and Tunde Adebimpe is how completely different they are. Dressed in an immaculate three-piece suit, Dave is sitting sternly on the edge of his chair. Reclining just opposite him is Tunde, sporting a patterned jumper and a face full of speckled stubble. Based on appearances alone, the idea that these two are able to make such perfectly attuned melodies is both baffling and fascinating – but therein lays the magic of TV On The Radio. A conglomeration of sounds and cultures, this is a band that creates unclassifiable fusions of soul, punk and blues. To put it more succinctly, these two (along with Kyp Malone and Jaleel Bunton) make up a very diverse bunch. "Recording is always intense because you have a group of really creative people, but creative in different directions, trying to make the same thing," Dave explains. "Four architects make crooked buildings, so making something that lasts is hard."
The results of their latest efforts have come in the form of their fifth studio album 'Seeds', which is the product of a very eventful three years. After tragically losing bassist Gerard Smith to lung cancer in 2011, they ended up leaving their record label and having to form their own. As tough transitional periods go, this could very well take the biscuit. "We'd had probably the longest break we'd had from doing this in seven years, and I think it was just a good stretch of time to recalibrate and reset things," Tunde says calmly. Dave hums in agreement and continues – "we didn't have a label at the time and we were only doing it because we wanted to, not because we needed to, and I think that made a huge difference."
"We're not making music to try and alienate people."
— Dave Sitek
And things certainly do sound different this time around. 'Seeds' is easily TV On The Radio's most accessible and polished record yet – and despite their recent troubles it's also their most catchy. It's amazing to think that such a fresh record came out of such a dark period. "We worked quicker on songs than we ever have this time", Tunde explains. "Especially when Dave and I were writing songs. If a song didn't sound like a song in two days, or if it started getting weird in the third day, you have to put it away. Whereas I think [on 'Nine Types Of Light'] we did it for a lot longer than we should have." He laughs warmly before Dave chimes in, "We were more playful with the songwriting. It wasn't as big of a chore. I think a lot of times we would start messing around and really get lost in the sound, and I think that on this record – at least from my perspective – the song made itself known pretty quick."
Considering their place 13 years ago as pioneers of Brooklyn's underground art-rock scene, it's funny to think of how much has changed in the interim. After moving from their cheap and cheerful Williamsburg loft (apparently now a luxury condo), both Dave and Tunde decided to opt for the sunny shores of LA as their permanent base. It's a move that might explain why they've started to embrace a warmer, more conventional sound. "I love LA." Dave says, unapologetically. "It's just different. It's got hang-ups just like anywhere else but they're new hang-ups, and I was just tired of the old ones. I had my fun in New York, but I just felt like if I stayed I would be the old guy bitching about how it used to be, and I just didn't care to do that." Does he feel like the move has led to a more commercial sound for TV On The Radio? "I think we were trying to be commercial the whole time. I just think that we were hoping that there was a wider entrance into that world then there actually is. We're not making music to try and alienate people." Tunde cuts in – "We did try to get Pitbull on the record but he was just not…" He trails off, before erupting into another loud chuckle. "No, I'm kidding... The big deal was just making something that was exciting to us. We'd all run out off the bullshit, and so we just shut off and went back to being really, really fun."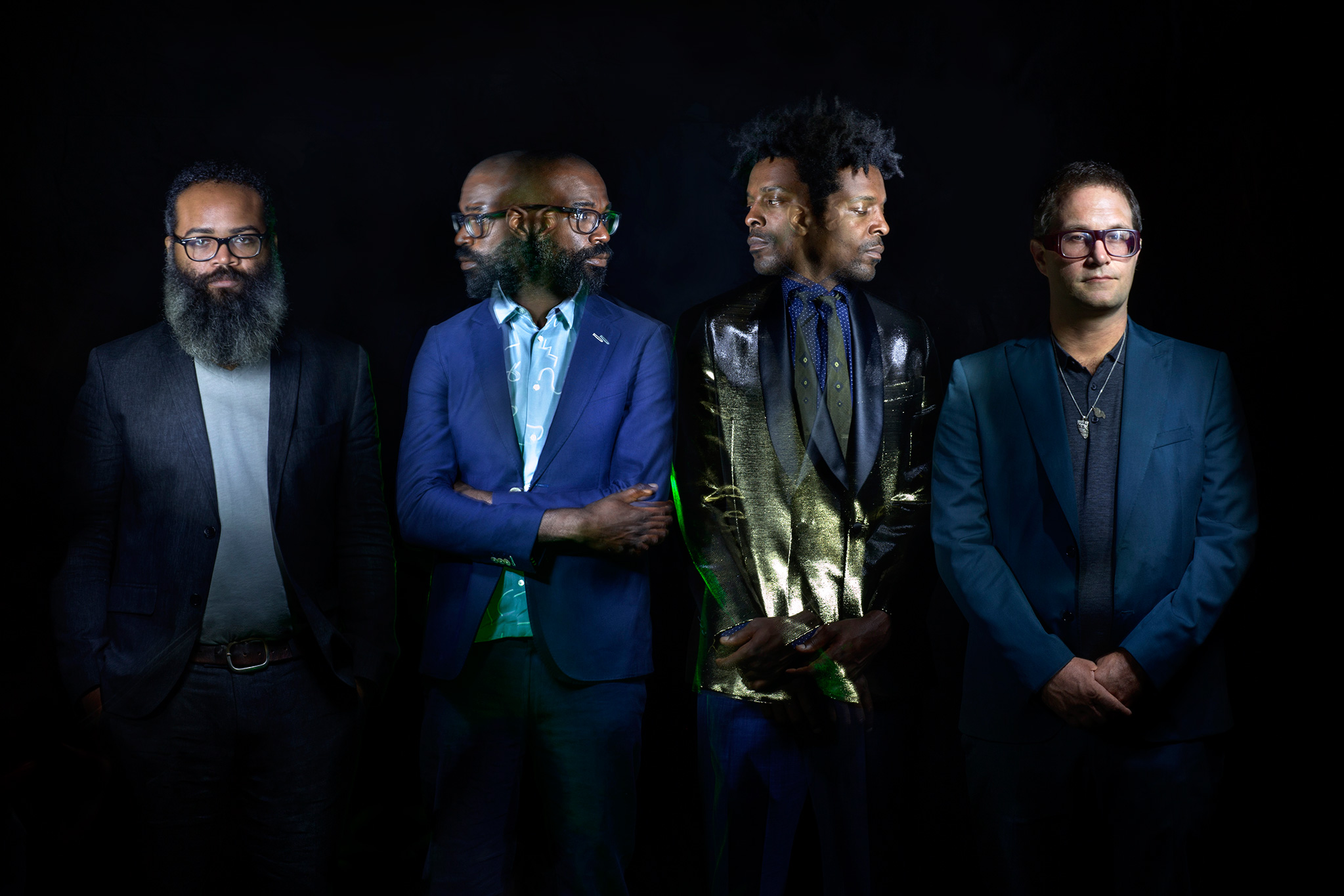 "You have to be in everyone's face all the time. You have to be a presence."
— Tunde Adebimpe
Of course there are many others things that have changed between now and 2001, and there are worries about whether they'll be able to fully adapt to the constant metamorphism of the industry. "You have to be in everyone's face all the time. You have to be a presence." Tunde says, shaking his head. "I don't think that any of us have this sort of personality that would take this thing we're making and try to hock it to people. When people follow the bread trail back from all your selfies and all of your clever tweets and they get to your music and they're like 'I really like the hat this dude is wearing far more than everything he has to say.'" he laughs again and gives a little shrug, before Dave cuts him off – "I always thought that Instagram was for dog and cat pictures, and that Twitter was for successful comedians. If you're looking at my Instagram it's just dogs, dogs, dogs, pyramids, dogs, dogs, dogs, cats, cats, pyramids, dogs…" He peters out. Tunde smiles at him wryly and shakes his head again.
Despite their differences in appearance, by the end of the interview it's clear how similar these two are. It's obviously been a trying few years but the talk between them remains relaxed, humble and humorous – which is lucky seeing as they're about to be rushed off to Berlin tomorrow. "I worry that if we didn't get to do this, or we were left to our own volition, that we'd probably never leave our houses and just make shit all the time." Dave ponders, "Being pulled away from what you really want to be doing just makes you want to do it again as soon as you can."
TV on the Radio's new album 'Seeds' is out now via Virgin / EMI.