#STANDFORSOMETHING:
Johnny Foreigner's Top Ten shows at The Flapper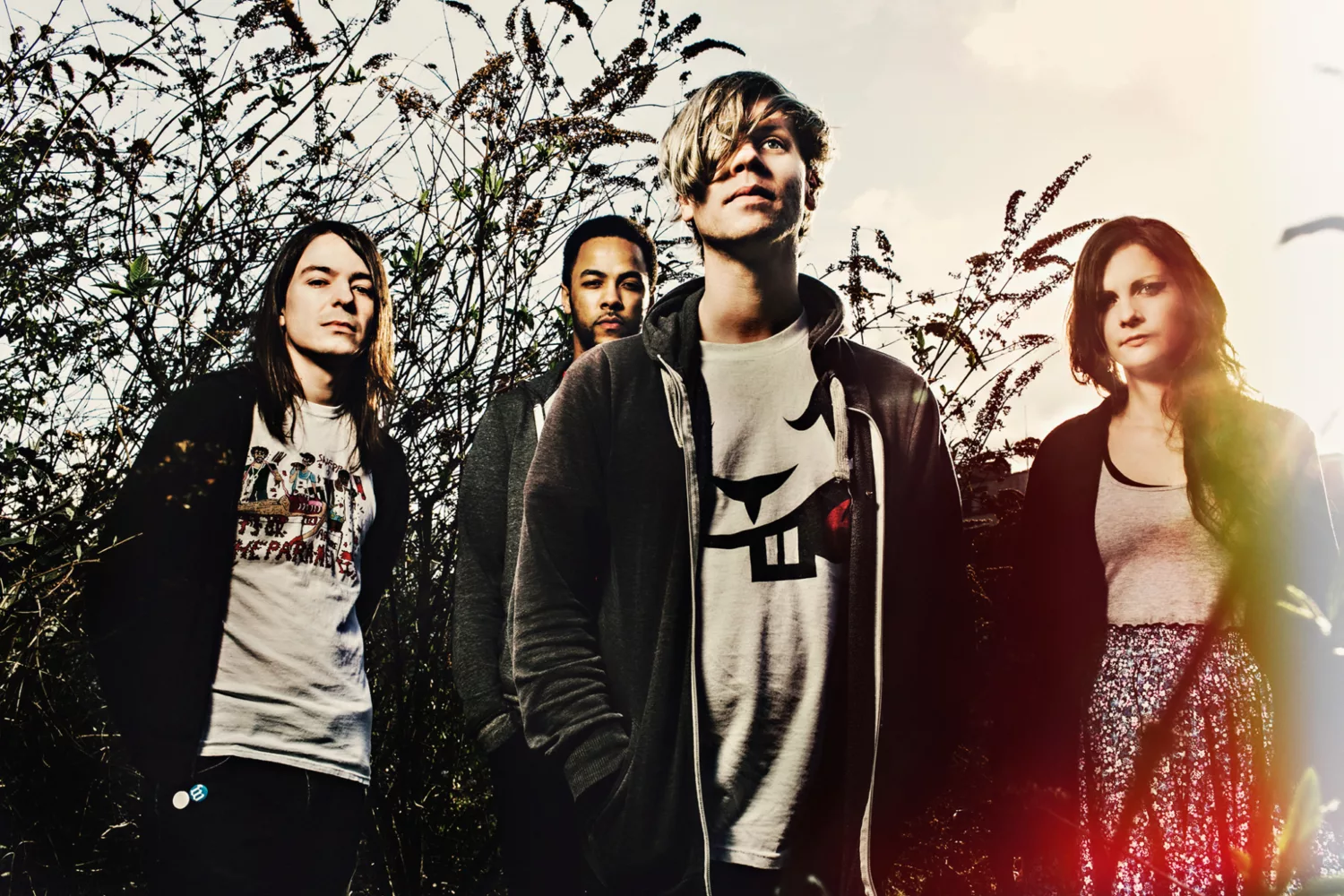 The band will join Los Campesinos! on the Dr Martens #STANDFORSOMETHING Tour this weekend.
This weekend, Johnny Foreigner will be leading the charge on their hometown for the next show of the Dr. Martens #STANDFORSOMETHING Tour. What better way for the band to gear up for their performance at The Flapper than by reliving some memories and making them into a playlist.
That's exactly what the four-piece have done to help fans get in the mood for tomorrow's proceedings: here's a look at their top ten favourite shows to have taken place at the venue.
Tracklisting:
Idlewild - I'm a Message
A week or so after I'm a Message came out. It was sold out. Ridiculous triumphant carnage. They played a bunch of times but this was the last time they could be somewhere so small.
King Adora - Bionic
This was just after they signed, and they had a big flashing backdrop that said 'Sale of the Century'. Insanely slick show, felt like 20 minutes. I knew then, as now, they were an inherently ridiculous prospect but holy shit those first few singles were so good.
Seafood - Dig
This was touring 'Messenger In The Camp'. Liveliest I ever saw them, with the original line up and Caroline singing loads. Hung around and fanboyed, and they told us how skint they were and it broke my heart.
Distophia - Robert Redford
Their first show with John, it felt like I was watching Weezer bust out 'Pinkerton' for the first time. Just, huge.
The Junket - Punk Micky
The tightest performance i've ever seen ever by anyone. All of the harmonies, all of the tech-y bits, only faster and louder. It was like a cartoon in the real world.
The Starries - I Fear Ghosts
Their last ever show in 2005 felt like the end of an era. Rich sang that line, 'Let's break up, and for once, let's stay broke', and the entire room burst into tears. The Starries could probably take two or three places in this Top 10 to be honest.
The Crocketts - Flower Girl
Two nights over Christmas and Me and Kel couldn't get tickets so we just got drunk outside. Apparently it was amazing and on the Sunday they totally destroyed their backline. I just wanted an opportunity to talk about how good The Crocketts were live, I should probably do separate lists for Coventry Kasbah and Wolverhampton Civic...
onelinedrawing - Be Quiet And Drive
This story ends with Jonah hitting on my girlfriend but up until then this was such a fun show. He literally played til he got kicked out, then went and sat by the canal and played another hour of covers and old Far songs.
Jenifferever - From Across The Sea
I try and remember the gig where these five crazy good-looking guys played this crazy beautiful glacier music, but I just remember the night after, when they stayed at my house and I had to explain the toilet was broken.
Sunset Cinema Club - Breast Strokes
This band were the weirdest mix of big band funk and indie rock and grimy old punk and J-pop. Seeing them in like, 2003 when every other band wanted to be The Strokes was like suddenly discovering a bunch of new colours.
Johnny Foreigner play the Birmingham Dr. Martens #STANDFORSOMETHING Tour in association with DIY date on Saturday 22nd November at The Flapper.

Get your copy of the latest issue