Live Review
Bring Me The Horizon, Wembley Arena, London
5th December 2014
A finely tuned torpedo of forward-thinking heaviness.
The road to Wembley is paved with sleeping bags. A marker of how refreshingly cynicism-free Bring Me The Horizon's fanbase are, the ever-controversial Sheffield metallers have had a queue snaking around Wembley Arena since the wee hours of the previous evening. The cold is little deterrent – more an indicator of just how early Christmas has come for this lot.
Both the build-up to tonight and the high-pitched euphoria that greets the band's arrival are far more akin to a One Direction show than a Black Sabbath one, but any smarminess towards that fact rightfully falls upon deaf ears once you enter Wembley's hallowed hall. This is no token glance backward to metal's arena-bothering heyday of the eighties – this is a full-throttle celebration of its future, and the youth of the crowd is testament to this fact.
'Shadow Moses'' declaration that "we're going nowhere" proves a fitting opener to proceedings, as twelve-and-a-half thousand voices stake claim to the arena for the night. It's not the first time that Bring Me have taken to this stage. Supporting Bullet For My Valentine within these walls four years ago was the first taster of what lay ahead, but it's the thrill of headlining the cavernous stage – and the grin it paints on every member of the group - that defines this evening.
Whilst that last outing was plagued by bottles from sweaty metal nerds and dramatically cut short after enigmatic frontman Oli Sykes called for one too many circle pits, tonight Wembley's usually overzealous security give over to the throng. The first rumblings emerge before 'Shadow Moses' even reaches its first verse, but pandemonium truly strikes with 'The House Of Wolves' – a song which only takes flight after Sykes' demands for "at least four" circle pits are met, and subsequently doubled. From there on out, it's ferocious. Ropey past performances are quickly laid to bed, the group now a finely tuned torpedo of forward-thinking heaviness, Sykes' growling vocal in particular sounding more otherwordly than ever. Having finally kicked a longstanding ketamine addiction just before hitting the studio to produce what would go on to be their crossover record 'Sempiternal', tonight is the final throes of an exorcism for one of British rock's last true rockstars. Now the questionable arrogance of the early years has departed, the newly engaged Sykes is equal parts metal frontman pastiche and affable everyman. He gleefully bounds around the stage, and as 'Chelsea Smile' hits its peak he commands those in front of him to "fuck somebody in the eye" before visibly giggling at his own tongue-in-cheek outburst.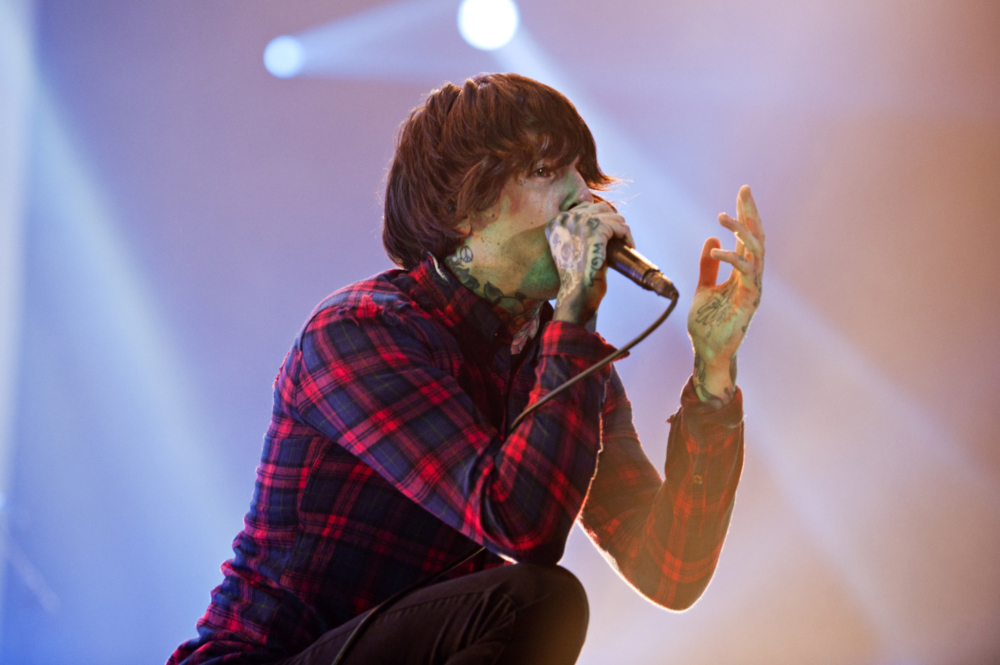 Flanked by screens depicting religious iconography, reptilian swarms and other such aesthetically on-point imagery, the arena surrounding is put through its paces in spectacular fashion. 'Go To Hell, For Heaven's Sake' sees the first of many complex cross-stitches of pyrotechnics erupt behind the platform reserved for keyboardist Jordan Fish and drummer Matt Nicholls, and barely a single song goes by without a cannon of smoke soaring towards the ceiling at its crescendo. There still remains the odd moment of intimacy, however, Sykes' steely resolve crumbling at the hands of the crowd as they overwhelm his tenderest moment of reflection in 'Hospital For Souls'. "You fuckin' made me cry," he jokes, his foul mouth prevailing. Indeed, as middle fingers are raised from wall-to-wall for 'Antivist''s satirical takedown of Russell Brand-esque revolutionary politics, it becomes clear that this is surely the first time the lyric "you're a cunt" has shot forth from Wembley's stage, let alone been fired back by a full house.
The set leans heavily upon material from the band's past two records, both of which have seen internet sentiment towards the band change from loathing to loving – petitions and thinkpieces abounded after both records were left off the shortlist for their respective years' Mercury Prize. But they still hark back to their early days with a touching on-stage reunion with former guitarist Curtis Ward and subsequent blast through 'Pray For Plagues', the opening track from debut album 'Count Your Blessings' and a fan-favourite excluded from setlists for the past three years. The crowd-pleasing gesture is met with the biggest wall of death of the night, the chasm in the centre crowd eventually giving way to a bubbling, surging maelstrom of bodies and airborne discarded clothing.
Such is the devotion afforded to these five young Brits, they could have phoned this performance in with all the passion of a wet flannel and it still would have yielded a thousand hyperbole-riddled Instagram posts. But that was never the point. Tonight means as much to those on stage as it does to the lucky few whose night camped out in the cold has yielded a spot at that coveted barrier. After closing proceedings with the thunderous, electronica-led 'Can You Feel My Heart?' the five young Northerners linger on stage for far longer than the professionalism of the proceeding ninety minutes would have suggested. There seems to be a reluctance to leave these walls behind, the group posing for photo after photo with the 12,500-strong throng behind them. Whether tonight will be their swansong or springboard remains to be seen, but either way it's a fittingly grandiose marker for a group who have defined modern music without ever straying from their own fiercely defended path. Mercury noms - who needs 'em?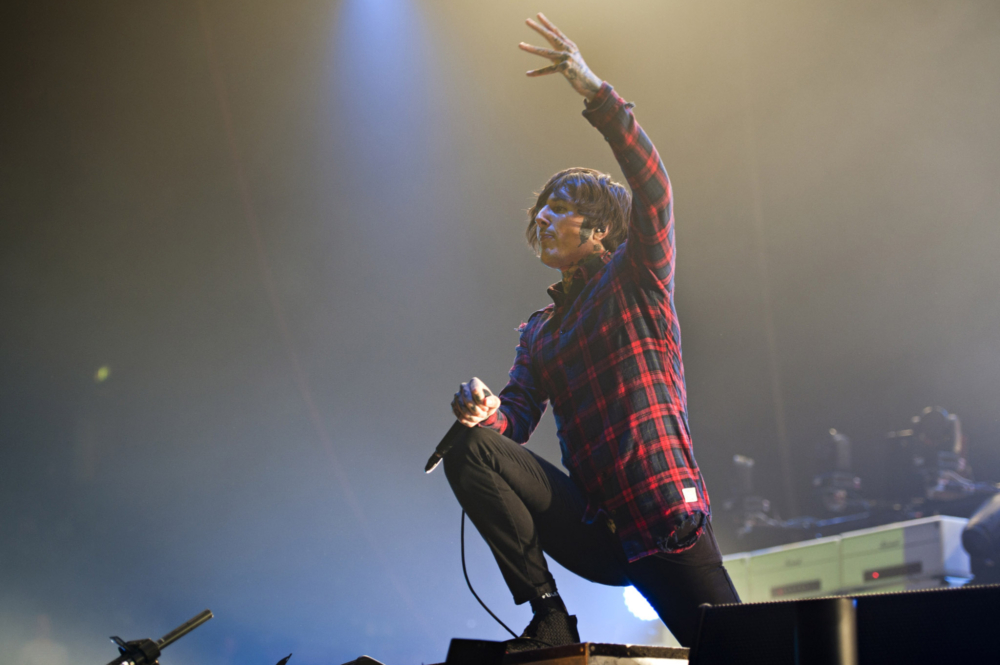 Support on the night came from Young Guns.
Photos: Sarah Louise Bennett

Get your copy of the latest issue