Best of 2014:
2014: A year in DIY Presents gigs
From festival stages to all-dayers to surprise shows, we look back on highlights from the past year.
Whether it's a freebie or a festival showcase, 2014's played host to several special DIY Presents gigs, led by some of the best acts around.
Some hitched up out of the blue, others took off on mini-tours - on one occasion, almost a dozen new bands shared the same space for one chaotic, amazing all-day event. It's been an unbelievable privilege to see crowds flock to these gigs, the odd fan seeing their favourite new band for the first time.
These DIY Presents gigs tend to begin just as the clocks turn towards a new year. Following that, they stampede into showcase festivals, stay for the summer, all while peering into some of the UK's most beloved venues for one-off nights. 2014's been a year of surprises too, one of the most memorable moments being when the best promoters in London joined forces to in-part make up for the last minute cancellation of a festival. Other times, it's been about the ecstatic response given to a band when they least suspect it, like the visible excitement in Alvvays when they sold out a headline show for the first time.
Below, we attempt to round up the madness of the last twelve months. Keep an eye on our Presents page for everything coming up in 2015 - there's plenty in store.
HELLO 2014
Every year begins with four new music showcases, spanning right across the first month of the year, when burnt out, bloated post-Xmas souls come to find solace in trusty #buzz. Taking place at London's The Old Blue Last, our 'Hello' gigs entered their first year, with Wolf Alice and Superfood having made early London appearances back in 2013.
2014 was reserved especially for Honeyblood, a Scottish duo showcasing the brilliance of their debut album, months ahead of its summer release. There was also grunge force Kagoule - now signed to Earache Records, having just toured with The Xcerts - and Birmingham pop newcomers Ekkah, signed to Year One Recordings in the UK.
Next year's a big one. Dublin's Girl Band and Brighton's Demob Happy played together on the 20th January, both acts falling as part of DIY's Class of 2015. There's also South Coast gems The Magic Gang and Bloody Knees, plus Middlesborough bedroom kid Corey Bowen and futurepop sensation Chloe Black.
AT THE FESTIVALS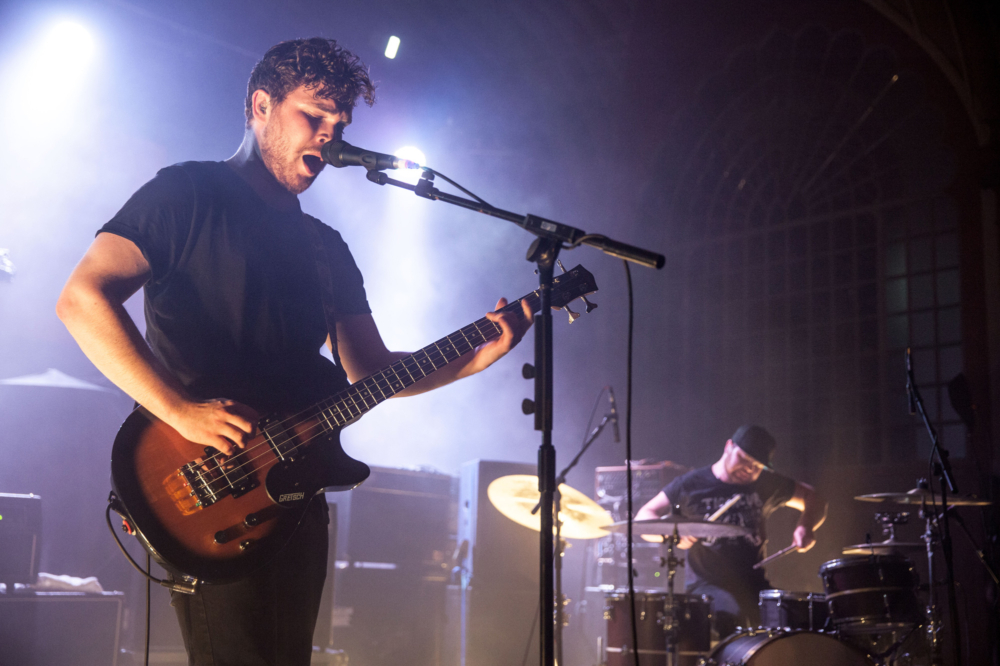 At city-wide festivals, the best new acts make bold first steps and tend to steal the agenda. None more so than in 2014, when Royal Blood - playing just a few months before putting out one of the biggest-selling debut albums - packed Liverpool Garage on the DIY Stage at this year's Sound City. Across a three-day weekend fest, Blood Red Shoes and DZ Deathrays also made appearances at the converted industrial space.
That same weekend, DIY hosted events the Brudenell Social Club for Live At Leeds. Locals Pulled Apart By Horses brought the place off its hinges, while Woman's Hour and Happyness previewed the headliners, with The Amazing Snakeheads providing one of the most bonkers, sweaty sets in recent memory.
This all led to Brighton's The Great Escape, a showcase fest that invited in big names like Wild Beasts and These New Puritans to join less familiar faces. Dublin's Girl Band were a standout on the DIY Stage at Audio, their sinister, frayed punk soon becoming a fixture in the year.
Turn summer, we were lucky enough to host stages at Southsea, 2000 Trees (Frightened Rabbit topping the Main Stage) and Beacons, where the likes of MONEY, Years & Years and Adult Jazz defined the weekend - 2015 BRITs Critics' Choice James Bay even made an appearance.
JABBERWOCKY FALLOUT
London, for all its funny social etiquette regarding eye contact on tubes and talking to strangers, has a brilliant knack for pulling together at the crucial moment. In 2012, when BLOC shut down suddenly, the promoters of London banded together to put on artists from the festival across the capital anyway. ATP's Jabberwocky was due to go ahead at the ExCel centre, but was cancelled with just three days notice. In true spirit, the city worked its magic once again. What became known as the Jabberwocky Fallout was born, and impromptu gigs popped up across London to turn the debris into something else all together.
At the 100 Club, three of the best live bands around joined forces for an unforgettable one-off. Hookworms, Speedy Ortiz and Cloud Nothings - all in their finest form - combined for a last-minute, fantasy line-up. Wild and sweaty to the extreme, only homemade signs expressing disdain towards Jabberwocky survived as remnants of distaste. Otherwise, this was a celebration.
THE ONE-OFFS
Across the year, brilliant promoters such as London's Kanada, Brighton's One Inch Badge and Manchester's Now Wave invited DIY along for some of the best shows of the year.
JUNGLE headlined Manchester's The Ritz in October, Sleigh Bells landed in Gorilla the same month, and Future Islands took their newfound hype to Sound Control, right when things were beginning to go stratospheric.
In London, we put on a sold out night at Birthdays, where Canadians Alvvays witnessed their emotion-wrung pop soaring skywards for the first time. With Gengahr supporting, hype surrounded both bands, the 5th August gig acting as an affirmation of their great beginnings and a surefire guarantee of the great things ahead.
As for freebies, every month we hosted a Saturday show at The Old Blue Last, wandering partyheads joining loyal fans for, without question, the most guaranteed sweat-fest this side of a sprint in a sauna. Among several shows, Crushed Beaks showcased their 2015 debut, while Brighton's The Magic Gang led the charge with a fantastic, arm-flailing set.
THE TOURS
On the road, 2014 witnessed the first ever DIY Presents Tour, where Flyte and Shy Nature took to a run of free shows across the country. Both ended up at the DIY all-dayer, joined by the likes of JAWS and Deers, their October stint being a brilliant preview of all things 2015. Things came to a head between the two bands, with Will Taylor from Flyte and Will Blackaby from Shy Nature taking to a wrestling fight. "I've actually got quite a good picture of mid-wrestling, where they're squaring off," remembered Gary Saloman. "I think someone executed a stunner, and it was pretty much game over after that."
Back in July, Superfood took to three gigs across the capital for DIY Presents. Given the week before they managed to assist in a venue's roof falling down, thankfully nothing tragic happened at the London Social or Old Blue Last, the only damage being a whole load of bubbles.
This year's #STANDFORSOMETHING tour in association with Dr. Martens witnessed incredible sets, from Los Campesinos! hellraising antics in Birmingham (joined by Johnny Foreigner), to Don Broco's ridiculously crammed Camden show to round off the run of dates.
THE DIY ALL-DAYER
The first ever DIY Presents all-dayer saw bands from across the world huddling into one unique space, at London's The Laundry. Nothing can quite compare to the madness that took place back in October. Dads were invited up on stage to play saxophone, members of Wolf Alice and Deers made best friends for life, and headliners JAWS played one of the best sets of their promising career so far. The latter closed up proceedings as a whole; a bunch of fantastic new bands with insane potential.

Get your copy of the latest issue