Best of 2014:
The DIY List 2014: World of Warpaint
Warpaint tore up the otherwise peaceful Joshua Tree, California to create their self-titled second album.
Warpaint feature at #71 in The DIY List 2014, our round-up of the artists who defined the past year through albums, unforgettable shows and the unexpected. This interview is originally from the March 2014 issue of DIY.
Warpaint have just narrowly escaped a hailstorm and are in slightly chaotic moods as a result. "Where are we?" asks the band's drummer Stella Mozgawa, peering around the room looking slightly dazed. "North of Shoreditch, right? So Northditch." Emily Kokal is looking for the chai tea, and meanwhile Jenny Lee Lindberg is busy trying to beat Theresa Wayman to the seat nearest the heater.
Still, the band quickly go quiet when they hear that people were singing new material at the top of their lungs at the Warpaint's Brixton Academy show late last year – despite one song in particular having been out just a few days. "Really?!" Emily exclaims. Stella throws out a silencing arm across the sofa. "Did you hear that? They knew 'Love Is To Die', right to the back!"
The response might come as a surprise to Warpaint, but everyone else probably saw it coming. Virtually the moment 'Love Is To Die' surfaced, Twitter timelines and Facebook newsfeeds everywhere turned into walls of scrolling misty artwork the hue of oxidized copper, accompanied by endless excitable comments. The atmosphere in Brixton on the night the band made their return was akin to Murray's Mount at an alternative rock Wimbledon. Warpaint are a band that seem to unite people, and almost everyone is universally losing it over the prospect of their second album.
"It was otherworldly."
— Emily Kokal
"It was exciting to play a show that big after not playing for so long," says Emily, "it felt good." The band were nervous, quite understandably, but their two staples, chai tea and a pre-stage sing-along of Billie Holiday helped. Nerves, agrees Emily, help Warpaint give everything when they get on stage. "It prepares you - you get in the zone. It was just so exciting to play that show. We were majorly ready for it, and the outcome was a lot better than other shows where you kind of just roll up all tired. You don't feel that same sort of edge."
Warpaint's second self-titled album has the small task of following 'The Fool' - a blinding debut. The only push to make an equally stunning follow-up, Stella says, comes from within the band, who are self- confessed perfectionists. "It came from us, the pressure. I don't feel a tangible threat or external pressure," she says. "We had time to focus on what we were doing naturally - in that way we're really lucky that we have a team that believes in us."
It quickly becomes apparent 'There's no shortage of ideas…' that Team Warpaint are a tight-knit bunch with a huge deal of trust between them. Chris Cunningham, Jenny's husband, has been filming the band throughout the whole process, and the result is a stand-alone multimedia film complete with song re-workings and iPhone footage – Jenny summarises the project as "an insight into the band… with really weird quirky shit." It was a relaxed, comfortable experience making the film. "Basically he just started shooting us…" adds Jenny, and the others erupt into laughter. "Oh god! That sounds bad. No, he wasn't really following us round or anything. Whenever he was round at the house he'd take photos, film us writing some songs, he's sort of been gathering content that way. Having him around is a joy. I mean it's obviously a joy for me," she laughs, "but I'm sure for the girls too." Theresa nods, "he's family."
Producer Flood, too, was an ideal match for the band, and waiting to work with him was a main factor in the band taking so much time over 'Warpaint'. "We had blind faith from the beginning that it was going to work out," says Stella. "We decided he was the person for the job." In the meantime Warpaint escaped out into the South Californian desert, and holed up in Joshua Tree to write and demo solidly for a month. In such a concentrated place – the band compare it to a bubble or a dome – they could let loose with creative push-and-shove, and flesh out every idea. "Flash out," says Emily, giggling, "flush down."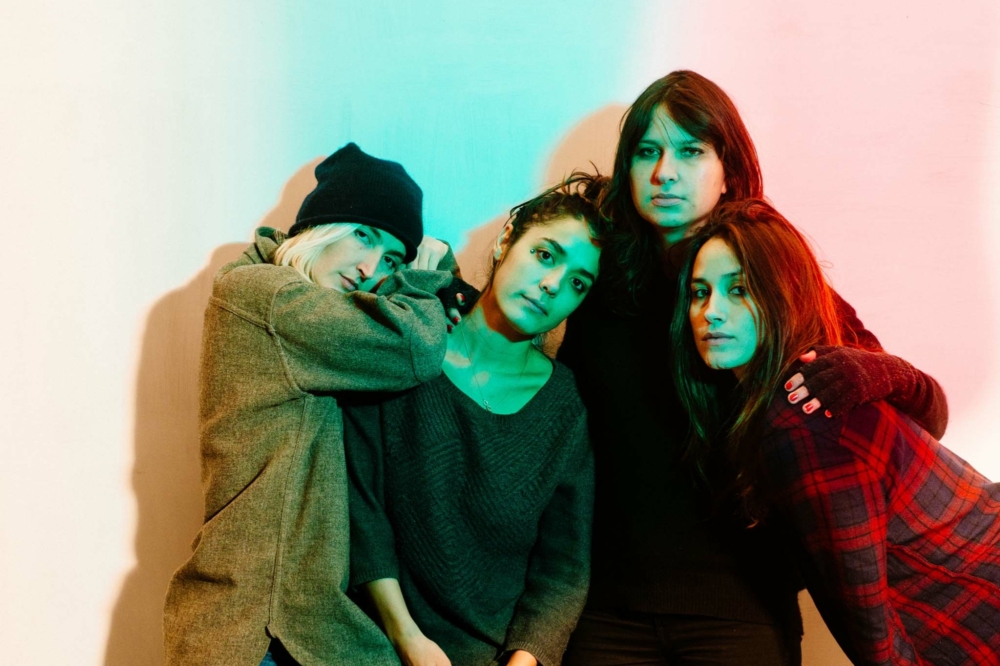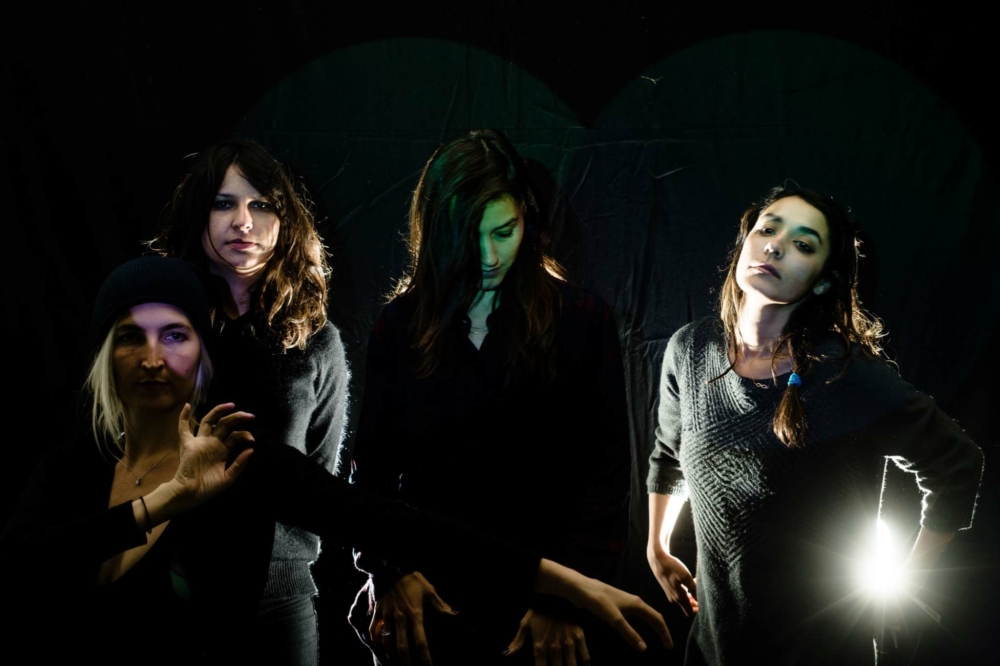 "There's no shortage of ideas."
— Jenny Lee Lindberg
When asked if it ever gets difficult deciding which ideas to take forward, with four different forces pulling in different directions, Jenny has one word – yes. "You can intellectually decide what you think you're going to work on," she expands, "but then certain things just hit, there's all this randomness, in a sense. It ends up working based on what day we're at, or where we're at. There's no shortage of ideas, and it ends up being what hits in those moments."
One idea that has been explored widely on 'Warpaint' is a subtle interweaving of electronics and affected guitar sound. Having supported The xx, and Theresa's boyfriend James Blake on tour before, electronic music has always been something the band have been interested in, and they've sung the praises of Aphex Twin in the past too. Typically, it wasn't a conscious decision to go in that direction, though.
"It just kind of happened," agrees Stella. "It was more like a substitution, you know, do we do drums or electronic drums in this part, do we want a cleaner texture? Rather than thinking 'let's do an electroclash album' it was a playful thing, experimenting with all these different sounds. It's really natural."
"It's cool that you, and other people, picked up on that fact we sound a little electronic, even when we're obviously not electronic," adds Theresa. "I think that there's a lot of influence in our music from electronic bands, and it shows itself in our mood."
"The police came over, straight up, to the door…"
— Stella Mozgawa
In a strange turn, Warpaint created their most electronic music yet in the least synthetic place imaginable. "It
 was otherworldly," Emily says of Joshua Tree. "There's this thing called The Wildlife Corner by our dome," she laughs, "our little dome. That's where the animals go past from one place to another or whatever. At night we would go out onto our porch, our little deck, and we would see so many stars. It was kind of like living in nature, which is always so grounding. Natural elements complement music, and vice versa."
Emily keeps using the word "little" to describe the band in comparison to their sprawling surroundings – the mountains and the endless bizarre Joshua Trees poking up towards the endless blue sky made them feel tiny in comparison. Even Warpaint couldn't compete with a place like that, surely?
After spending a month in Joshua Tree though, Warpaint seemed to smash through into a new exciting place, and their music became a force of nature in itself. Towards the end of their time, they found themselves creating something that burst out of their self- contained dome, sending industrial post-punk flying out of a crack in the double doors, along with fleeing bobcats in its wake. 'Disco // Very' it turns out, upset a few of the neighbours. "The police came over, straight up, to the door," laughs Stella, "they said this lady was feeling nauseous!"
"I think that's a very good example of how we were playing differently in the desert," agrees Emily. "That was in our last week there, and that was the most intense playing we were doing, when we got that complaint. That person definitely would have heard us before, but [before] it was fitting with the atmosphere. This one was very abrasive."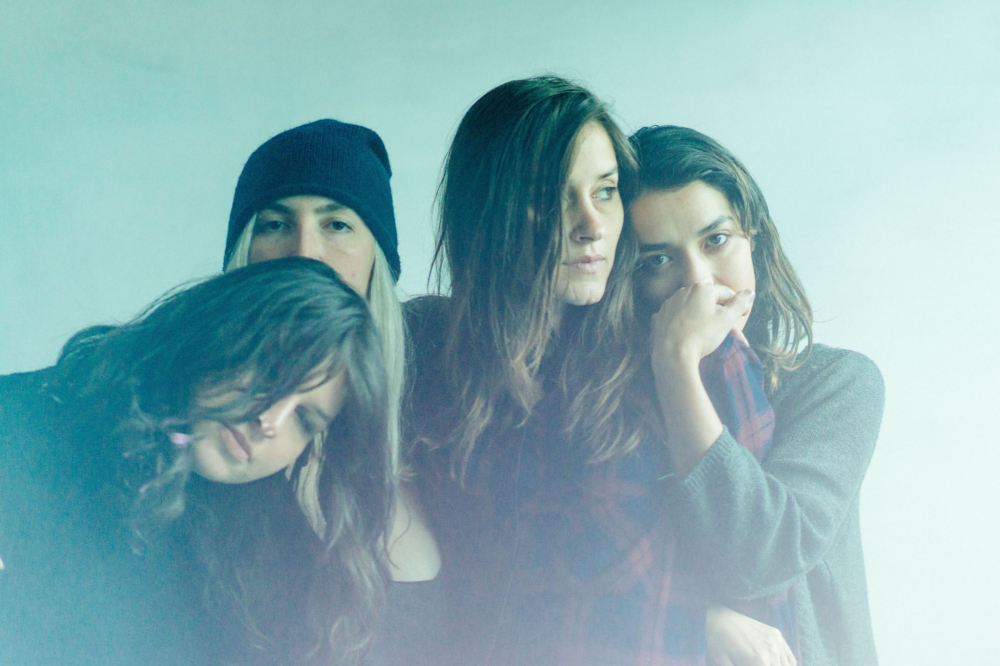 "As much as we love [this album], it's exciting to think about all the other things we still want to do."
— Theresa Wayman
"Disco… very," says Theresa slowly with a giggle, letting the words mush together into an apt descriptor for Warpaint's most pronounced change of direction yet. The band have always been a dab hand at cloaking melody in rich velvety layers of vocals and stunning textural interplay – but while writing this second album, Warpaint seem to have discovered a talent for creating discord and tension, too.
"We're chomping to get [the album] out," says Theresa, "such a long process, isn't it?" The other girls nod. "Half of it's a waiting game."
Still, the band finally have their release date, and next on the agenda, after that, is a summer of festival slots. Jenny gives another of her excellent one word answers – "yes" the band will be playing festivals. "Probably the ones you're going to ask," she adds with a grin. "Yeah, all the ones you're thinking about…" says Stella. "We're playing Laneway Festival, in Australia, I can say that." We move off topic, and have a quick drool about the famous milkshakes served in huge metal buckets, straight from the mixer on The Rocks, over Stella's hometown of Sydney. Emily doesn't look as content with her chai tea any more. "I want one! We might just stay there and start working in a coffee shop."
Hypothetical talk of Aussie coffee shop pipe-dreams aside, Warpaint are ultimately focused towards the band's future, and they've already got new material they want to start working on. "As much as we love [this album]," says Theresa, "it's exciting to think about all the other things we still want to do. We just got a practice space to work in, so we have recording and demoing capabilities, and it'll be a lot easier to keep things going." It's clear that Warpaint can't imagine doing anything else.
"If I wasn't in Warpaint," ponders Emily, "I'd be counting sheep."
Photos: Mike Massaro. Warpaint's new self-titled album is out now on Rough Trade Records. Follow DIY's The List 2014 here.

Get your copy of the latest issue