Twit-twoo:
Just tweet it: the most memorable 140 characters of 2014
Kyle MacNeill takes a look back at this year's Twitter antics, from triumphs to total twatters.
There's nothing more enriching for the soul than some birdsong. No, you tit – not the dulcet tones of a freshly-hatched sparrow or the chirps of a chaffinch – the bizarre tweets of your favourite celebrities on your Twitter feed, of course. It's undeniable that many of the best of these tweets come from bands with killer tongues for witticisms; whether it be oh-no-did-they-just-say-that remarks about record labels, or musician-to-musician put-downs delivered more feverishly than a vet that really hates cats.

In fact, tweets are a pretty good marker for the ridiculous things that have happened this year. From drunken reunion teases to incompetent attempts at pulling a sickie, this year has seen a whole load of the bizarre and brilliant from the boldest personalities in the music world. So, take a seat, strap-in, and get ready to glug a pint of Twitter. Here's our all-you-can-tweet buffet of the zaniest 140 characters that the music world has seen in 2k14.
Sam Smith
Unless blessed with the voice of an audiobook-narrator with a load of phlegm, pulling a sickie on the phone is always a gruelling, character-building endeavour. Luckily for Sam Smith (@samsmithworld), however, he could contact his adoring fans via the faceless and voiceless medium of Twitter in order to tell them that he was feeling too peaky to meet them post-show. 'Still not feeling 100% and need to sleep!!' read the sicknote to end all sicknotes. Why, you ask? Well, it had a little sequel to it that read: 'Best night EVER at a karaoke bar' and then enough exclamation marks to take-down a small printing company. Basically, Sam Smith had a certified #mad1 after saying he was too poorly to go outside, which must be seen as a pretty impressive feat for the sheer ballsiness of it.
Liam Gallagher
For the kind of folk who wear oversized raincoats and Cool Britannia shades, April this year was a pant-wettingly exciting time. A bit like how the Face of Boa enraptured sci-fi Doctor Who fans all across the nation with the spelling-out of its name a few years ago, Liam Gallagher (@liamgallagher) tweeted the letters of 'OASIS' one-by-one over a short period of time. Suddenly, reunion rumours were spreading like a toppled campfire after someone got annoyed at someone else busting out a rendition of 'Wonderwall'. Really, however, it was just a drunken Twitter-sesh enacted on a boozy night with ex-Oasis guitarist Bonehead. Stop Crying Your Heart out people; a listen to the Beady Eye catalogue might – err - cheer you up.
Azealia Banks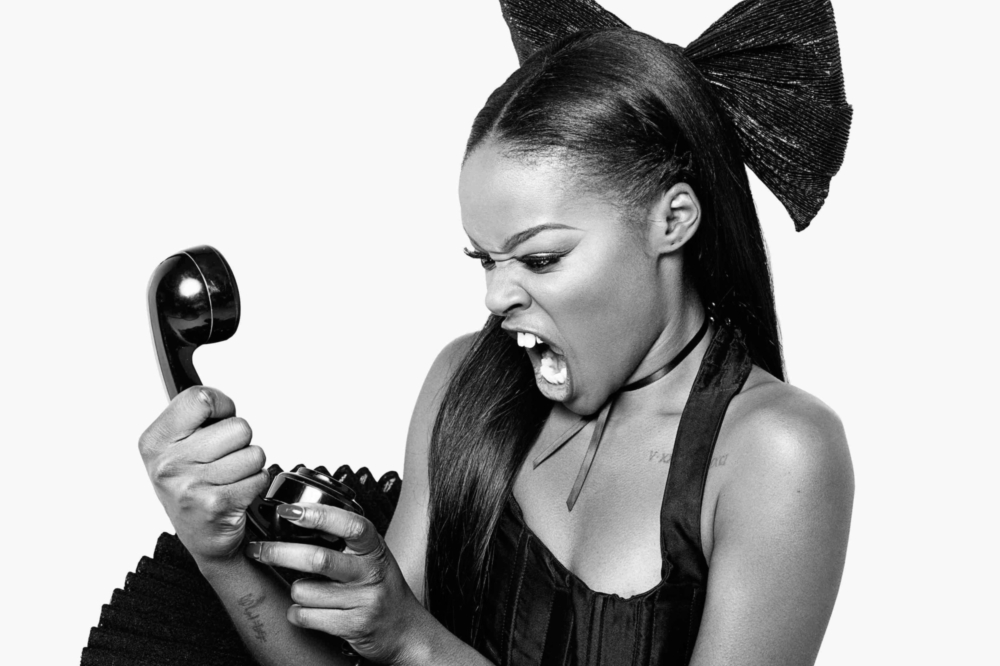 Got a husband or wife? If so, keep a keen eye on your twitter feed; Azealia Banks (@AZEALIABANKS) is no stranger to taking the proverbial Michael out of spouses. Last year saw Banks quip to Lily Allen that her 'husband looks like a thumb'; an internet insult that is digital in both senses of the word (here all week, people). This follows crude remarks to The Stone Roses, Rita Ora, Angel Haze, and basically, everyone in music. This year, the 'Queen of Twitter Beef' further exacerbated her reputation, @-ing of T.I.'s wife Tameka 'Tiny' Harris, to state that unlike his new single 'No Mediocre', she certainly is (mediocre). Then she said that Tiny 'can't read' - a bit of a shit one, really. Banks' written put-downs aren't gonna be that effective when it comes to offending the illiterate. Basically, say a little prayer every time a notification pops up on Twitter; YOU COULD BE NEXT.
Riff Raff
Ah, Riff Raff; he's always – err – spouting riff-raff, with one of the perfect case studies being a gloriously sassy tweet aimed at none other than our old friend Sam Smith. After jamming together at the MTV VMAs, one of Sam Smith's photos uploaded to Instagram featured Riff Raff's date Katy Perry, Charli XCX and Mr. Smith himself. Meanwhile, Riff Raff (@JODYHiGHROLLER) was tragically cropped-out, left abandoned in a pixelated graveyard. Of course the rational response would not be anger; especially considering he features in two other pictures posted by Sam Smith on the same night. The irrational response, is exactly what Riff Raff did. He called Sam Smith's face 'SUPER HUGE'. Granted, it is bloody hilarious; although he did lose face (groan) through tweeting it.
Ezra Koenig
It's a universally-known truth, figured-out generations ago when cavemen would scrawl 140 symbol messages on stony walls before play the riff of 'A Punk' on a lamb-bone xylophone; Ezra Koenig (@arzE) is amazing at Twitter. Much like the Jaden Smith of the Twitter world, the Vampire Weekend frontman is able to dress-up the most cryptic, spontaneous prose into poetic masterpieces that truly tug the heartstrings. From 'when I die, plz @ me in ur remembrance tweets. Perhaps I will be a ghost in the machine and they will bring me pleasure' to 'I'd like to be the world's foremost "ppl wearing 2 watches" historian', Ezra Koenig gives a whole lot of happiness to the world's lowercase lovers and hobbyist Twitter philosophers. Essentially, just read his whole damn feed and get enlightened.
Lorde
Lorde ( @lordemusic) is an icon. Not only is she ridiculously good at crafting pop songs rich in both lyrical and musical qualities, she is also equally fantastic at not being sucked in by the vacuum that is often the mainstream pop world. Countless pop stars put on acts and follow trends in order to satiate the media's appetite for it. In this vein, Diplo was a massive twat, tweeting 'someone should make a kickstarter to get taylor swift a booty'. A) That's derogatory in every sense of the word and b) NO-ONE EVER INSULTS T-SWIZZLE. Lorde called him out with a put-down bigger than one of his finest trap beats: 'should we do something about your tiny penis while we're at it hm'. O Lorde, I trust in thee.

Get your copy of the latest issue