Best of 2014:
A run through the wild history of Weezer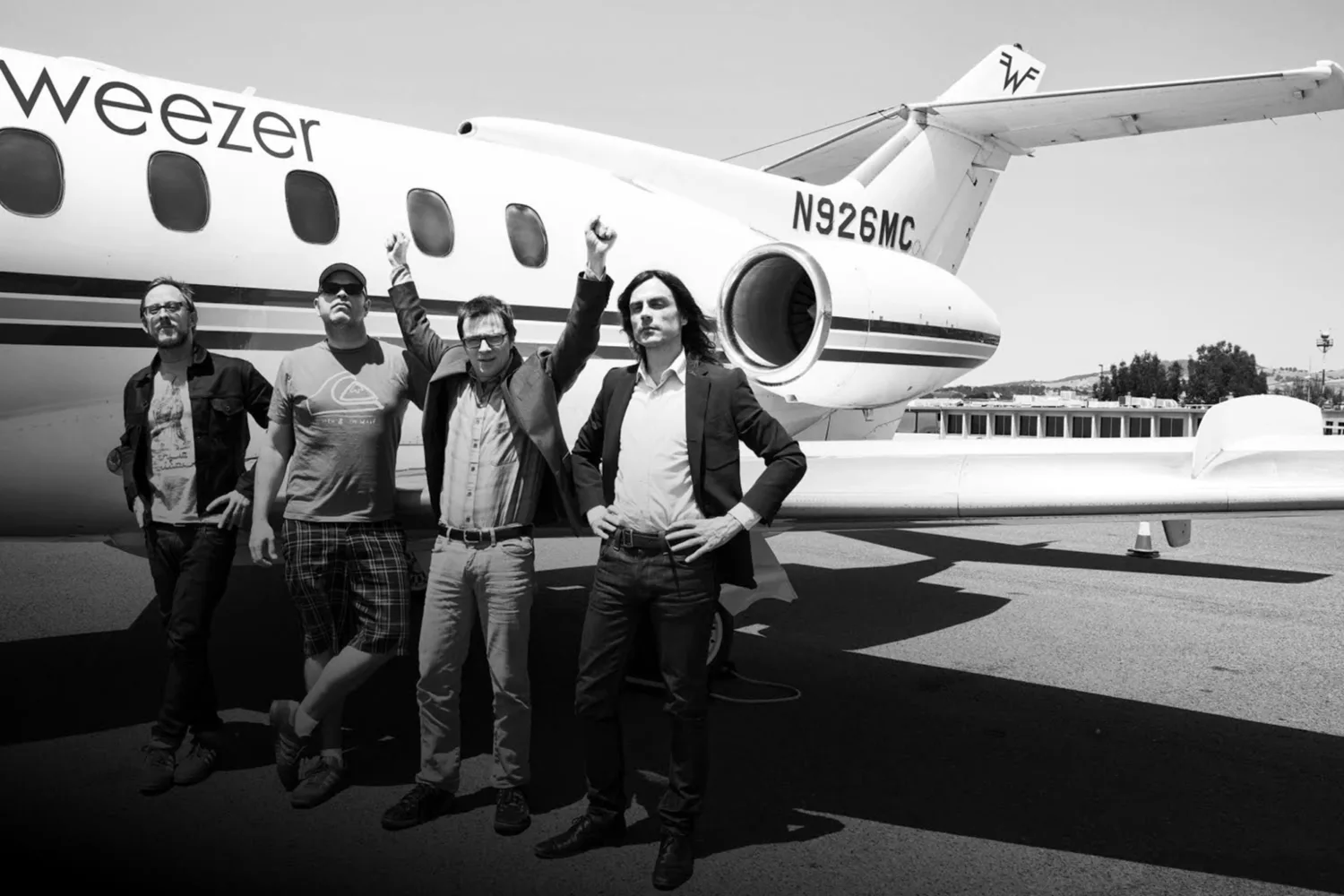 Playlist: The A-Z of Weezer. Er, in chronological order.
Weezer feature at #40 in The DIY List 2014, a look back at the year's best albums, one-off shows, festival performances and achievements outside of the norm.
Let's face it. this is an impossible – and possibly futile – task. Anyone who's ever had a passinginterest in Weezer will have a largely different list; many will tryand maintain there isn't anything worth including post-'Pinkerton'.
But Weezer have never released a badrecord. Okay, except that one. But if exceptions do indeed prove therule, there's something worth listening to on every record they'veput into the world. Yes, even that one.
By no means definitive, here's the A-Z of Weezer. Er, inchronological order.
Only In Dreams
('Weezer', 1994)
Strictly speaking, this should go atthe end – there's no song in history ever that can't be followed byanything other than pressing 'repeat'. Try it – sit on publictransport, immerse yourself in this and then try and listen to anyother band. See? It just isn't happening.
El Scorcho
('Pinkerton', 1996)
A little bit of joy in the misery poolthat is 1996's 'Pinkerton', 'El Scorcho' does of course still followthe unrequited and desperate theme of the record (which, before youobject, is what makes it the masterpiece it is), but there's a killerchorus to boot. Best sung full-volume on an indie club dancefloor.
Don't Let Go
('Weezer', 2001)
Sure, there are lots of people who'vehad more success with the woah-ohs than Weezer, but there's justsomething irresistible about the way Rivers Cuomo delivers it, andthey're pretty damn good on this one, the 'Green Album' opener.
Keep Fishin'
('Maladroit', 2002)
If it wasn't the adorable photo of aliteral fishing Kermit the Frog that adorns the single sleeve forthis one, then the line "it's just the thought of you in love withsomeone else" would definitely do it – 'Keep Fishin'' has all thehallmarks of a great Weezer song – those familiar backing vocalharmonies, immediate chorus, vaguely emotional lyrics.
Beverly Hills
('Make Believe', 2005)
Let's break the third wall for a second – I used to strongly dislike this song. With some passion. But thenI saw it live, then I went to that particular area of Los Angelesitself and couldn't remove it from my head the whole time – andthen Charli XCX used it as the basis for her storming 'HangingAround' (with Rivers' permission – he's on and co-wrote the songtoo) and all was definitely well.
The Greatest Man That Ever Lived (Variations on a Shaker Hymn)
('Weezer', 2008)
Probably the most audacious track theband have ever recorded, and easily the most ridiculous, this 'RedAlbum' number features both a choral section and Rivers rapping.Pretty much at once. If you don't love that, you've no heart. Orsense of humour.
(If You're Wondering If I Want You To) I Want You To
('Raditude', 2009)
The only listenable track from anotherwise mighty blip on the band's back catalogue, it's as adept atself-deprecation and storytelling as it is making deft use ofparenthesis.
Hang On
('Hurley', 2010)
On top of the Ryan Adams-featuring 'RunAway' and the line "we don't update our blogs" in 'Trainwrecks',it's the Michael Cera-featuring power ballad that's the pick of'Hurley', a record with possibly the best naming/cover art storyever. Rivers met Lost actor Jorge Garcia, they had their photo takentogether, he liked it, cropped it and bam.
Everyone
('Death to False Metal', 2010)
Raw and about as brutal as Weezer'ssound gets on record, it might seem like an afterthought of a song –there are very few lyrics to speak of – but it's ace.
Go Away
('Everything Will Be Alright In The End', 2014)
It sounds like it should be on theGrease soundtrack – only ever a good thing – and BethanyCosentino's role as counterpoint to Rivers' usual sad boy act is ajoy to listen to.

Get your copy of the latest issue
Records & Merch
£12
£21