Best of 2014:
The DIY List 2014: Bombay Bicycle Club have their finest year yet
They've been electric, acoustic, sample-happy and now, Bombay Bicycle Club are going global.
Bombay Bicycle Club feature at #15 in The DIY List 2014, a look back at the year's best albums, one-off shows, festival performances and achievements outside of the norm. This interview was originally published on DIY back in February 2014.
Bombay Bicycle Club put out three albums in as many years, but their fourth record has taken longer as frontman Jack Steadman travelled through Europe, Japan and India to source the sounds that feature on 'So Long, See You Tomorrow'. Back in his hometown London, it's a drizzly Monday morning and he's sat sleepily on a leather armchair in Hackney's The Hunter. S. The pub has a real 1930s feel, with decoratively patterned chairs and taxidermy animal heads adorning the walls, its current empty state giving it both a beauty and an eeriness. It's named after writer Hunter S. Thompson, whose work Steadman enjoys. "I went through a phase like everyone else. I love his style of writing. I always read it really fast and it's like he's talking to you. I'm the type of person that when you're at a pub, when people are just talking at you that's great. I would much rather listen than have to express myself."
For someone so confident with his music, Steadman admits he's never been as forthright talking about it. While he says he's "learning, getting better" and has become more confident with talking about his music, he still doesn't feel completely comfortable with it as he's a lot more animated when we're having a conversation about his love for crate digging and how annoying alarm clocks are, than the meaning behind his music. "I feel like I started making music because it was a way of communication and I was always hopeless at doing it the normal way. Then you join a band and realise you have to talk about your music a lot, you're like 'You don't understand! That was the whole reason I did this was so I don't have to that!" It's fair to say that in the beginning, it didn't come so easily to Steadman. "People are asking you very provocative questions and your manager's behind you poking you in the back, saying 'Say something controversial!' It's a disaster you know. Maybe it's almost good that we were very quiet when we started. People need these headlines that can be written in capital letters – I never talk in capital letters, I'm the smallest font you can find."
'So Long, See You Tomorrow' has become a statement for Bombay Bicycle Club. "We've matured enough to be confident to do a record ourselves. We finally decided that we know best and we know what we're doing. Here's the record, this is it." There's a real emphasis placed on repetition and loops – both in the music and in the visual imagery that accompanies it. They created an interactive video for lead single 'Carry Me' with Powster – the jittering sample work accompanied by visuals you can move yourself in time to that. "I had been looking at the work of Eadweard Muybridge who pioneered stop motion. I feel like you can listen to the album as a whole and you can also zoom in on little parts and appreciate subtleties. We were talking about these things and decided we wanted to explore animation on this record." Interactive videos are currently a very new and exciting way to visually represent music and Steadman enthuses about the opportunity to make one. "This is innovative, and we feel like we've made an innovative record. We wanted to match it with a video." This has seeped into their album artwork also, which you can spin round and put a flash light on to make it animate.
There's a very clear vision with this album, with Steadman deciding to handle the production as well as the writing. "The hardest step was just taking the step to agree to do it,' he states. "Once that was done, it wasn't anything new for me because I started writing and producing albums ten years ago. Yesterday actually, I was looking through the internet at stuff I put on a website called Soundclick because it was 2003 and there wasn't YouTube. That was just me after school every day. I had this little set up in my room but it made me think, a lot of people are going to be asking 'Oh this big step that you took producing yourself, how was that?' And I just want to say, no, I've been doing this since I was 13!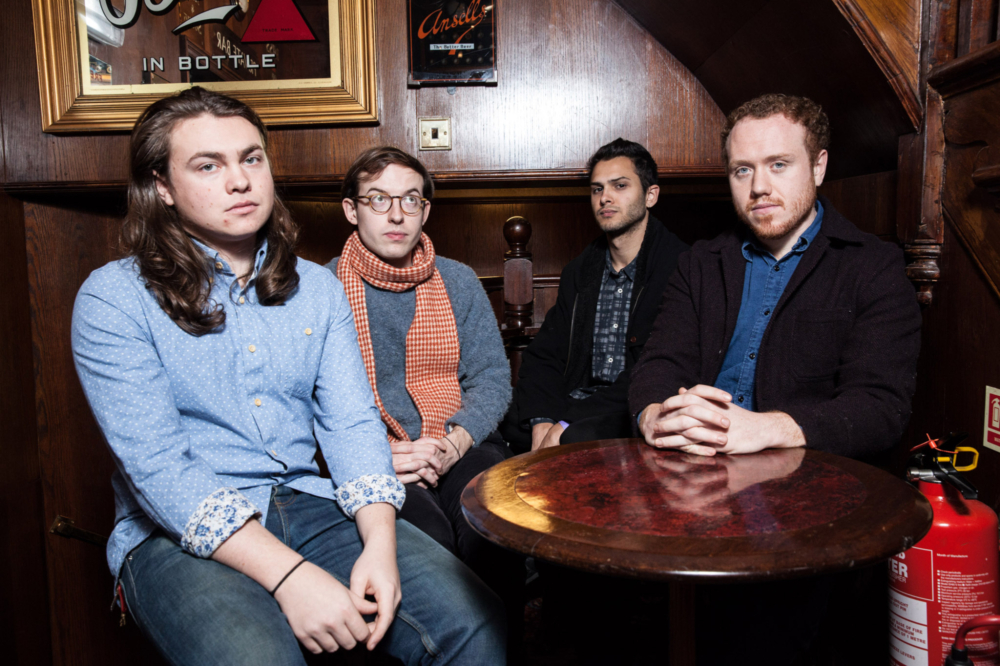 "I try to get most of the emotion and feeling out instrumentally."
— Jack Steadman
"The only trouble is, when you do it yourself, there's sometimes no one there to put perspective on things but for me that's what the other three did. I'd spend 12 hours working on a song and didn't even know what it was anymore. That's when I send it to the guys. You need to find someone in the world that you trust and then always send them your stuff". Mark Rankin, who's produced for Florence and the Machine and QOTSA amongst others, was also on board as both mixer and engineer. "We'd spent months talking to him about it and I wanted the guy mixing it to be as passionate as I was. We wanted clarity so it was a great combination of more bedroom producer type stuff and elements of Mark's big production – I would just take everything and make it all work," Steadman explains.
Something 'I never talk in capital letters, I'm the smallest font you can find.' that was important for Steadman was getting away from the daily routine of his London life. "Even just the other day, I was on one of those new Routemasters and every time the person announced a stop they'd say 'Watch out for traffic!' I was like, 'Shut up! I'm in control of my life, I'm a fully grown man and you can't just tell me what to do!' On the tube they're like, 'It's very slippery, please walk slowly.' I know what I'm doing! Health and safety has gone crazy in a lot of places that are very developed." Going away to other countries was a way to get away from the rules and regiments of the city to be able to think outside the box. "You're not really gaining a fresh perspective when you're just in your room, when I was in Mumbai I'd have this fantastic listening experience every day. The train doors over there are completely open – the opposite of health and safety, I was just cruising down this railway listening to the song I'd just made. It's that experience that happens afterwards that's almost just as important as the initial inspiration."
"I want to do everything quickly – that's where my dislike for studios came from. I would get an idea, be so excited and I'd be like, 'I just had this amazing idea, let's do it! Wait a second, I'm going to have to set up this microphone, put it a few centimetres back, no a few forward – just tweak it,' and I'd have fallen asleep probably at that point." Whilst he finds working with other people to be a challenge, the experience of playing in front of crowds of people and meeting his fans is something he really enjoys. "The thing about meeting people on tour is you share the same interests with them immediately! It's the frustration of trying to get someone who doesn't know you to figure you out, that's what really depresses me because I'm terrible at that. If I go to a dinner party and I'm sitting across from someone I don't know, they're going to leave thinking I'm really weird or rude. I just haven't worked out how to say 'This is me'. The great thing about being a musician is that you come into contact with lots of likeminded people."
For Steadman, music makes him "very sentimental". He listens to music that reminds him of a particular person or place that has some attached meaning now. "I think I've stopped trying to discover new music now, all my music that I listen to, it's stuff that reminds me of being a teenager". This is something that he hopes reflects on the people that enjoy his music, making that personal connection. "At our gigs, you sometimes see couples and we play a song that's obviously their song and you can see them look at each other – I love that stuff. I'd rather have that on a smaller size than playing a huge arena with people that have heard 'Shuffle'." The connection is also something that he can see in his own music. "You know Interpol's first album? 'Obstacle 1' goes 'But she can't wait, she can't wait, she can't wait, she's bad,' and I realised I must have been thinking about that when I wrote 'Carry Me'. 'You carry, you carry, you carry, you carry me.' It's even the sound of the c. I shouldn't reveal that but I heard that Interpol song after writing 'Carry Me', and I was like, that's fantastic. It's like a puzzle being solved!"
For a band that has the ability to release records at such a rapid speed, it feels as if it must be a lot of work to be in Bombay Bicycle Club, but Steadman doesn't feel that way. "I feel like I'm just always writing songs. I've already got three new songs since finishing the album that I'm super excited about. When you're writing an album, you always think this'll be the last one, I'm going to do something else, I'm going to start a jazz café. But you realise as soon as you finish you're hungry again to write music. I can never claim any credit for it because it just comes very naturally." The title of their new album may read 'So Long, See You Tomorrow', but this is in no way a departure for a band that's making their most confident and assured music yet.
Excerpts of this interview are taken from a piece in February 2014. Following everything on The DIY List 2014 here.

Get your copy of the latest issue