Best of 2014:
The DIY List 2014: Wild Beasts talk dog t-shirts and playing The O2
As is tradition, Hayden Thorpe and co. have had the opposite of an ordinary year.
Wild Beasts feature at #14 in The DIY List 2014, a look back at the year's best albums, one-off shows, festival performances and achievements outside of the norm.
Wild Beasts have never been ordinary. They sprung up on the scene with a falsetto-baritone interchange that initially came across like Michael Buble tripping on helium balloons. Their extravagant, no-fucks-given pop didn't fit neatly into any one scene, and since then the band's idiosyncrasies have only been stretched further. To this day, nobody really sounds a jot like them, even if latest LP 'Present Tense' represents the closest they've come to penning actual pop bangers.
With that record - rated five stars by DIY, standing out as their finest several months on - the four-piece have achieved some wonderful and weird things. Frontman Hayden Thorpe appeared as a bobblehead during Arcade Fire's Hyde Park show, right after his group supported the headliners. Big shows didn't stop there - they were personally invited by The National to join for their biggest ever show at London's O2 Arena. And as well as curating their own 'Soft Future' show at Leeds' Canal Mills and penning two songs for an elaborate "gif novel" that confuses any tech-immune soul, they've gone one step further.
Just this last week, Wild Beasts unveiled 2014's great merch gift - the official WB dog t-shirt. Magnificent, resplendent and a neat fit, it provides the ultimate answer to the eternal question, just how do you follow up your best album yet?
Below, Hayden Thorpe explains the thinking behind the dog tee, as well as going through the motions of Wild Beasts' suitably strange 2014.
You've just brought out some dog t-shirts, which is a late run for best band merch of the year.
I'm glad you think so. This t-shirt came to represent one of the biggest divides with the band, in our entire history. Some thought the dog t-shirt was the most appalling thing we'd ever put our name to. Others said that this is a 2014 hipster's dream t-shirt. I have to say, I was on the negative side. As a young teenager aspiring to be in a band, I never thought our band t-shirts would one day have a labrador with glasses on. I've since been given over to it. I realise the absurdity of it is probably its great strength. It's not as if we're an emo band trying to shift five thousand black t-shirts a night. The common Wild Beasts fan isn't a t-shirt wearer, so we have to go down the more eccentric line. I'd love dearly to have a dog, but being on tour it's hard to leave home let alone throw an animal into the equation. Blonde Redhead travel with a chihuahua. I liked the band already, but I like them exceedingly after that.
How did The National show at The O2 and the Arcade Fire gig at Hyde Park compare to when gigs are on your own terms?
The Hyde Park show was in the middle of summer, it was broad daylight. That was the most disorientating part, the fact that you could see the vastness of it. The O2, on the other hand, didn't feel so vast. We were just honoured to be on the bill, at The National's request. They're heroes of ours. To play on a show that you'd go to anyway is always pretty heartwarming, and reassuring. But then again neither of those shows were ours. We weren't top of the bill. These are huge heavyweights. So in some ways, that allows for more enjoyment. You're suddenly relieved of the weight of people coming for you only. They were very relaxed affairs, in our point of view.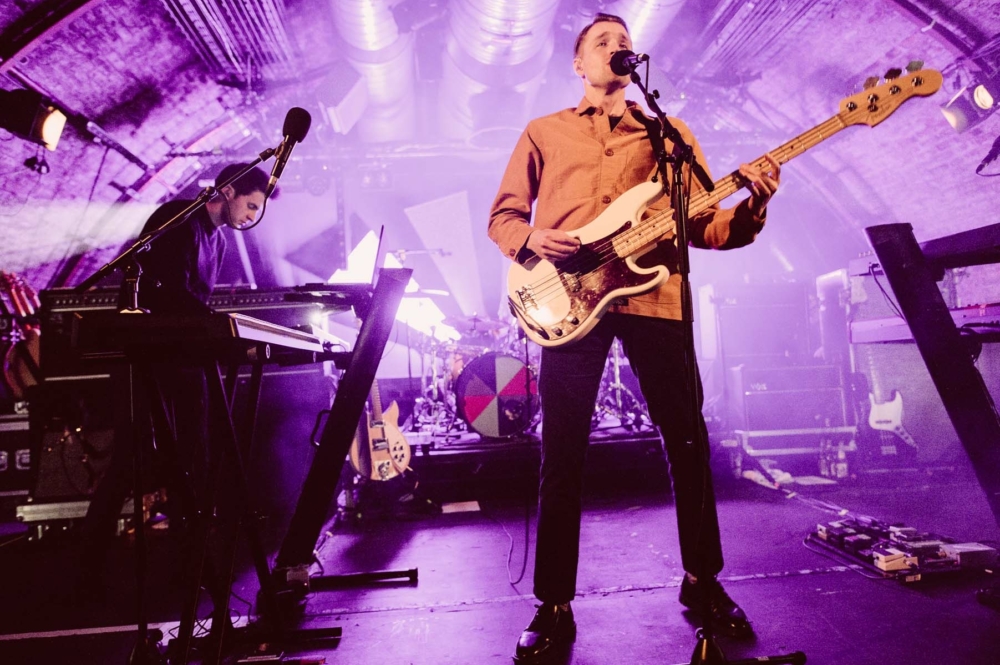 Do you ever envisage yourselves headlining these places, eventually. Or are you not the types to put yourself in situations you've yet to land in?
I don't think we'd ever get there by design. It's not a career path, or a manifesto. But I guess we believe we've made music that would mean enough to enough people, to play those shows. The reason why The National have that hero status for us is that at no point in time can you say, 'That was made for an arena'. Obviously it has leanings towards that, a sense of scale to the emotionality. But it's always hand-crafted enough to still hold up. That's important to us. To an extent we want to remain D.I.Y enough to inhabit that space with integrity. And it's a really difficult thing to achieve - very few people do it. We'd rather do it properly or not do it at all. It's a strange old career path and I think we've already taken a warped route to where we've got to.
What's been your album of the year?
East India Youth's 'Total Strife Forever'. It's a very private album but also a very open one. It's porous enough to allow stuff in that's not so inverted that it's impenetrable. I'm excited for the follow-up and I'm excited to hear it. He's promised me a listen.
For all DIY's end of year coverage, head here. Photos: Emma Swann, Fraser Stephen. Wild Beasts' 'Present Tense' is out now on Domino.

Get your copy of the latest issue