Best of 2014:
The DIY List 2014: Alvvays and forever
Every UK gig they've played has been packed to the rafters, and in July they released one of the albums of the year: Toronto five-piece Alvvays reflect on a mad 2014.
Alvvays are at #8 in The DIY List 2014, a look back at the year's best albums, one-off shows, festival performances and achievements outside of the norm.
Given the kind of year they've had, you'd be forgiven for thinking that Alvvays now have a slick operation in place when they're on the road; unanimous critical praise for their self-titled debut and rapturously received shows across the world, you'd have thought, would've seen to that. Instead, though, they've just played across Europe without a tour manager, meaning things were just a little bit chaotic. Today they're playing the second of two nights in Berlin, opening for Foxygen; tomorrow they'll fly back to New York. "I think it's about time," singer Molly Rankin laughs. "We're all starting to lose our minds a little bit. We're definitely not the best navigators."
It's pronounced 'always' - the spelling is apparently down to somebody else having beaten them to the correct form, although a cynic might think it's a little bit of search engine optimisation - but the Toronto five-piece haven't been around very long at all; they formed out of the ashes of various other bands two years ago. That said, it took what felt like an age - to the band at least - for them to actually put out a record; the gorgeously fuzzy 'Alvvays' dropped in July. "Normally I don't think we would have had any real expectations for the record," Rankin explains. "We've all been in enough bands and projects in the past that haven't really panned out to know that it's probably best not to place your hopes too high. It took so long to get the album out there though, that it was difficult not to want to see people's reactions to it - which, thankfully, have been great. I thought that maybe just a few Canadian websites and magazines would cover it, so it's crazy to see it go over so well here, and see, like, Mexican bloggers talking about us."
One of the perks of that attention has been the opportunities for travel that it's afforded the band; in October, they toured the UK properly for the first time, opening up a superb double bill along with Real Estate, and commanding crowds almost as big as the headliners, too. "It was nice to get the chance to explore, finally," says Rankin. "We'd only ever played London and Brighton, for some reason. There were at least a few people at every show who knew all the words, which felt like a huge bonus; I think the culture's a little bit different than in America and Canada, where you're lucky if anybody comes out to see the openers. Seeing those crowds was pretty inspiring; the amount of people buying vinyl, too."
They've already lined up another set of UK dates for January, and the realities of spending so much time on the road are beginning to take their toll; the group have given up their day jobs now, albeit reluctantly. "It's not that we don't want day jobs, or need them," says Rankin, who was waiting tables at a Toronto pizzeria this time last year. "But we're just starting to reach the position of not being able to have them. We're becoming neglectful employees! It's kind of a scary position to be in, to not have anything to fall back on; this is still a super close-knit operation, from not having a tour manager to the people we deal with at the label, and so on, but we're all totally committed to the band now, and you have to deal with that uncertainty."
Rankin herself has first-hand experience of how the music industry works, even if Alvvays are sonically a long way from the genre she was raised with; she's a descendent of The Rankin Family, the Canadian country and folk institution, with her father having played piano and fiddle in the group. As much as her progression into the music world might have always looked like a given though, she insists she ended up falling into it by accident.
"It's obviously a really difficult thing to thrive in, and I've seen that to be the case myself, so I never really intended to go in this direction as a career, or whatever. All I really knew was that I wanted to maybe work with animals; be a veterinarian or something, but my math marks weren't great, so those hopes ended pretty early. I did one year of theatre at Dalhousie University and then stumbled on to a tour playing the fiddle. I'd still like to go back to school but for now, this is fun. There is also the ongoing threat of me ditching everyone to drive a tiny airport runway vehicle, though."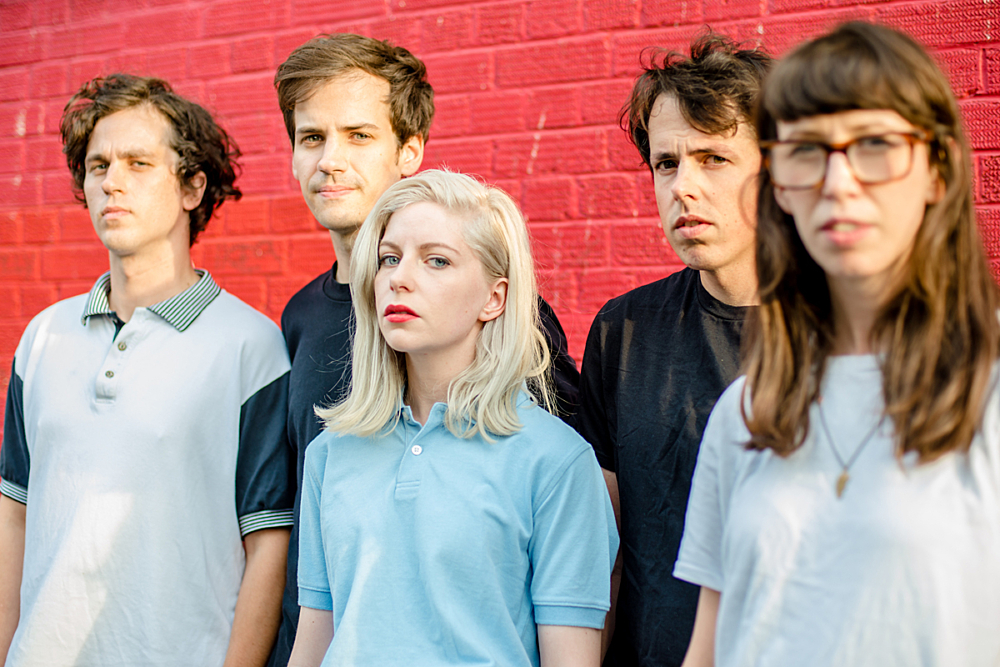 "We've all been in enough bands and projects in the past that haven't really panned out to know that it's probably best not to place your hopes too high."
— Molly Rankin
The band did a masterful job of properly capturing their sound on 'Alvvays'; irresistible melodies, jangling guitar and Rankin's vocals - honeyed without ever being saccharine - are all drenched in a pleasant layer of reverb. As Rankin points out, though, they had plenty of time to hone their craft before the album was released, and with a slew of tour dates in the diary, they're unlikely to have the same freedom second time around. "We have been working on some new stuff during our soundchecks. It's not the most efficient way to write - or soundcheck, for that matter - but Alec [O'Hanley, guitar] and I are excited to have time in the basement, after our US tour finishes."
For now though, they're more than happy to continue riding the (considerable) wave that 'Alvvays' generated back in July; their first headline tour of the UK seems to have been an awfully long time coming, but it does at least mean that they'll have some new tracks to play, in addition to tearing through their excellent debut. "January's going to be fun," says Rankin. "We'll have our vinyl back, we'll be playing some new stuff, and - hopefully - we'll be wearing clean clothes."
Alvvays' self-titled debut album is out now via Transgressive Records. Photos: Carolina Faruolo. Taken from the December 2014 / January issue of DIY, out now.

Get your copy of the latest issue