Interview:
Christmas with Los Campesinos!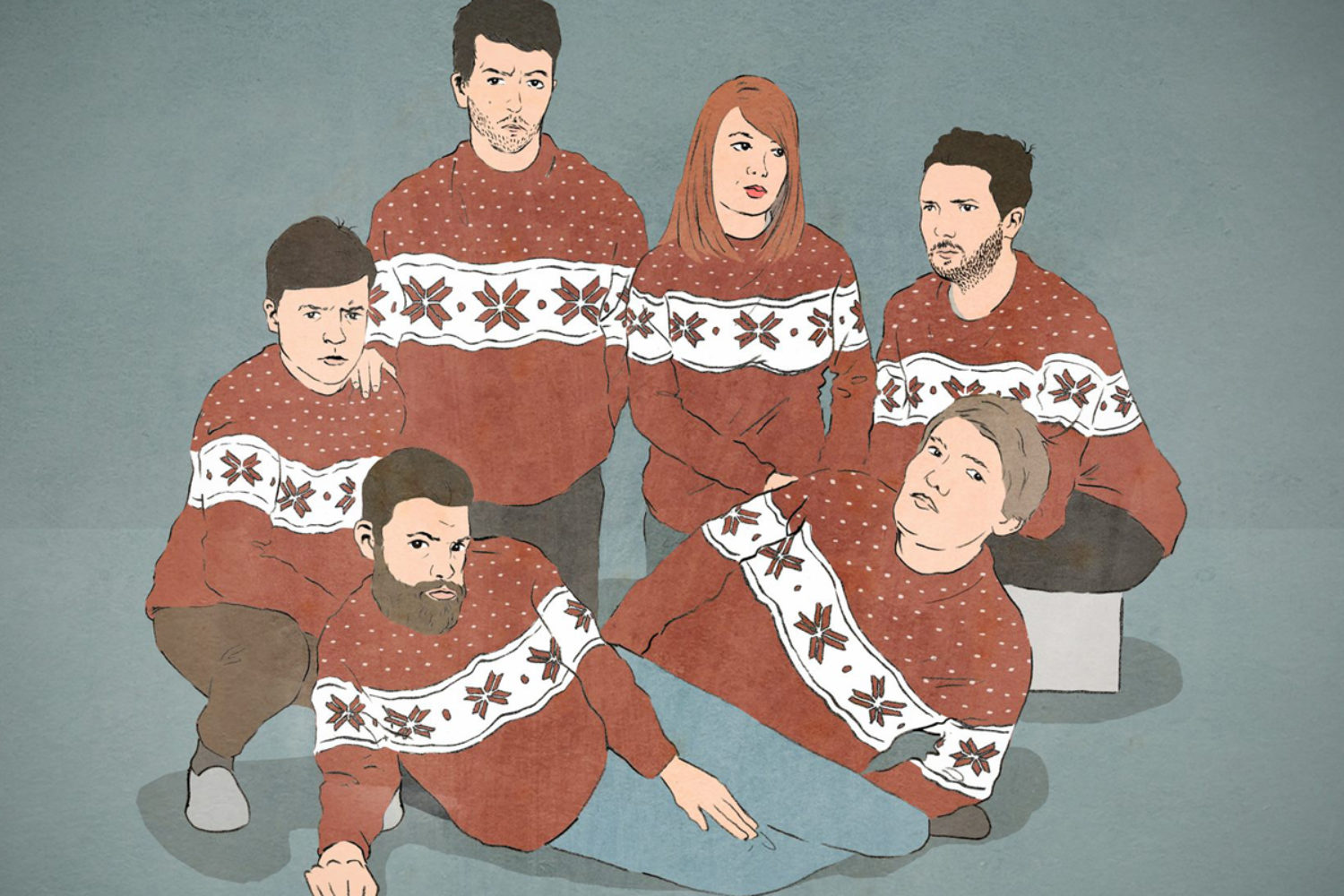 Ross Jones perches by the tree with Gareth Campesinos! to all things festive, including why he wants the France '98 version of Monopoly for Xmas.
Los Campesinos! are preparing to settle down for Christmas. Following a busy year of live shows in support of their 2013 album 'No Blues' and soundtracking a film, the band have released a seasonal EP, including five tracks of spirited carols including new single 'When Christmas Comes', showing they aren't ones to hide their enthusiasm for this merry time of year.
Knowing Los Camp!, the band don't just look at the positive side of the season. The EP also includes a cover of the sorrowful noel classic of Mud's 'Lonely This Christmas', along with previous singles 'A Doe To A Deer' and 'The Holly & The Ivy'.
Ross Jones sat down with Gareth and a cup of eggnog to discuss what makes the best yuletide song, playing rare favourites live and most importantly, what he would like for Christmas.
This EP is sort of a collection of the Christmas singles that you have recorded over the past few years, including 'When Christmas Comes', where did the idea come from to record Christmas songs?
Yeah, three of the songs are ones we've given away free in the past, but we've gone back to them and remixed/mastered and re-recorded in some cases too. I can't pinpoint the exact reason for choosing to write Christmas songs. I love Christmas, so that's probably part of it, but I also like writing songs within constraints. I like deciding on a topic or scenario to write about and then sticking to it (granted, those topics or scenarios are usually the same handful of things). Christmas acts as a good example of that.
What do you think defines the ultimate Christmas song?
I do think the best Xmas songs are the most famous ones. The ones you're most likely to hear in Tesco or that your Gran will now the words to. Christmas is really fantastic and populist and that's got to be reflected in a great Christmas song I think. I won't tire of Wizzard, Slade, Wham! and especially not Chris de Burgh singing about the little alien Jesus going to the moon. It has to be sing along-able, and it has to be easy to relate to.
You've covered Mud's 'Lonely This Christmas' for the EP, what made you pick this song?
It's one of my all-time favourite songs, not just one of my favourite Christmas songs.
Most Christmas hits, even if they focus on melancholy, have a positive turn to them, but 'Lonely This Christmas' doesn't bother with that at all. Even 'Last Christmas' which is most people's preferred miserable Xmas song, hints at positivity with the line "this year to save me from tears I'll give it to someone special". Whereas 'Lonely This Christmas' is 100%, pure sadness. When Mud released it, lead singer Les Gray was the same age that I am now. It's impossible to think, watching the Top Of The Pops performances from the time, that the slightly bloated, bespectacled singer wasn't even quite thirty, but that all adds to the genuine, weird sadness of it, I think.
You've been practising recently for your upcoming tour, trying out some old songs that you haven't played live before, including 'We've Got Your Back', how different are these sounding live bearing in mind you haven't played them in this environment before?
It was really great to dust off some oldies. A couple from 'Romance Is Boring', and 'You'll Need Those Fingers For Crossing', too. We are very fortunate that people who like our band really like our band, and subsequently tend to be more enthusiastic for the deep cuts than they are for the Smash Hits. That's really rewarding for us, and going back to some old favourites can make the set feel so fresh and exciting. The tour was great, it's always so rewarding to see people enjoying the songs and the sense of community our gigs tend to encourage.
Finally, with the season of festive cheer ahead, what one present would you like for Christmas?
I've requested the WWE Encyclopaedia, the France '98 version of Monopoly and as many varieties of canned fizzy soft drinks as possible. You know, some of life's finer things.
Listen to Los Campesinos! 'A Los Campesinos! Christmas' EP in full on Spotify.