Album Review:
Belle & Sebastian - Girls In Peacetime Want To Dance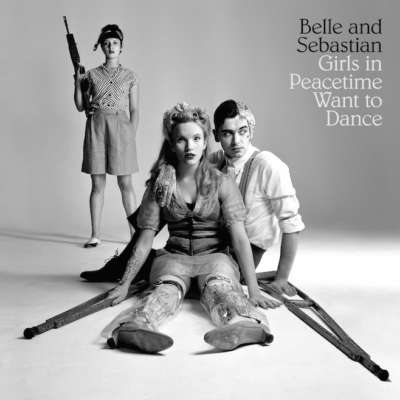 Daring, but as a record it lacks a coherent identity.
Label: Matador
Released: 19th January 2015
For all of the adjectives you could use to describe Glasgow sweethearts Belle & Sebastian; "twee", "cerebral", "brittle" perhaps, "daring" is the word that best sums up 'Girls in Peacetime Want to Dance'. After almost 20 years through a career that's encompassed various line-ups, enormous tours and an award-winning feature-length film, Stuart Murdoch and co have made a record that's engineered primarily for dancing.
'Girls in Peacetime…' is a confusing beast. 'The Everlasting Muse' showcases the band's musical prowess, particularly Murdoch's ear for arrangement, as brass compliments a Spanish guitar middle-eight that's classically B&S, with a time signature change thrown in for good measure. It should sound a mess, but instead it's almost like a nod to early Beirut.
A record that's engineered primarily for dancing.
That's sandwiched between electronic-driven songs like 'The Party Line' and the staggering 'Enter Sylvia Plath', which is almost Eurovision-esque in its bounciness. Recorded in Atlanta, with Ben H Allen (Bombay Bicycle Club, Animal Collective), it's easy to see where the sound comes from; Murdoch's recent protestations about wanting to be in Abba, mixed with Allen's ability to record artists with strong melodic identities while harnessing a multi-textured, scattergun production technique shines through with aplomb, most of the time.
It's ultimately these clashes of ideas that proves to be 'Girls in Peacetime…''s downfall, however. As a record, it lacks a coherent identity. 'Ever Had a Little Faith' could've easily fit onto 'If You're Feeling Sinister', whereas the synth melody on 'Play For Today' has the vibe of a Casio demo. The guitars sound gorgeous, especially on 'Allie' and 'The Book of You', and it's exciting to see a band that's been around this long sound so daring, but it's almost too expansive at times. It's exciting, but too all over the place to be one of their best.