Life outside the lens:
Pushing the boat out: When musicians try other careers
From 50 Cent changing the face of water to Brian Harvey doing political activism, Euan L Davidson explores the world of musicians outside the stage.
It's important to stay active. This is true whether you're a normal person who isn't important, like you or I. It's also true if you're a musician. Being 'active' doesn't just mean keeping busy in a respective field, but it's planting the seeds of activity in other mediums. For example, if you're a model, why not also be a champion cyclist? If you're a sailor, why not also be a fantastic painter? The world is full of options. It doesn't matter if you're particularly good at one thing, really, as some of the featured personalities in this article will show you.
An example of this being a good thing is Detroit rapper Danny Brown entering the world of literature. Inspired by Dr Seuss' rhymes as a youngster, Brown, now the father of a 13-year-old girl, wants to let his daughter know that the anxieties and expectations of modern teenage life are unrealistic and distorted by celebrity, so self-identity is important. This is, we can agree, "a good thing". But what about the others, the artists who don't fancy writing a book, but maybe want to protect people from STDs? What about non-musicians who want to try their hand at playing music, singing, or even making noises in a melodious nature?
50 Cent and Vitamin Water
It's important to remember that before 50 Cent, water was really boring. It tastes of nothing, yet some waters are nicer than others. Sure, there's water with bubbles in it, but ultimately it's a last resort. Look at camels. They can hold large amounts of water, but when was the last time you heard anything interesting from a camel? Never.
Enter 50 Cent, who was already an enormous success, selling over 15 million copies of his debut record 'Get Rich or Die Tryin'' worldwide. Not satisfied being a rap phenomenon, 50 probably realised that even with all of his wealth, influence and important friends, he was still at the mercy of water. Bland, rubbish water. Enough was enough.
Combining the worlds of health and 'things that taste nice', Mr Cent followed up a Reebok commercial with a 5% equity stake in Vitamin Water, a brand of flavoured waters (fruit, etc) which was bought over by Coca-Cola. This takeover stuffed Fiddy's coffers to the tune of $100m after taxes. It's also meant to be good for you, so well done to everyone concerned.
Brian Harvey, Political Revolutionary
Photo: The Mirror
Various musicians have entered the political arena in different ways, but few as spectacularly as Brian Harvey. As well as launching his own investigations into historic child sex abuses, the former East 17 singer and arm sway-er stormed Downing Street this week, demanding the Prime Minister address money that was "stolen" from Harvey in his boy-band pomp.
It seems cheap to make fun of Brian Harvey, since he is genuinely mentally ill. So instead, here's a plan for Harvey that would make fantastic television, and possibly recoup some of those funds that he seeks from the powers that be.
'Nonce Hunters' is a programme featuring Harvey and Shane Ritchie. Sort of a combination of 'Most Haunted', 'To Catch a Predator' and 'Ross Kemp on Gangs', Ritchie and Harvey bring a cheeky, cockney feel to a very serious topic. "Oi, sit dahn you mug", audiences shall cry in unison as various historic miscreants are brought to justice by the ideal duo, the Kray Twins meets Ant and Dec. It really could happen.
For now, though, politics is the way.
Sigur Rós candles
Icelandic visionaries Sigur Ros are famous for a lot of things: incredible, sweeping albums, having a distinct language, and allowing their big hit 'Hoppipola' to be butchered by Chicane. However, you might've forgotten that in early 2013, the band released candles, boasting a smell of "Instant Iceland" (which isn't Peter Andre and oven chips, but instead the smell of a country) that burns for an impressive 35 hours.
While we hope Sigur Ros last for many more years, there's always a burgeoning career in the manufacture and marketing of scented products to fall back on. Never a bad plan B.
JLS Condoms
Back in the halcyon days of 2010, boy-band de jour and X Factor contestants JLS released a range of prophylactics in conjunction with Durex to promote safe sex. Whether or not marketers considered that the average age of a JLS fan was probably a tad young to use these products is an eerie question that most of us would rather not consider. Sure, for JLS, "the club was alive with the sound of music", but unfortunately too many bedrooms were alive with the sound of "why would you get those?" and sighing. They tanked. It was worth a shot, guys.
Billy Corgan and poetry/wrestling
Billy Corgan isn't happy "just" being in one of the seminal 90s bands. It seems he'll turn his hand to most things, from the subtleties and nuances of poetry, to grown men and women pretending to hit each other. 2004's 'Blinking With Fists' (like, dude, fists don't even HAVE eyes) was met with a lukewarm reception, with Entertainment Weekly describing Corgan's work as "both pretentious and confoundingly esoteric." Let's have a look and decide for ourselves:
"A poem, if you will:
Gentle waves rise
just off the fingertips
All I breathe is mine
By name alone
Shape-shifter questions
To strip skin off slow
Devoid of sex"
It goes on like that. Doesn't even rhyme. What rubbish.
Corgan then formed Resistance Pro Wrestling in 2011, featuring top talents such as Serenity and Da Soul Touchaz. He left the company in 2014, got the Smashing Pumpkins releasing records and now here we are, today.
Non-Musicians Doing Musical Things
Paris Hilton
Paris Hilton is very famous, so famous in fact, that there are hotels named after her. Specifically, the Paris Hilton. With her unending rolodex of contacts from the world of celebrity, Hilton embarked on a musical career with 2006's cryptically titled LP 'Paris', which featured production from Scott Storch, who you might remember as the piano player from 'Still D.R.E.'. She's also a DJ now, which some people seem to have a problem with. She's also the muse of the wonderful 'I'm Paris Hilton' by Lil B, which you should Google just now.
John Cena
A reverse Billy Corgan if you will, wrestler John Cena has worked with the likes of Wiz Khalifa and has done a rapping loads of times. Cena's 'You Can't See Me' sampled the likes of MOP's 'Ante Up' (for his LP opener and entrance music 'The Time Is Now'), and yet it's not considered one of the GOAT albums, like 'Illmatic' or 'Ready to Die'. However, Cena charted at 15 in the Billboard 200, an impressive feat for a debut hip-hop record by an ex-Marine.
Billy Bob Thornton
Before he was giving vials of blood to Angelina Jolie and being a huge film star, Billy Bob Thornton loved music. That's "music" in the loosest possible sense, because the Oscar winner justifies this statement with the admission of having played in a ZZ Top cover band before his acting career took off. With The Boxmasters, where he is drummer and vocalist, he has supported Willie Nelson, but a gig in Toronto went awry following a bizarre interview with CBC radio presenter Jian Ghomeshi, where he refused to talk about the band, said "I don't know" repeatedly and described Canadian audiences as "mashed potato without the gravy". Sure, the gig went terribly, but the Boxmasters go on, and Jian Ghomeshi is now addressing allegations of sexual assault. He's had some career, ol' Billy Bob.
William Shatner
It's a test… of skill for, a writer… to phrase a, PARAGRAPH, like William Shatner… speaks, slash… sings. Not to be confused with… Christopher Walken, Shatner's… bizarre delivery lends ITSELF to… music. In… a way no-one could've known. The former, Star TREK, actor… he… has released eight, yes eight… albums so far, including much… parodied covers, such as… Rocket Man! And a cover of 'Mr. Tambourine Man', that… people, didn't UNDERSTAND… quote Shatner:
"They didn't know what I was doing. The album The Transformed Man is much more extensive than that song. But since people only heard that song, I went along with the joke."
Many would… agree that, they didn't… know what he was doing, but the likes of Zakk Wylde and… Bootsy Collins wanted to work… with SHATNER! So perhaps… he's the real winner.
Zooey Deschanel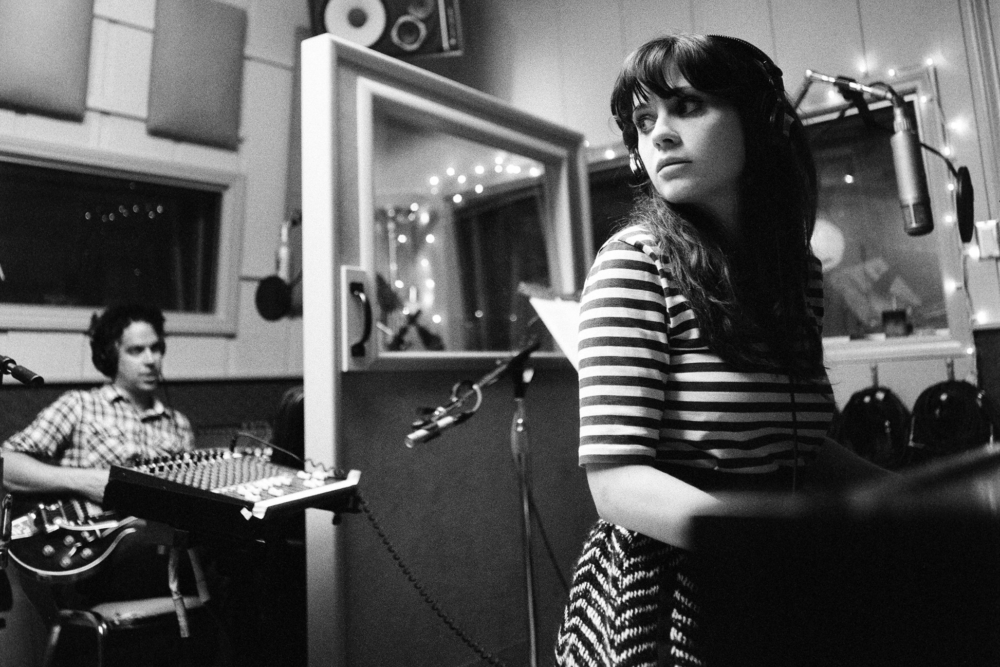 Kooky kook-ster and star of kooky shows like 'New Girl' and kooky films like '(500) Days of Summer' Zooey Deschanel teamed up with Portland's M. Ward to create She & Him, a project which has spawned kooky LPs like 'A Very She and Him Christmas'. The quirky actor, daughter of Mary Jo Deschanel (who was in 'Twin Peaks'), was married to The Postal Service and Death Cab for Cutie front man Ben Gibbard and in 2001, performed in a jazz cabaret act, and appeared in the video for The Offspring's single 'She's Got Issues'. Cats! Etsy! It's hard to argue that Zooey isn't as much a musician as an actor, being a true 'slashie', like Paul Simon or David Bowie, even incorporating singing and ukelele into episodes of 'New Girl', and singing the theme song, like Dennis Waterman from 'Minder'. I make fun of her, but she's outrageously talented and I still live at home. I'm 23.
In conclusion, best of luck Danny Brown. Your project actually seems worthwhile and something to look forward to for fans of young adult fiction/poetry. It seems a world apart from the ego-trips and vanity projects of some our aforementioned stars. No-one is infallible, but it is extremely possible to do something enormously lucrative, important or creative outside of your most obvious outlet. More artists should try it. At the very least, it'd be fun. Like William Shatner.

Get your copy of the latest issue