Report:
Observations from PJ Harvey's 'Recording in Progress'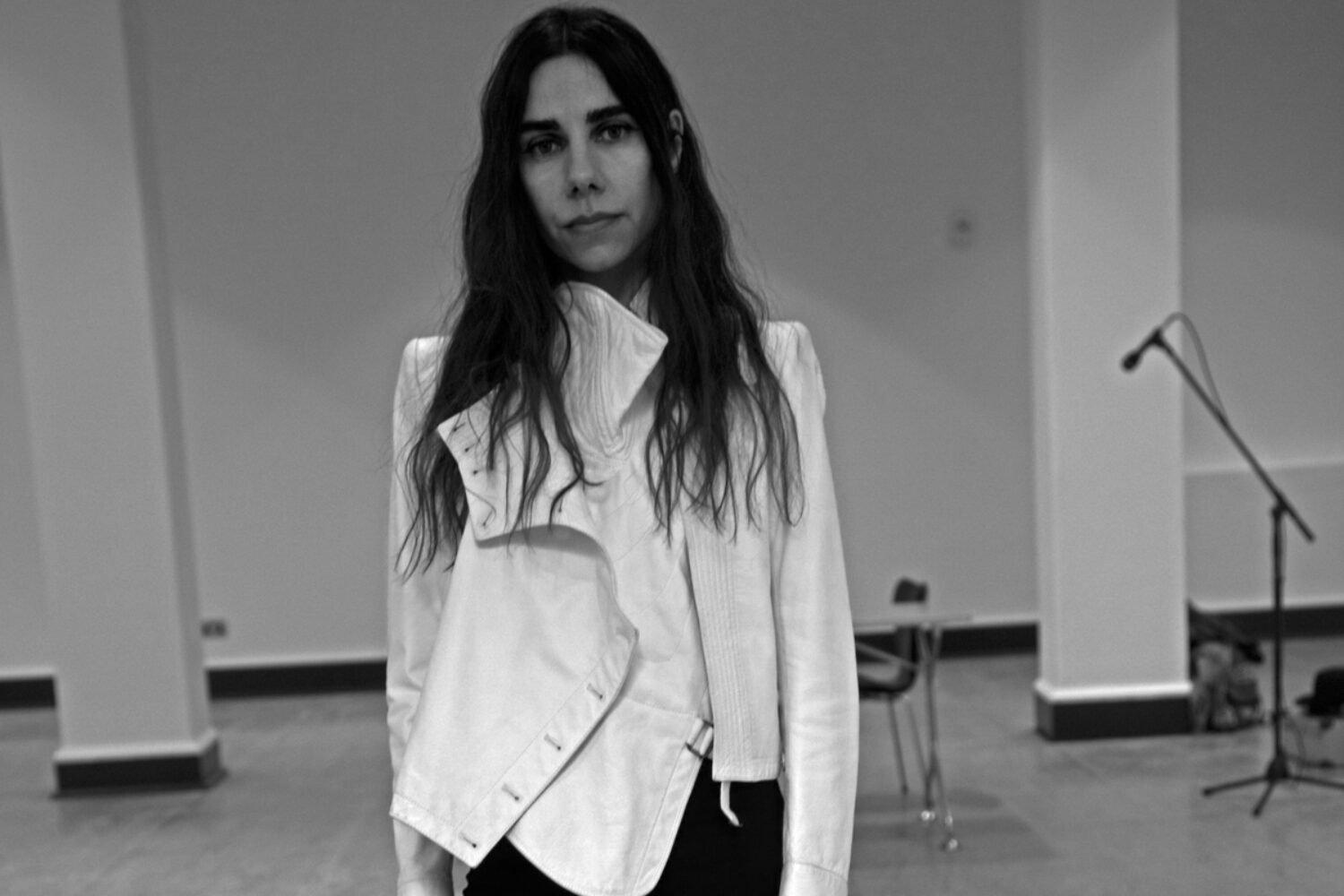 Saxophones, serious pauses and a surprising amount of #lols, Harvey's Somerset House exhibition is an oddly uplifting experience.
When the mid-afternoon session for PJ Harvey's 'Recording in Progress' begins, the musician and her team of producers and instrumentalists sound like they're approaching the end of an excellent song. Anyone stepping into the room - a gloomy, dimmed area with a view of this one-way glass cube that acts as a studio - would think they were witnessing a 'finishing touches' process. As the forty-five minutes run, what begins as a perfectly good track ends up a near-hopeless mush, a dissolved version of its original state. The chords are gone. The melody's been sunk in one new idea after the other. And everyone has to start over again.
It's testament to just how much of an excruciating process recording an album really is. Nobody attending 'Recording in Progress' could be expecting a seamless display of songwriting, but to see a track ('Homo Sappy Blues') go from potential lead single to a fraction of its former self, in just under an hour, goes to show just how many dead ends await the average artist.
This might have something to do with the people in the room. 'Homo Sappy Blues', as it starts, sounds like a highlight from 'Let England Shake', or even something as far back as 'Stories From the City, Stories From the Sea'. Producers John Parish and Flood have been by Polly Harvey's side for over twenty years. Every stone's been turned, each new feat outdone by another. To record a 'perfectly good' song is the very definition of falling short, in their cases.
The debates roll on. Accompanying musicians Kendrick Rowe and Mick Harvey watch Flood, Parish and Harvey debate the advantage of one chord over another, the pitfalls of a 'D minor'. Stony silences are broken up with bursts of laughter. In the end, the experience looks both excruciating and priceless. Every individual in the room has years of doing this kind of thing in their locker, so when they hit a brick wall and witness a great song melting into nothing, they laugh it off. If there's a purpose to 'Recording in Process' - other than the novelty effect of making an album as part of an exhibition - surely it's to show how pitfalls are clouded over by an end product that makes things entirely worth it. Also - any musician that says they can't listen to an album after they've finished it? They're not lying. Harvey must have sung the words "what God gave you" over two-hundred times during the session. If she's not sick of that line by now, she's superhuman.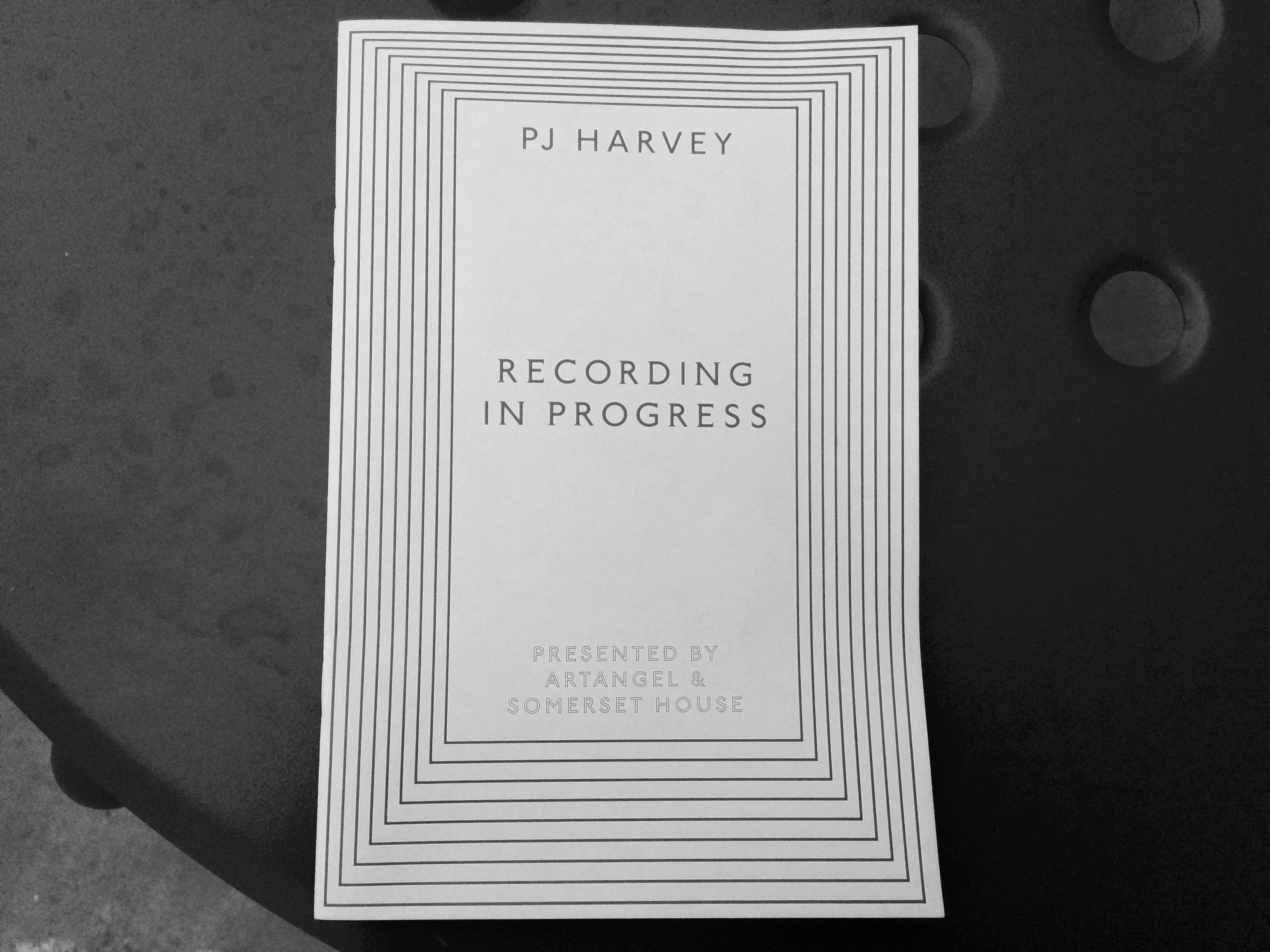 Things we saw:
- The words "PJ Harvey" printed on a wall above a piano, complete with drawings of ravens.
- Four saxophones.
- Scowling.
- One autoharp (Harvey tried applying this to a downbeat, already dense song and everyone in the room dismissed it).
- An assistant / engineer awkwardly but devotedly set up instruments on demand.
- Flood sitting in an armchair, commanding from the comfort of his seat and suggesting new chords.
- Harvey swigging coffee between takes.
- Harvey impersonating 'jazz hands' after fumbling around a vocal take. Together, they described the song as "cheesy".
- Parish debating to himself: "Does the world need another country blues song? I think it does." Harvey then replies: "I think you need to stop talking."
- A progress board with draft song titles including 'Ministry of Defence', 'Dollar Dollar' and 'A Dog Called Money'.
Things we didn't see:
- Someone approaching the one-way glass and sniffing, like they sense the attendees' presence.
- Somebody storming out in a fit of rage.
- PJ Harvey reaching into a bag and picking out her Mercury Prize, before holding it up high and asking: "What would you do?"
- Harvey suggesting: "We should put a donk on it."
- Harvey stopping to ask: "But what is music, really?"
- Rita Ora attempting to get in the studio, nobody answering the door.
- Somebody calling for a pizza delivery.
'Recording in Progress' continues until 14th February 2015.