Album Review:
Trust Fund - No One's Coming For Us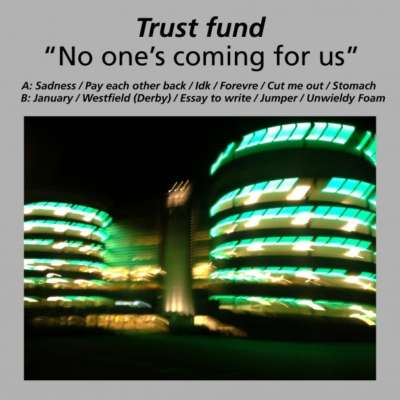 Self-deprecating, personal, funny and honest.
Label: Turnstile
Released: 9th February 2015
Do It Yourself seems to be a term too easily bandied about (and we know a thing or two about DIY), but for Trust Fund – or Ellis Jones as he was christened – it's an ethos and description which is not only central to his work but also accurately captures a lot of what is endearing about his music.
His DIY philosophy – the record was self-recorded and mixed in his bedroom in Bristol – makes 'No One's Coming For Us' all the more enticing and all the easier to fall in love with (though it doesn't define him. We'll come back to that).The split 12" with friends Joanna Gruesome and sold out cassette EP 'Don't Let Them Begin' showed great promise which this album more than delivers on.
There's a transparency here which is what DIY does best – no layers of pretence to get through, no smoke and mirrors just a direct line into Jones' heart and head. Over eleven songs he takes on that old-subject of relationships. It might not be a new topic but the self-deprecating, personal, funny and honest (on 'Forevre' he sings "They're so boring and I can't pretend") lens he puts it through makes it feel intimate and startling.
Literate, catchy as hell indie pop.
The ingredients of his previous releases are still there: there's a hint of the oft-compared Elliott Smith, some Beulah in there and other 'College rock' like Waxahatchee. But it shows him a little bolder, and a little more immediate than before.
It's a record of lovely melodies and yearning, scrappy falsetto vocals. First single 'Cut Me Out's' brass reminds of Beulah as he sings "I am a fragile idiot", and 'Idk' is the first song to feature text speak that might make you cry, as he strums over a guitar about feeling so weak. 'Jumper' grows and plays out in a way that reminds of touring partners Los Campesinos!, while 'Unwieldy Foam' ends the album on the dreamy submerged indie that sounds like it could have made it on to 'Modern Life Is Rubbish'.
All the way through he proves lo-fi doesn't exclude being anthemic. It's melancholy but glowing full of fuzz and a beating heart. And that's the thing – DIY doesn't define what Trust Fund is about. It's literate, catchy as hell indie pop. And who doesn't like that?
More like this