Live Review
Ex Hex, Oslo, London
10th February 2015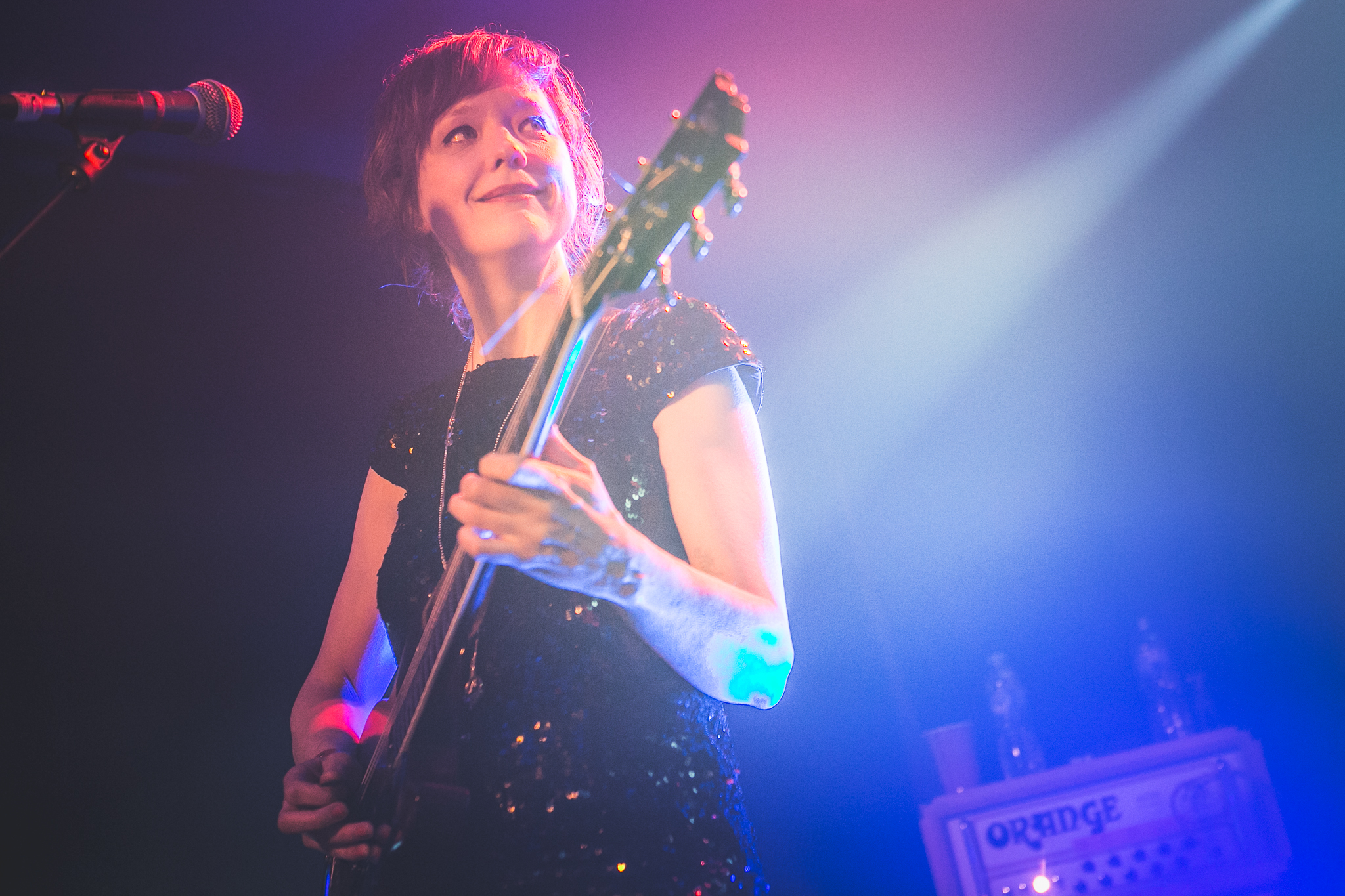 Punchy power-pop, made ludicrously, infectiously good fun.
Ex Hex are the kind of band that Kat Stratford would go see at a dingy bar in '10 Things I Hate About You'. They'd probably be the choice selection of Mean Girls' resident High School badass Janis Ian, too. Their debut, 'Rips', is a exciting, unstoppable record practically custom-made for loaning out from the library of Cool Older Sisters, or blaring from the fuzzed-up loose connection stereos of a teenager's first clapped-out automobile.
From the off, the band's mission statement has always been directed towards writing, snappy, sharp-focused pop songs; music that wouldn't sound out of place playing on the radio in 1982, to paraphrase the words of lead guitarist Mary Timony. Her choice of year is worth a hat doff, too; The Pretenders, The Cars, Joan Jett, Sonic Youth, and of course The Clash's 'Combat Rock'. The list goes on. These bands might act as touchstones for Ex Hex, but they're always just vague reference points. Tonight is - despite the confused touts hungrily swirling around Hackney trying to flog tickets for The xx instead - all about these three musicians onstage, owning every second.
Over the last two decades Ex Hex have been in a veritable king-sized ball-pit of bands between them, from The Aquarium and Fire Tapes to Autoclave, Helium, and the notorious so-called superband Wild Flag, which Timony played in with two thirds of Sleater-Kinney. With all this in mind, it's not a huge surprise that Ex Hex are totally at home, and treat the stage like their ramshackle rehearsal garage. Kicking over water bottles (Timony apologies profusely for this later, tongue firmly in cheek) and rattling through hair-flippingly unrelenting solos, Ex Hex's stagecraft shoves showiness out of the way in favour of something that feels more, well, real.
At one point Mary Timony laughs something to herself that sounds suspiciously like "we're Sleater-Kinney", and in the encore bassist Betsy Wright gives up playing her instrument completely during a guitar solo, so that she can dance along, hands above head, with the rest of the room. By the end of the show, everybody in the room wishes that they were in Ex Hex too. Punchy power-pop, made ludicrously, infectiously good fun, Ex Hex's first visit to UK shores is a rip-roaring joy to watch from start to finish.