Interview:
Meet Hooton Tennis Club, first on the bill for DIY Presents Roundhouse Rising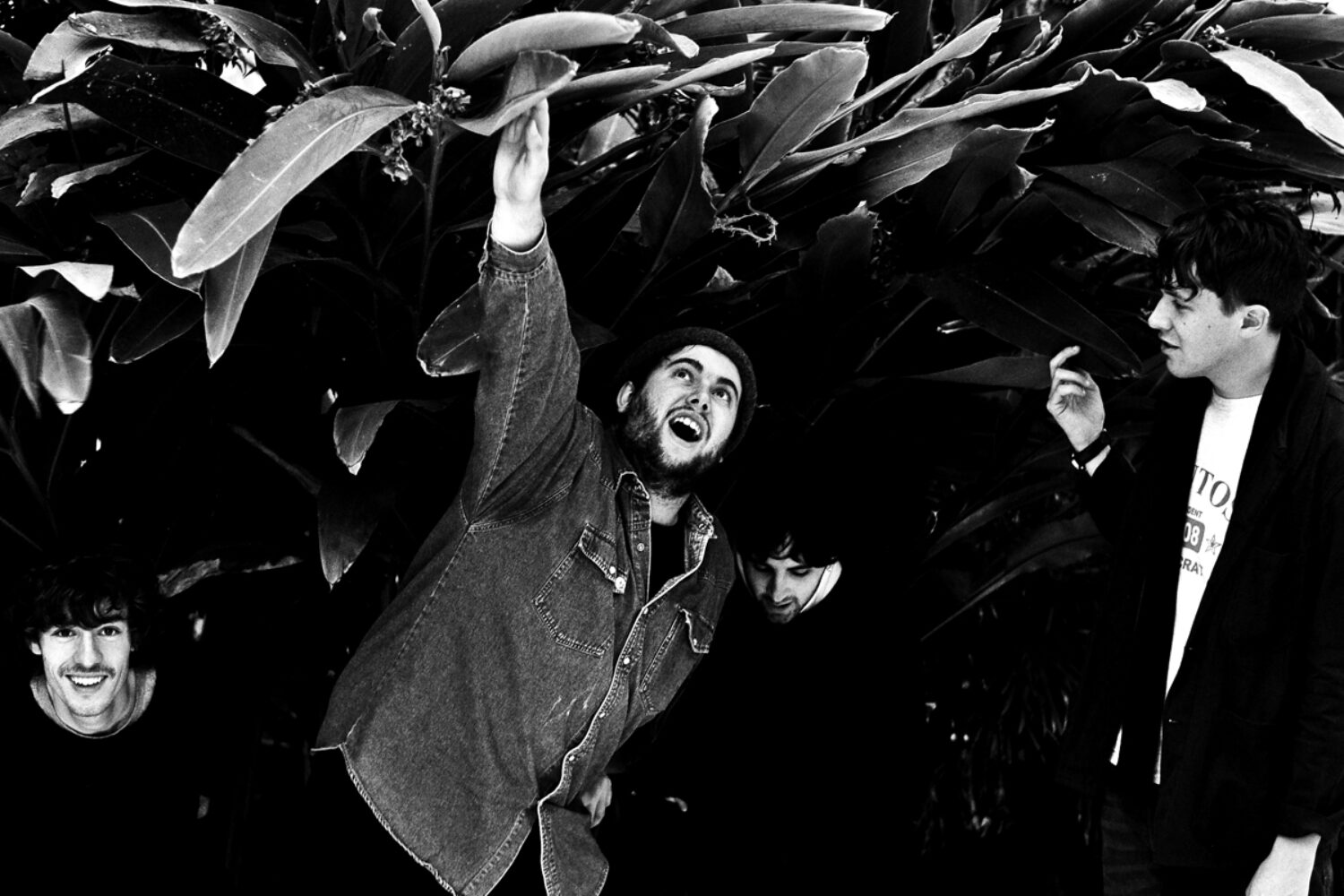 Liverpool band came up with their name while buying chips, but their quick-witted songs are the real draw.
This Saturday (21st February), DIY is hosting the new music showcase to rule them all - a Roundhouse Rising event in London, with Dublin's Girl Band topping a bill that features Brighton heroes The Magic Gang and Liverpool newcomers Hooton Tennis Club.
The latter have just one single to their name, the head-turning 'Jasper' / 'Standing Knees' debut on Heavenly Recordings (The Wytches, Temples). Out 23rd February, it's an exhibition in carefree rock 'n roll, executed with a wit-fledged twist. Similar to Parquet Courts' grizzly to-and-fro between slacker vibes and a seriously-anti-slacker sound, these Liverpudlians stand out in a sea of garage punk bands aiming for similar heights.
Ahead of Saturday night's show, we figured it'd be a good time to get to know Ryan Murphy, Callum McFadden, Harry Chalmers and James Madden. Cramming together in Ryan's house, they blurrily detailed their beginnings over speakerphone, just a couple of days in advance of Roundhouse Rising.
How clued up are you on the other bands playing Roundhouse Rising?
We played with Girl Band at the Shipping Forecast once - really good band. And H. Hawkline who we've been touring with, he played a few shows with The Magic Gang and he's said some good things. It should be good - we're looking forward to it.
So far this year, you've been touring with H. Hawkline and playing the Heavenly Records Weekender - how's that been going?
The Heavenly thing was great. We were all quite disappointed that we could only be there for the one day - that was really nice. The H. Hawkline dates have been brilliant as well. It's the first time we've played a few shows as part of a mini-tour, really. It's only four days but it was almost a tour thing, you know. If you can call it that.
I take it Heavenly was a label you were familiar with when you got signed.
I've heard of them through Edwyn Collins. Just before we were signed, we knew The Wytches and Temples were doing really well. But that came out because we pestered Jeff to come along and see us. He came to our second or third gig and we kept contact - then we ended up at the Social on a sunny July. We were drinking beers outside and he said he wanted to release something. Being signed now, the only thing that's different is deadlines. We're allowed to do our own thing.
How did it all start for you guys, as a casual thing?
We were just friends from high school, really. It's a classic friends from school, cliched story. We all went to school, all played instruments in bands. There's not much more to it. We always seemed to be doing different things, made little projects that we were into. And then it all came together. Sometimes we'd give challenges to ourselves like, 'How many songs can we record in a day?' And there was no band name or anything like that - it was just to make music. And then that escalated into this.
Is that part of your ethos then, being a ridiculously productive band?
We tend to come up with lots of ideas all the time. But then when we have an idea, we'll try and do something in a first take, because they're always the best. We recorded our single in a bedroom on a digital recorder, and then we took it to Bill Ryder Jones' studio and then worked their magic tools on it. The next single that's coming out was recorded in a studio, but then Bill invited us round to his mum's house, which is where a lot of stuff's recorded. It sounds a lot more bedroom-y. That'll be out in time for Record Store Day.