In conversation:
Read Blur's comeback interview with Zane Lowe in full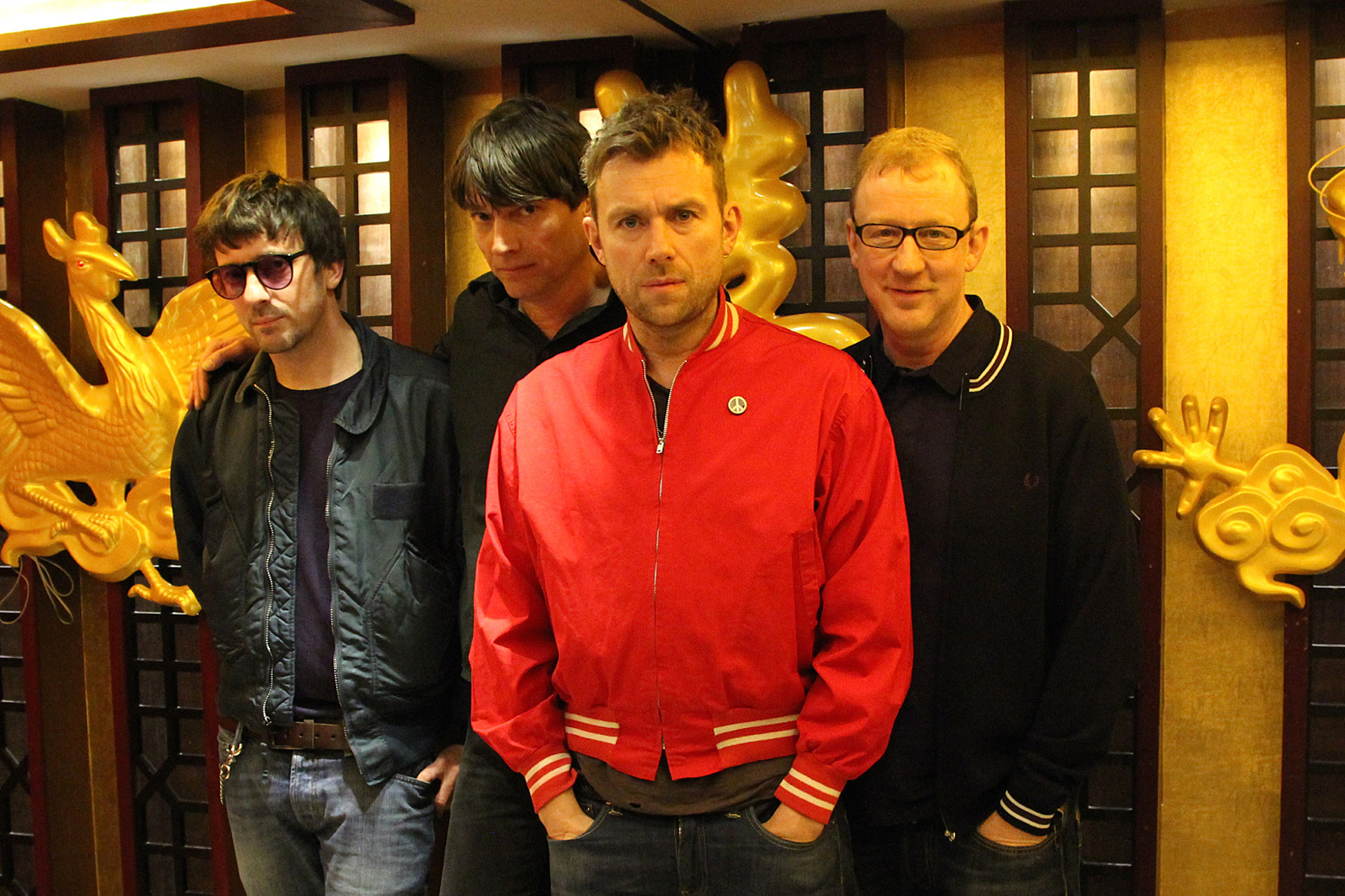 See the results of Blur's first conversation about 'The Magic Whip', taking place in a Chinese restaurant.
DIY was at The Golden Phoenix, London, to witness Blur announcing their comeback on Chinese New Year. To a room full of journalists and on a live Facebook broadcast, the reformed four-piece confirmed their first record in thirteen years, 'The Magic Whip'. Despite next to zero speculation in the last few months, apparently one of the most anticipated albums in years had been finished by Christmas.
"It's true. We are opening a Chinese restaurant," joked bassist Alex James when they took to the stage, after an all-praise introduction from the soon-to-be-departing Radio 1 DJ. "The reason we're here is because today's guests are one of the world's most beloved bands. They've given us so many incredible musical moments and events in our lives," he started, by which point Damon Albarn was making fart noises into his microphone from behind the restaurant doors. Seriously.
Once they arrived, all of a sudden everything clicked. The "worst kept secret since this morning" was true, and all four members of Blur were ready to talk about their first album in twelve years.
Most of the below conversation was broadcast on Facebook, but below we've transcribed their first interview about 'The Magic Whip' in full, prior to receiving questions from online fans and the press.
Zane Lowe: Let's get straight down to the first bit of good news.
DA: We're going to play at Hyde Park, one more time. But the reason why we're going to play - I wouldn't be doing this if it was just because we were doing a gig - you can string people on as long as you like. Well, we've made a new record. People who've seen us in the past will know what we're like but on this occasion, we've got a whole new set of themes to get excited about. There'll be even more music.
ZL: Sometimes special happens when you guys are on stage in that park. You always seem to be emotional on that stage.
GC: I love it because I can cycle to work.
DA: I don't know what it is, it just works for us.
AJ: Since we made our last record together as a four-piece, we've probably only done about forty gigs. So certainly for me, everytime we play together it really feels special. But in order to keep doing it, we need to have something new.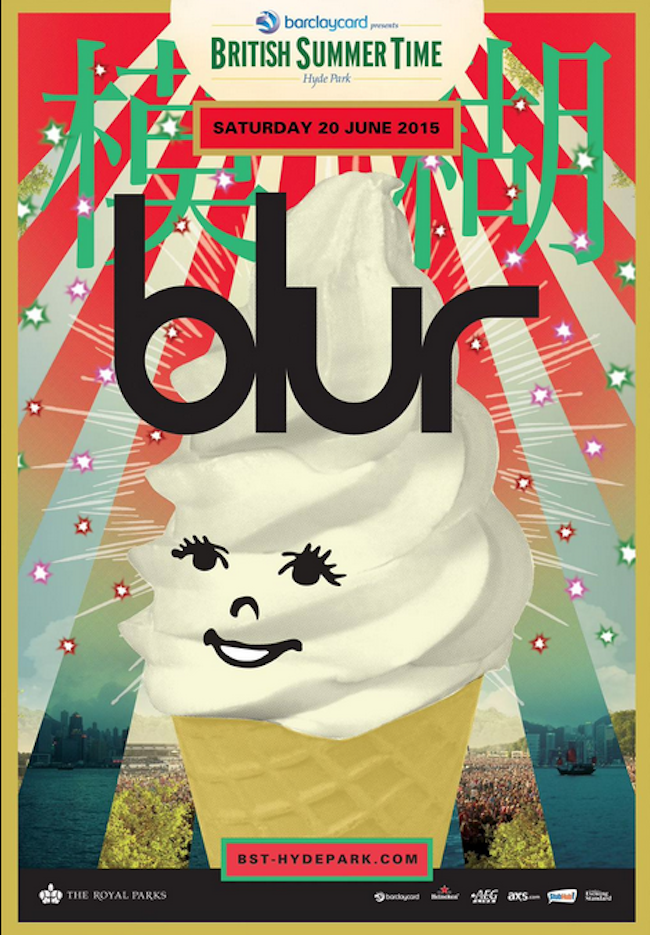 ZL: These are the facts we already know: That you got into a recording studio or some kind of facility in Hong Kong for five days, in 2013. Is that right?
GC: That's right, yeah. We had some downtime. We had a cancellation when we were out in Hong Kong. And so we thought we'd find a few days to relocate into a studio to record our stuff there. We decided to have a play, really.
DA: We didn't really have much stuff, at all. It felt like it was back to the way we recorded when we first started doing stuff together. There's a studio called Matrix, which isn't too far away from here and where we used to do all our b-sides. It wasn't a flash studio. It was pretty claustrophobic. It was really hot, it was June.
ZL: And you didn't have anything in the diary?
DA: Not at all. We didn't get anything finished. And I don't know, after that we went to Jakarta, we did a gig and we didn't see each other for months. We did another few gigs in South America but during that time, I think the whole thing had dissipated, hadn't happened. It was fun, it was a nice few days, but nothing concrete came out.
ZL: That's why this is such a lovely surprise. We knew you'd recorded music of some description.
DA: When we went on stage once I said 'Hey, we've recorded a new record.' I was really excited about it. But we hadn't - the point was we hadn't.
ZL: We didn't have any idea that you were going to return to the stage, or what the future held for the band. You're sitting here now with an album. I want to trace that journey. First of all I'd like to talk about the importance of Hong Kong, because we're here in a Chinese restaurant. The album artwork - that place obviously made a very large impression on you.
DA: [The artwork] is simplified Chinese characters. On the left it says Blur, and on the right it says the 'Magic Whip'. Then there's an ice cream, and a little cloud down the bottom. A guy called Tony Hunt did it, he's here. Let's just trace what happened after [the first sessions]. Nothing happened at all. I really didn't think anything was going to happen. I was still doing my 'Everyday Robots' stuff'.
GA: The thing is, we all say different things depending on what day it is, where we are and what time of day. We went back to our own lives and existences. And I suppose what we did - we went in the studio, made sounds and enjoyed ourselves. That was gonna sit there, and the question was, what was going to happen to them?
ZL: Who went back and listened to them?
[Damon points at Graham]
DA: It's his fault. It's his fault this whole thing happened.
GC: I was sitting on the sofa, other people making music they get on the radio, and I hate sitting there not doing much and with everyone else getting told that they're great. So I was thinking, 'What about this stuff that felt really good in the studio?' It just felt positive. We had fun. We were all together in this same room, this hot little room. And it was casual, and it was just something we did off our own backs. And I thought it'd be great to go back after it fermented for a while and have a look. I thought it'd be good to go to this chap we knew very well to actually go over it. It was quite an overwhelming prospect. We were - for want of a better word - jamming. There was some sonic landscaping being created.
ZL: Any songs that ended up on the record that took shape [in Hong Kong]?
DA: Well yeah, all the ideas are on the record.
GA: I thought - and I said - 'Damon, can I have a chat?' I said, 'Do you mind if I have a look at all this music, to see if there's anything worth pursuing?' I liken it to somebody's notes, scrawling over a big book, pages falling out. I just think we needed someone to organise it. So we slung it over to Stephen [Street] and he went through, got things together, organised it.
[Stephen Street is invited on stage]
ZL: I'm interested about this. Can I say I've heard the record? For a start, it's amazing - you're all gonna love it. It's a brilliant Blur album. And I'm amazed that from five days, you were able to pick up that thread and start to build something from it. It feels like a proper body of work.
DA: There were a lot of good ideas put down.
Stephen Street: Back in the past, the boys would do demos of every song that we ever recorded, and we'd be given the green light by the label to do that song, that song, that song. This time round, the guys were being really free and putting down their ideas freely in the studio. And it was great - I was obviously delighted to get involved. But this time instead of re-recording these songs again, it was just recording these ideas.
"I was busy doing what I was doing and I came back, they played me what they'd done and I was like, 'Oh no, this is really good'."
— Damon Albarn
ZL: What was the first song that took shape?
DA: I can't remember anything really, because it was so intense and quick.
GA: By the time Stephen and I got to it, there were ones that were more obvious to tackle first, others that were more dense. I think on the record there are ones that are obviously Blur and things that may not really sound classically like what we are.
ZL: Were you all present when you started to do phase two of this record?
DA: Graham came to me, said 'I think we've got something here'. I was like, 'Brilliant. Go and have a look at it'. I was busy doing what I was doing and I came back, they played me what they'd done and I was like, 'Oh no, this is really good'. It was very mixed emotions for me. I really felt at the end of those last gigs we did that it was the end - that was the end. Not for any sort of heavy reason, it'd run its course. There was no way we could do another gig without another record.
DR: The period in Hong Kong - everything felt right. We'd got back to do these shows in places we'd never been before. We weren't thinking about making a record. There was just suddenly this opportunity to get back in the studio together. And rather that trying to make a big comeback single, we were playing together loads because we were touring.
DA: We actually sounded like a band at that point. It was accidental. In a sense, there's not been an effort towards this record. It's been completely natural and spontaneous.
SS: With the demo thing, you could tell by listening to the recordings that there was no pressure on them, they were just putting down ideas.
DA: I was just singing, really, lyrically, what was coming into my head. And because I was in Hong Kong, I was just singing about things that happened on the journey to the studio, what happened last night - everything was related to being in that quite claustrophobic island with millions and millions of people.
ZL: And it carried over into the finished works?
DA: They played it to me, and I think I had to go back to Australia to finish off my tour. I knew that we were sort of… At that point, everyone was going, 'There is a record here'. And I knew there was a record here, but I hadn't found any lyrics for it. I can hear loads of stuff, but it doesn't make much sense at the moment. So I thought, 'Well, I'd better go back to Hong Kong'. It was on the way back from Australia - Christmas time, really. I wanted to get home. I didn't really wanna go somewhere else. But I did. I did! I'm really glad I did.
GC: I did do some work on this record!
DA: But the point is - I'm really glad I did, because it gave me a really interesting set of things to write about. I was remembering the time I was there, the moment I was there. It was literally 24 hours after they'd scrubbed all the streets clean of the protests, you wouldn't know anything had happened. That was very fresh in my mind from watching it on the television. And it's also previous experiences that I'd had in Hong Kong. Gorillaz… Or Hong Kong and China. I've got a strong emotional connection to China.
"We were all together in this same room, this hot little room. And it was casual, and it was just something we did off our own backs."
— Graham Coxon
ZL: I just imagine you being in Hong Kong with all this music in your ears, that only you have - and a chance for you to really add a very important element to this.
DA: And also, it gave me an opportunity to write about my visits in North Korea. I'd written loads of stuff. It's a song called 'Pyongyang'. It felt like it was near enough to Hong Kong. That's what I did - I made sure everything was about us, how we felt, our relationship with each other. But it proved to be an interesting subject matter. Then I had to sing it. And I was really nervous, because I hadn't sung anything with Stephen since 'Beetlebum'.
SS: Over eighteen years since we both worked together. I was nervous too. I worked with it on Graham, first of all. We were just working on it like a couple of kids. It wasn't such a big step for me, working with Graham.
DA: We felt out terribly and hadn't talked to each other…
SS: [Me and Graham] were like kids in a sweet shop. We were trying to put some shape into these recordings that the guys had done. We were both very nervous taking it back to Damon, saying, 'This is what we've done'.
GC: Anything new that I was bringing to the recordings: It was structuring what we had, getting some dynamics in there, but also not overwhelming it, giving it a lot of space and hoping it would be inspiring to then give to Damon.
Where are Alex and Dave in all of this?
AJ: It felt like the best stuff we'd ever done. There was a real urgency to it. It felt so brilliant at the time - I was ecstatic. And it just drifted. The only trace of it that I had… I had a camera with me and I filmed some of the time in the studio. Literally, the week before - I drank a bottle of Jack Daniel's and watched the footage on my own! Ah, you know. And then I got stuck into learning something on the double bass. I was like 'Oh well, whatever'. And then that Monday, the guys told me they'd had a chat and it'd be ready by Christmas. I'm so bloody delighted it happened.