Album Review
Ghostpoet - Shedding Skin
4 Stars
Surely nothing in the world can stop him.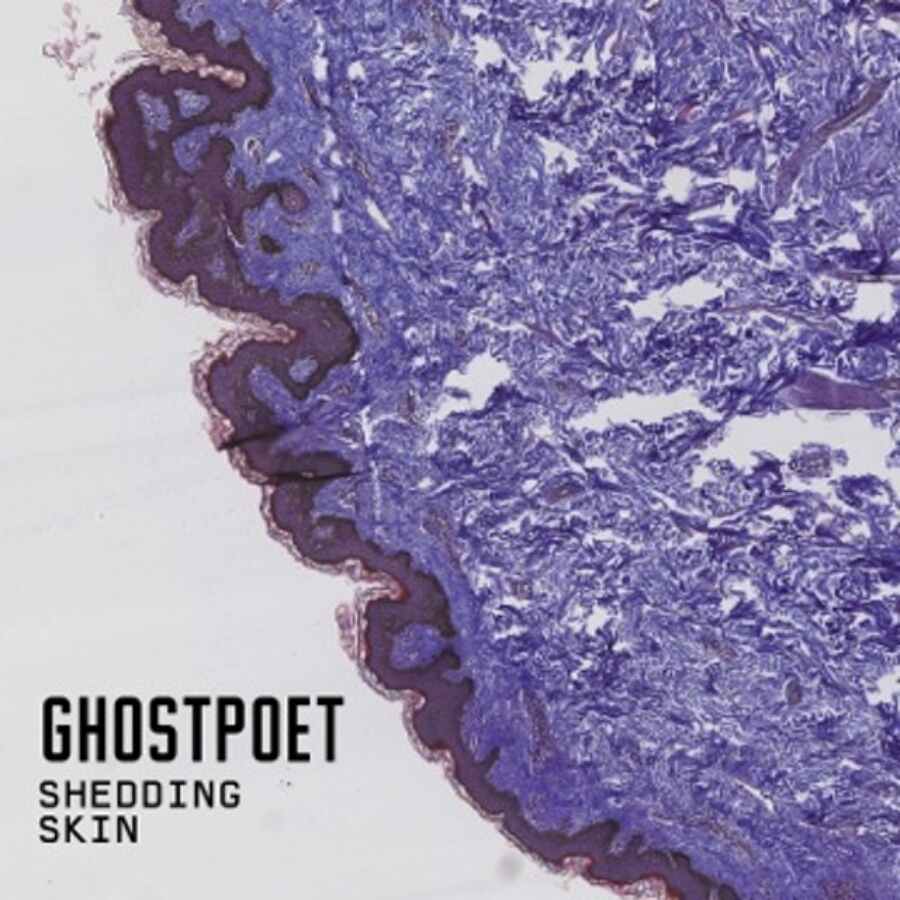 It's hard to imagine an artist more befitting of their surroundings than Ghostpoet. It's not just that rough and ready South London drawl which reeks of his hometown – everything Obaro Ejimiwe stakes his alias to comes throbbing with that same hypnotic pulse of every major city. But where previous incarnations of Ghostpoet's work have been characterised by the jarring electronic soundtrack of a city's digital revolution, 'Shedding Skin' sees him map out his stories over an organic, live band canvas for the first time; in doing so, Ghostpoet has created a record that feels timeless in a way his scratchy bedroom productions could never have dreamed of.
The hip-hop tag he has always decried has never been less apt. While those driving beats largely remain, and carve a swaggering path straight through opener and lead single 'Off Peak Dreams', they're flanked by instrumentation which expands on Ghostpoet's scope like never before. His recent declaration of 'Shedding Skin' as a "guitar record" initially seemed a bold one, but as it swells in stature that description quickly appears overly simplistic – guitars are just one small part of the sonic makeup that makes 'Shedding Skin' so overwhelming. It's orchestral and almost classical at points, with the interplay of traditional string arrangements and more familiar electronic- and synth-work pushing the boundaries of those adopted influences into beautiful new territories. 'X Marks The Spot' flirts with gentle, string-like choruses before falling away into a mid-section and outro ripped straight from any dimly lit warehouse at 4am, while 'Better Not Butter' is an almost straightforward rock song built predominantly around a single flexing guitar string. The true marker of Ghostpoet's evolution is that, unlike points of his earlier material, it never feels purposefully jarring or childishly unconventional – it's progressive, but harmonious.
Of course, it's all held together by that voice. That unmistakable signature skirts its way between social commentary and introspective accounts of crumbling relationships, while guest vocals tastefully compliment each of his narratives – there's no shoehorned in guest verses or coat-tail riding here, each additional voice harmonising perfectly with Ejimiwe's twang. Maximo Park's Paul Smith is the standout, a ghostly addition that takes 'Be Right Back, Moving House' to soaring heights.
Ghostpoet continues to dart amongst different perspectives, all the while remaining intensely emotional - on 'That Ring Down The Drain Kind Of Feeling' in particular he declares himself "back where I started," pleading, "don't let that darkness take over me" in the wake of a chance encounter with a former love. The record's title track is truly its masterwork, though. Brooding and tense, it's packed full of constant reminders to "settle down"; the mantra of the new youth from which Ghostpoet is born and which throbs with discontent and disillusionment.
As the sun rises over the dark and twisting twilight that 'Shedding Skin' seems to mostly take place within, album closer 'Nothing In The Way' proves the perfect conclusion. Piano-led and embellished with little more than a string quartet, it sees Ejimiwe declare that "we all fall down, but when we get up, nothing in the world can stop us." Both as a personal reaction to hardship and a wider call to arms, it's a poignant end point. "It's what I believe" he then repeats until the record's close, and it's that conviction that marks out 'Shedding Skin' as Ghostpoet's masterpiece – with this amount of creative vision and determination to draw upon, surely nothing in the world can stop him.
More like this