Album Review:
Moon Duo - Shadow of the Sun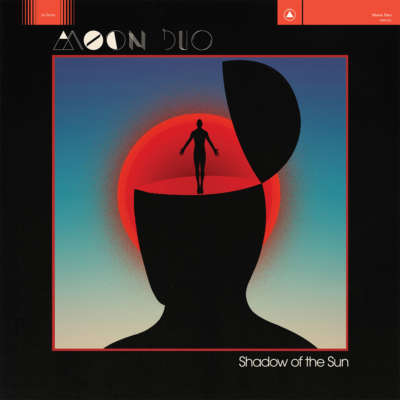 It's hard to see what Moon Duo bring that hasn't already been heard before.
Label: Sacred Bones
Released: 2nd March 2015
Bestial is an appropriate word to describe Moon Duo's new album 'Shadow of the Sun'. Their new record is their fourth release since Wooden Shjips member Ripley Johnson teamed up with Sanae Yamada to find new ways of filling their time at an almost prolific and enviable rate. Now joined by John Jeffery on drums, the album is a result of an uncomfortable rest period, with what the group describes as a beast that emerges from a dark Portland basement. Sadly compared to their previous releases 'Shadow of the Sun' is a beast that appears to be tamed.
The "Moon Duo sound" hasn't really evolved in the way lead track 'Animal' would suggest - a track that possesses a viciousness otherwise unheard. 'Zero' takes the supernatural to the point of parody, whereas 'In a Cloud' provides a moment of respite and slumber. Horror theme keyboards and chugging guitars are present on every track, a formula that gives the album its road to travel down. 'Slow Down Low' serves as the album highlight, the rhythm of which recalls Velvet Underground at their most avant-garde, although the track length is probably longer than it needs to be.
Repetition is arguably the key component of the psych genre and in the case of 'Shadow of the Sun' it borders on monotony and an exercise in regression. For a deeply conservative listener of psych, it may sound outlandish but to the modern listener it is anything but. Entering a year where the genre seems to be at its zenith, the formula seems to have already worn-out.
It's hard to see what Moon Duo bring that hasn't already been heard before. More than ever, their psychedelic odyssey sounds like a retelling of the same story, a game of Chinese whispers that loses the important details. The apex of which Moon Duo head towards on 'The Shadow of the Sun' isn't reached and seemingly it burns out before entering a new atmosphere.