Report:
Mumford and Sons showcase 'Wilder Mind' at tiny London show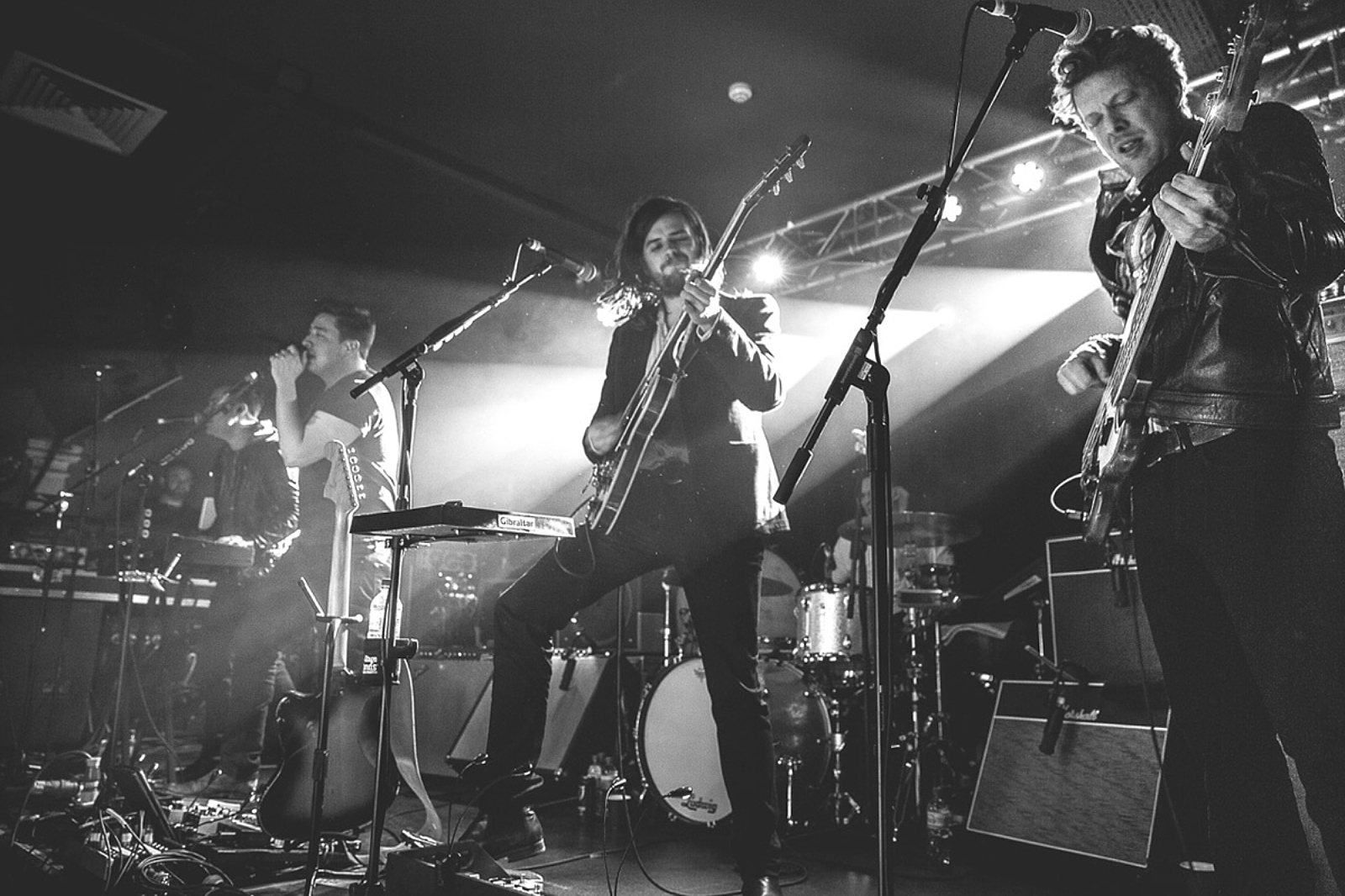 The band debuted the majority of their new album live, during an intimate show at Hackney's Oslo last night.
"What happened with the banjos?!" someone yells from the back of the packed room. There's a moment of laughter before the quiet takes over - which is to be expected, when the venue is so small you could hear a pin drop, should Marcus Mumford deem it appropriate - before he looks up from tuning his guitar and smiles. "That's a fair question," he pauses. "We don't really know."
Tonight marks the first in a set of showcase-style live performances from the festival-topping, arena-dominating Mumford and Sons. They've crammed 375 people into the upstairs of Hackney's Oslo, they've banished phones to the cloakroom and they're offering fans a first comprehensive glimpse of their new album, 'Wilder Mind'. From the looks of things, there's not a banjo in sight.
Making as unassuming entrance as you could imagine, the band take to the tiny stage and the crowd await with baited breath. What the band offer tonight isn't like anything they've ever tried before, but the applause that their entirely new material is met with feels genuinely appreciative.
Running through the majority of their forthcoming album's tracklisting – we're treated to eleven of its twelve tracks, slightly out of order – they breeze through their new bluesy Americana-infused tones, leaving a hefty impression on attendees. 'Believe', which only gained its official airing an hour and a half prior to stage time, packs quite the punch, with its woozy, laid back strumming introduction soon bursting into massive life. The likes of 'Snake Eyes' and 'Ditmas' are more intense offerings, while 'The Wolf' echoes of Kings Of Leon in moments, before 'Monster' sees them channelling the grand yet heartbreaking elements of The National.
Throughout their time on stage, the band seem at ease; from offering an explanation to their venue-wide phone ban ("We just wanted to have an intimate moment.") to updating those in the dark with the latest football score ("That's why we were late on stage," Marcus laughs), tonight may be an evening filled with completely unknown music, but it still feels engaging. There's a subtlety to their new efforts that draws in the crowd, and it makes being their guinea pigs for an evening feel effortlessly special. It really is a moment.
Mumford and Sons will play at Hackney's Oslo again this evening (Tuesday 10th March).
Setlist:
The Wolf
Believe
Wilder Mind
Monster
Just Smoke
Tompkins Square Park
Snake Eyes
Broad-Shouldered Beasts
Ditmas
Hot Gates
Only Love
Photo credit: Wrenne Evans
Mumford and Sons' third album 'Wilder Mind' gets released on 4th May.